Winter is almost over which means summertime is closer than ever and this also means swimsuit season is on the way. Many women want to get a bigger and more contoured booty and they often turn to methods other than squats and exercises at the gym. One of the most popular butt augmentation treatments for patients looking to gain an augmented backside is Sculptra butt lift. This butt augmentation procedure is considered to be an ideal alternative to Brazilian butt lift (BBL) while still providing patients with the enhanced backside they desire. Let's take a look at Sculptra butt lift and learn how it works and the type of results it provides to patients.
Sculptra Butt Lift Explained
Sculptra butt lift is a nonsurgical alternative to a traditional surgical butt lift procedure or a Brazilian butt lift (BBL). An experienced and board-certified doctor injects Sculptra into a series of targeted areas underneath the skin of the patient. The Sculptra works to thicken the skin of the patient as well as stimulate collagen growth so the person will enjoy buttocks with greater firmness and contour.
There are many benefits to undergoing Sculptra butt lift and they include the subtle results that occur so it is not so obvious to others that a butt lift has been performed on the patient. In addition, patients without much excess fat enjoy the fact that they can have a butt lift since a procedure like a Brazilian butt lift requires the person to have a good amount of excess fat that can be transferred to the buttocks. Anesthesia is not required so patients have a quicker recovery time and can more easily resume their normal routine.
Sculptra Butt Lift Candidates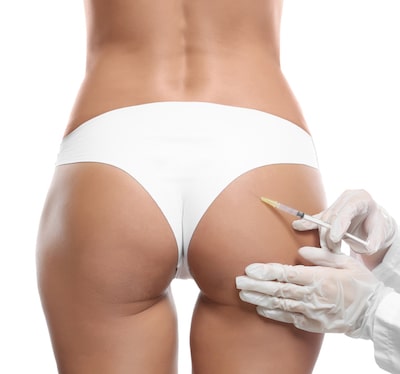 Sculptra butt lift is most useful for someone who has very little fat available to transfer to the buttock area. This lift can make the buttocks fuller for women with most body types. However, this procedure is a very good option for slim women without much body fat.
In addition, Sculptra butt lift is a good option for:
Patients that want to improve the shape, size or total volume of the buttocks without undergoing surgery
Patients that want to achieve a better contour to the backside
Someone looking for a subtle lift to the buttocks that is not too drastic in appearance
A person that wants results that are long-lasting but not permanent in their appearance
Sculptra Butt Lift Recovery and Results
The downtime after Sculptra butt lift can best be described as "little to none" which means patients will not have a prolonged recovery period like they would after a surgical butt lift. They will be sore after the procedure so they should avoid exercising for at least 24 hours after surgery.
Since Sculptra butt lift is a nonsurgical procedure, the results are not permanent after the surgery. In general, the results can last anywhere from two to five years after the treatment.
Sculptra Butt Lift Alternatives
Patients that do have a good amount of excess fat that can be used to transfer into the buttocks can undergo a surgical butt lift procedure known as Brazilian butt lift. The excess fat is removed from areas of the body such as the back, abdomen and flanks via liposuction. The fat that is removed is then processed and purified before it is injected back into the body in the buttocks area. A patient will see immediate results in terms of butt augmentation as well as a more contoured appearance to the area that was treated using liposuction. The results are long-lasting and patients do not have to worry about any kind of infection from the transferred fat because the fat comes from the body of the actual patient.
A traditional butt lift is when the buttocks are lifted through the removal of excess fat, tissue and skin. The muscles and skin are pulled tighter and then they are repositioned in order to give them a younger appearance. Much like a Brazilian butt lift, the results are long-lasting and can provide a greater shape and contour to the buttocks. There are multiple incision options for a butt lift including:

Upper butt lift incision (the incision goes across the top part of the contour of the buttocks)
Lateral incision on either side of the buttocks
Butterfly incision (the incision in the central buttock crease is made to go outward and upward)
Removal of tissue from the bottom buttocks area
Sculptra Butt Lift by a Board-Certified Surgeon
Patients that are interested in undergoing Sculptra butt lift should schedule a consultation appointment with a board-certified surgeon experienced in performing the procedure. The doctor will examine the patient to make sure the person is an ideal candidate for Sculptra butt lift or if the person will better achieve the desired results using another butt lift technique. The patient can also ask to see "before and after" photos to get a better idea of the type of results that can be expected after Sculptra butt lift.
MA