All around the globe, plastic surgery patients want to change their appearance, so they look more like their favorite celebrity. The changes can be as varied as rhinoplasty to get a desired celebrity nose or butt augmentation such as a Brazilian butt lift (BBL) to gain a bigger booty. These patients like the way a certain body part or feature looks on a celebrity and they hope to emulate the look of the person they admire. In general, it is rare for someone to want to make a complete reversal of their surgery results and go back to a look that resembles their older and more natural appearance. However, this is the case with a woman who has spent a dozen years on a quest to look like Kim Kardashian.
Kim Kardashian Fan Wants to Return to Her Old Look
According to an article that was featured in the New York Post, Jennifer Pamplona is a model who revealed that she has undergone forty cosmetic procedures over the course of twelve years. The purpose of these cosmetic procedures was to try and look like Kim Kardashian.
The desire to look like Kim seems to be in the past as she has now made the decision to "de-transition" and regain the look she had before before she decided to make the necessary changes to look like Kim Kardashian.
It has been reported that Pamplona has spent almost $600,000 in order to look like Kim Kardashian. In addition, she is believed to have spent $120,000 in her attempt to look more like herself/attempt to regain her original look.
Pamplona told one news outlet that her original goal was to look like a celebrity, but she soon realized that the pleasure she got from the experience was only superficial. "People would call me a Kardashian and it started to get annoying. I had worked and studied and was a businesswoman. I had done all these things and had all these achievements in my personal life, but I was only recognized because I looked like a Kardashian."
Kim Kardashian Wannabe – A Look Back at Her Changes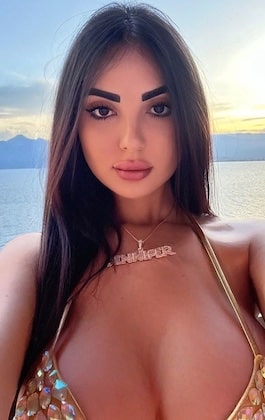 It has been reported that Pamplona was only seventeen years old when she had her first plastic surgery procedure. The now 29-year-old has undergone "three rhinoplasties and eight operations on her bottom, including butt implants and fat injections."
As time passed, the model discovered she was "addicted to surgery" and was not a happy person. "I was putting filler in my face like I was in the supermarket. It was an addiction and I got into a cycle of surgery that equals fame and money. I just lost control of everything. I went through a lot of hard times."
Pamplona also revealed that the "de-transition" process included an illness that caused her to bleed from her cheeks for multiple days. "I thought I was dying. I was thinking to myself, 'What the hell have I done with my life?'"
Plastic Surgeon Speaks Out on Looking Like a Celebrity
According to Dr. Devayani Barve, a plastic and cosmetic surgeon based in India, patients who have a lot of facial surgeries experience a major event in their life that changes their appearance. In an interview with a news outlet the doctor said, "As surgeons, we do not advise too many changes at one time; we ask them to take it gradually. We tell them if they don't like their nose and lips, they can work on the nose first or vice-versa – take it one at a time."
One of the main tasks a plastic surgeon needs to perform with each patient they see is a consultation appointment that determines why the person wants to have plastic surgery. In addition, the doctor needs to make sure the patient is not suffering from a condition such as body dysmorphic disorder that causes someone to constantly think about one, or more, defects they perceive in their appearance. While these defects in the appearance of a person might appear to be quite minor to others, the person with the perceived flaw can feel ashamed or embarrassed and try to avoid being seen by others in either work or social situations.
It is also important to note that the process of trying to transition to a previous look can be complicated and it is often hard to predict the final results that will be visible to others.
Dr. Barve said she does not have many patients who want to reverse the previous results they achieved through plastic surgery. "They have been counselled enough, there have been consultations and discussions. Sometimes, yes, there are patients who think a little-less or a little-more could have been better. Since I cannot wake patients up during surgery and talk to them, I ask them [beforehand] that if it comes to making a decision, would they want me to do a little extra, or be conservative. It gives me an idea of what their mindset is."
Dr. Barve also said Pamplona might not be able to gain her complete, original look. "It depends on what kind of procedure has been done. [In this model's case,] 12 years is a long time – there is aging and skin changes which come in. It is unlikely that everything can be reversed."
- MA