When it comes to celebrity plastic surgery, the names that are often mentioned in news stories include Kim Kardashian (and family), Bella Hadid and Jennifer Lopez. One name that is not mentioned often belongs to a star of movies and television and she is loved by both adults and children. It's time to take a look at the shocking allegations regarding suspected porcine plastic surgery procedures to discover if Miss Piggy has undergone various cosmetic procedures over the years.
Miss Piggy – International Star and Plastic Surgery Fan?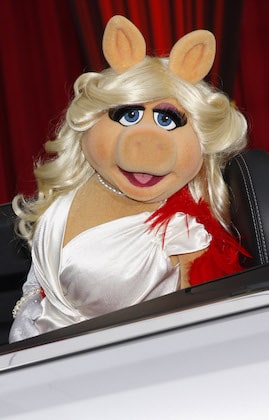 Since her first appearance in 1974, Miss Piggy has captured the hearts of the public with her acting, singing, and dancing as well as her literary efforts that led her to become a bestselling author. She has even become well-known among a younger generation of fans thanks to her cover of the FKA Twigs song, "Cellophane."
Since her cover version has been featured on thousands of videos on TikTok, there has been an increase in both her popularity and a renewed look in her appearance. One of the reasons there has been an increased interest in her appearance was a tweet from last month that seemed to name a long list of procedures Miss Piggy is suspected of having in the past. The tweet included the following procedures that celebrity gossip fans suspect the main female Muppet of undergoing over the years:
***Rhinoplasty, Cheek Implants, Jaw Shave, Lip Filler, Chin Implant, Buccal Fat Pad Removal, Botox, Brow Bone Reduction, and an Eye Lift
The speculation about her appearance immediately resulted in a debate among her fans and celebrity plastic surgery gossip fans. Did she visit Dr. Bob from the Muppet Hospital sketches or did she decide to spend more money and visit a Beverly Hills cosmetic surgery specialist? There is also the possibility that she did not have any type of plastic surgery procedure. Instead, her looks might have changed over the years giving a different look to her face and beauty.
Miss Piggy – Fans Speak Out on Suspected Celebrity Plastic Surgery
Once the tweet accusing her of having plastic surgery entered the public conversation, her fans weighed in on possible changes in her appearance. Some of the tweets about the topic included:
"And she's been very transparent with her journey. Stop attacking women."
"She looks unrecognizable"
"Attacking a successful performer, entrepreneur, and activist like Miss Piggy for her appearance is disgusting. She's made her money and can spend it as she pleases and guess what? She looks amazing."
"Don't forget skin rejuvenation."
"She got her ears done too"
"All this talk about cosmetic surgery and nothing about the fact that Kermit emotionally manipulated her into getting it."
"That's just the love of a good frog…lol"
"Miss Piggy already said she's never had any surgery idk why Stans r so obsessed with trying to make it look like she has"
"You guys have gone too far"
There was also a group of people on Twitter who asked others to leave Miss Piggy alone and stay out of her business:
"god forbid a woman do anything"
"You all in her business, don't do that."
"And you in her business for no reason"
Miss Piggy – Has She Mentioned the Plastic Surgery Controversy?
Even though there has been a good amount of talk and gossip surrounding the evolving appearance of Miss Piggy, the Muppet superstar has not publicly discussed the speculation. It does seem obvious that the initial tweet got one thing wrong when it comes to the various cosmetic surgery procedures that she is suspected of having in the past.
It does seem rather obvious that Miss Piggy did not have rhinoplasty. Take a good look at her nose and you will see some nostrils that still appear to be very "pig-like" in their appearance. There is a good chance that Miss Piggy is still proud of the look of her nose and did not want to make any changes when it came to the heritage, background, or appearance of her nose through plastic surgery.
If the initial tweet was wrong about that prominent feature on her face, is it also possible that the superstar pig did not make any sort of alterations or enhancements to her appearance? The answer to this question might never be known by anyone other than Miss Piggy and her glam team as she seems to be one of the many celebrities who have made the decision to keep their (real or suspected) plastic surgery procedures private. The lack of discussion on her part could mean that she did not have any type of cosmetic procedure. On the other hand, it could mean that she is trying to remain quiet about the topic until another superstar enters the "celebrity spotlight" and becomes the main subject of celebrity plastic surgery gossip in the eyes of the public.
- MA