From making changes to the appearance of the nose to eyelid surgery and rejuvenating the look of the face, an online survey of plastic surgeons has shown an increased interest in facial cosmetic surgery in the past year. Let's learn which procedures are being picked by patients and why facial cosmetic procedures are showing an increase in popularity.
Cosmetic Surgery Survey – Motivating Factors and Results Revealed
The survey results were based on responses submitted by a select group of American Academy of Facial Plastic and Reconstructive Surgery (AAFPRS) members. The academy said it released the results in order to spotlight the latest facial surgery trends and to correct any disinformation that was being shared about certain procedures.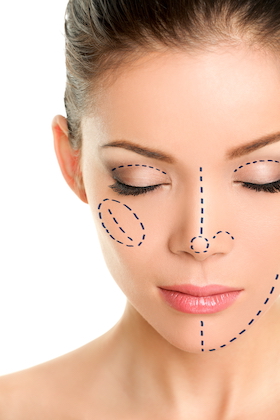 Dr. Theda Kontis, a Baltimore-based cosmetic surgeon, and the head of the academy said "As people retuned to the office and eased back into the routine of daily life without quarantine, interest for elective surgeries and non-invasive 'tweakments' remain high. In 2022, our members continued to see the impact of the 'Zoom Boom,' with 79% of respondents pointing to the 'Zoom Effect' as a major contributing factor in patients' desire to seek treatment."
The next major contributing factor was an increase in disposable income which came in at 60% according to the results of the survey. Kontis said, "Many patients reported spending money saved during the pandemic on cosmetic procedures."
About 58% of the plastic surgeons who were surveyed reported an increase in bookings and treatments during the past year. In addition, more than three-quarters of the plastic surgeons reported a more than 10% growth in patient demand.
In addition, about 82% of the cosmetic procedures that were performed in 2022 were minimally invasive in nature and they included fillers, Botox, and chemical peels. The other 18% of cosmetic procedures performed by the surveyed surgeons were invasive surgical procedures and the top three surgical choices were facelifts, blepharoplasty (AKA eyelid surgery) and rhinoplasty (AKA a nose job).
In sixteen of the eighteen procedures that were tracked by the organization, women outnumbered men when it came to having cosmetic procedures. The most popular procedure for male patients was a hair transplant. Otoplasty was the procedure with the highest level of gender equality and it is performed to make the appearance of the ears less prominent on the head.
There is a growing desire for cheekbones that are sharp and prominent in appearance even though some of the surgeons were puzzled by the continuing popularity of buccal fat pad removal. The procedure provides a look to the face that is slimmer and sculpted but the slimmer results are permanent.
The buccal fat pad removal trend is similar to the condition that is known as "Ozempic face" which means a hollow look is gained by those who use semaglutide (a diabetes weight loss drug).
Fat injections and fillers are popular choices among women who are middle-aged and the surgeons who took part in the survey also want to remind patients to consider the long-term effects of any cosmetic surgery before they have the procedure. As mentioned above, the results that are gained by having buccal fat pad removal cannot be reversed. Kontis shared this thought about buccal fat pad surgery and the long-terms effects of the results. "Buccal fat surgery is not reversible – so while you may love the look in your 20s and 30s, as you age, your face naturally loses fat, and therefore volume."
Kontis also warned that a rapid amount of weight loss can actually accelerate the aging process. "Like any massive weight-loss treatment, semaglutide treatments can cause fat pads to shrink, making facial volume depleted and the skin can appear lax and saggy. Of course, we can treat these unwanted side effects with everything from fillers to facelifts, but the point is there's no such thing as a magic pill."
Cosmetic Surgery Survey Results – Preferences of Different Generations
A growing number of patients under the age of thirty are now requesting injectables or cosmetic surgery and their number has been increasing over the last five years. Around 78% of AAFPRS members say they are expecting to see a greater amount of emphasis on earlier maintenance treatments that reduce signs of aging in patients who are in their twenties and thirties. The survey results also showed an increase in surgical activity of patients in the age group of thirty-five to fifty-five years of age.
Patients who fall into Gen Z do not seem to have a big influence on the results despite the continued issue of "Snapchat dysmorphia" which finds patients wanting to alter or enhance their look to resemble what they can accomplish online with social media filters.
Finally, about 79% of the surgeons said the desire to look better in "selfies" is still a trend with lip lifts increasing by 3% from last year and around 20% of patients making reference to the appearance of celebrities at their appointments.
- MA