Erin Andrews is known for being one the most prominent female sportscasters in the country as well as being one of the hosts of "Dancing With The Stars." At the age of forty-four, she looks almost exactly the same as she did when joined ESPN in the early 2000s. Is her enduing look actually her natural appearance or has she been helped by plastic surgery in the past?
Erin Andrews Discusses Plastic Surgery and Her Health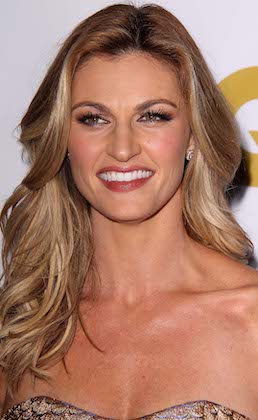 During an interview with Health magazine, Erin Andrews admitted that she had "never done it" but she was "curious about all of it." In this case, "it" is referring to plastic surgery and she added, "I've seen great work, and I think we've all seen bad. I'm very afraid of doing anything. I feel like I would be obsessive about it, like, "Wait, does this look real? I'm sure there will be a time in my life when I'll want to look into it, but it's just not right now."
In another interview conducted in 2021, Andrews admitted to being a fanatic about fitness and she said that being a competitor of "Dancing With The Stars" was one of the greatest physical challenges she experienced in her life. "It was one of the toughest things that I have ever done. Like, I work out all the time, I can do cardio, I grew up as a dancer but first of all; ballroom training is completely different from any sort of tap, ballet, or jazz that I had even taken…and I have horrific posture as it is. You gotta tuck your bum in and be really close and sensuous with your partner when I'm like the biggest goofball ever" Even with her feeling of being a goofball, she described the experience as "phenomenal" and "so great" while also revealing that she gained muscle and also lost fifteen pounds of body fat thanks to the multiple dance practices.
Erin also credits her good health to using quality creams as well as "just drinking as much water as possible, and getting those electrolytes in, is key. Vitamins are huge for me…We spend so much money on our hair and our skin, why are we not putting good sh-t in our bodies, vitamin-wise?"
Erin Andrews – Plastic Surgery Speculation
While everything that Erin Andrews shared in the above section makes it apparent that she cares about her health and has thought about plastic surgery, she has not admitted to any type of procedure. Having said that, there is plenty of speculation about possible changes she has made to her body over the years. For example, it has been speculated that Andrews has undergone some form of breast augmentation. TMZ once brought attention to the appearance of her breasts after the reporter was spotted wearing a bikini while on a swim in Miami. The gossip website did not identify whether they thought she had breast implants placed in her body or if she augmented and enhanced the look of her breasts through fat transfer to the breasts. Either way, the website could not state for a fact that Andrews has made changes to the size and shape of her breasts but there are many celebrity watchers and gossip websites who suspect that breast implants might be the answer to this suspected change in the appearance of her breasts.
Another treatment that has been speculated about when it comes to Erin Andrews is the size and look of her lips. Patients who want to have lip augmentation have multiple options when it comes to enhancing the look of the lips. The multiple options for lip augmentation include fat transfer, lip fillers, or lip implants. As a person ages, the lips can start to become thin in appearance and lose volume thanks to the aging process or the simple fact that the person has naturally thin lips.
Fat transfer to the lips is when fat is removed from one area of the body, via liposuction, and then it is purified and processed so it can be injected into the lips.
Lip fillers can be injected into the lips to provide a fuller look and restore some of the lost volume.
Lip implants are inserted into the lips through small incisions created by a doctor at the corners of the mouth. A thin tunnel is created in order to make it easier for the lip implant to be placed in the lips to provide a plumper look.
Erin Andrews – What's the Story?
The jury is still out on whether or not Erin Andrews has undergone any type of plastic surgery. The NFL reporter is often an open book to her fans, but this might be one time when she is keeping the information to herself. Until there comes a time that Andrews decides to share more information with the public, the story of any possible plastic surgery will remain a mystery.
- MA