As of April 6th, 2020, the CDC (Centers for Disease Control and Prevention) announced that the number of reported deaths in the United States, related to the COVID-19 (coronavirus) pandemic, has exceeded 10,000 people. In addition, the number of reported cases of coronavirus in the United States is over 350,000. Patients all over the country, as well as the rest of the world, are contacting doctors, hospitals and emergency clinics to try and determine if they have the disease and what can be done to treat it. There are also patients that have not contracted the disease and they are still hoping to have previously scheduled cosmetic surgery procedures such as rhinoplasty, Botox or fillers. Your safety is the main priority of doctors that specialize in any field of medicine. In order to ensure your personal safety, let's take a look at what you need to know about the coronavirus disease and how it could impact your cosmetic surgery plans.
Coronavirus Information – Where to find it
One of the first steps to take when it comes to the coronavirus disease is gathering relevant information from a trusted source. Instead of simply relying on information from your friends and neighbors, or even from trusted news organizations that are doing their best to keep the public informed about the spread of the disease, use the information sources provided by the CDC.
Here is the link to the CDC page that is devoted to resources related to Coronavirus Disease 2019 (COVID-19).
Traditional media sources are taking their cues from the CDC to try and accurately inform the public about the coronavirus disease. While social media is a great way to stay informed about your friends and family, it is not always an accurate source of information about this worldwide medical issue. Use the information on the Centers for Disease Control and Prevention website as your guide for how to move forward in making sure you remain healthy during this medical emergency.
Coronavirus – What You Need to Know about Possibly Contracting the Disease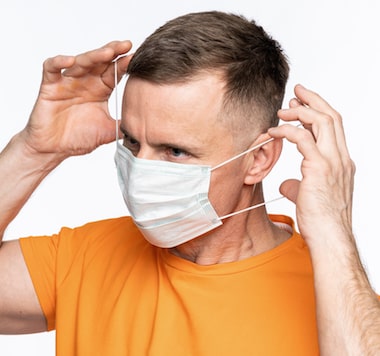 In general, healthy individuals do not have to worry if they contract the disease. If you are in overall good health and discover you have contracted coronavirus, the symptoms should go away without any grave risk to your health. Patients that test positive for COVID-19, that do not need to be hospitalized, will need to be self-quarantined for 14 days to prevent the possibility of spreading the disease to friends or loved ones.
Please be aware that the signs of Coronavirus are similar to the symptoms of the flu so you might simply have the flu as opposed to coronavirus. Consult with a doctor if you are unsure about your condition.
Coronavirus is classified as a pandemic which means it is a global outbreak of a disease. In addition, pandemic also means the spreading of a new disease, for which the public does not have immunity, around the world beyond any known expectations.
Please remember that race and gender do not have anything to do with the odds of you catching the disease or just how much the disease will impact your health.
The coronavirus disease spreads through small droplets transferred from one person to another person. For example, if someone that is standing or sitting close to you coughs, the virus could be transferred to you.
If you do catch the disease, it will take a few days before the symptoms start to impact your health. As mentioned above, it takes about two weeks before you stop being considered contagious and before you are determined to be recovered from the disease.
When it comes to younger patients, kids over the age of two react the same way as adults when they catch the disease in terms of the impact on their health.
Coronavirus and Cosmetic Surgery – Steps Medical Practices Should Follow
Many medical practices, including those that perform cosmetic procedures, have taken informed steps to formulate their policies in regards to how to properly educate and guide patients worried about coronavirus impacting any scheduled treatments or procedures.
One of the first steps medical practices should take is researching the number of coronavirus cases in their community as well as the surrounding areas. For example, the number of reported cases in a major metropolitan area such as Los Angeles is growing on a daily basis. While the staff of a medical practice should definitely take extra precautions beyond their normal routine to ensure the health and safety of patients, the medical staff should also make it a point to check something as simple as whether or not a patient has a fever when they arrive at the office. If the patient does have a fever when arriving at the medical office, that person should be sent home immediately until the fever has gone away and the source of the fever has been determined by a medical professional. This is an easy and effective precautionary measure that can actually go a long way in ensuring the health of both the patient and the staff of the medical practice.
Patients should also check with the medical office to determine if the office is still seeing patients during this medical crisis. Most medical offices that perform cosmetic surgery, such as the ones in Los Angeles, are not currently treating patients because of "shelter in place" restrictions that only allow "essential businesses" such as grocery stores and pharmacies to remain open during this nationwide emergency.
Patients that live in areas of the country that have not been placed under any type of lockdown should call the office of their doctor before they visit the office for their cosmetic procedure. The questions patients need to ask include:
What type of precautions is the medical staff taking to prevent the spread of coronavirus?
Have there been any reported coronavirus cases with your staff, patients or in the building where you are located?
Is there any additional medical information I need to send you before I arrive at the office?
A Medical Expert Speaks Out about Coronavirus
Cosmetic Town News reached out to Dr. Parsa Mohebi, a hair restoration specialist in Los Angeles, Beverly Hills and San Francisco. Dr. Mohebi's office is currently closed due to the state-wide safety regulations put in place by the state of California. Even before the "shelter in place" rules were put in place by California authorities, Dr. Mohebi and his staff were taking the necessary steps to ensure the health and safety of his patients.
Dr. Mohebi said, "Social distancing is very important as keeping a safe distance from others can greatly reduce the spread of the disease. Social distancing may not stop the disease completely but it can bring the number of critically ill patients low enough that it could be managed adequately by our current health care system capacity. Even before the COVID-19 outbreak, each of our patients was seen on an individual basis by our team. In addition, medical offices should be following guidelines that require them to wear facial masks to prevent the spread of germs as well as medical gloves that minimize the amount of physical contact between the patient and the medical professional.
When asked how medical practices should approach the task of treating patients that might not be showing any symptoms, Dr. Mohebi replied, "We may not be able to resume our elective procedures for a little while. After we resume our procedures, patients that are otherwise healthy, and are looking to have cosmetic procedures, are considered to be 'low-risk patients'. It is advisable for doctors to ask patients if they have any symptoms but there is no need for these patients to have a coronavirus test before performing a cosmetic procedure."
Dr. Mohebi added, "Cosmetic surgery offices and medical centers are usually categorized as performing elective procedures. According to the latest recommendations from health authorities, these medical practices don't have to operate during the current outbreak. That is why we, along with many other practitioners, have elected to close our offices until further notice. These medical practices will open again when it is considered safe to do so following the recommendations provided by health authorities. Even when a cosmetic practice resumes its normal operations, I am sure there will be guidelines put in place to minimize any unnecessary contact between patients and others in the office."
When asked for further information about how cosmetic surgery offices are operating during the current crisis, Dr. Mohebi said that cosmetic surgery offices are making individual decisions on their offices hours and the services they are currently providing. "Many offices are completely closed while other offices continue to provide minimal activities in order to provide support to existing patients. In addition, some cosmetic surgeons are providing online consultation services through one of the many available online video conferencing services. It remains to be seen if any medical offices go back to the way they operated before the pandemic."
Celebrities and Medical Professionals Help to Keep the Public Informed about Coronavirus
Thanks to the growth of social media, celebrities are using their online social media platforms to share information about the spread of coronavirus. Tom Hanks shared the news that he tested positive for the disease along with his wife, Rita Wilson. Actress Kristen Bell spotlighted the importance of hand washing in a series of photos on her Instagram feed.
As mentioned above, there are many steps medical offices can take to keep the public informed about the spread of coronavirus. By following the information provided by the CDC and other medical professionals, the public has a good chance of remaining healthy during this medical emergency in the United States as well as the entire world.
MA