In January of this year, Cosmetic Town News reported the story about a plastic surgeon in Ohio who had her medical license suspended in November 2022 due to complaints from former patients regarding injuries after their procedures. According to the State Medical Board of Ohio, the decision was made to suspend Dr. Katharine Roxanne Grawe, known on social media as Dr. Roxy, due to "clear and convincing" evidence that allowing her to continue practicing plastic surgery presented "a danger of immediate and serious harm to the public."
While her suspension had been ongoing since last November, a decision about the status of her medical license was made last month. Keep reading to learn why the Medical Board made the final decision to revoke her medical license.
TikTok Doctor - Medical Board Gives Reasons to Medical License Loss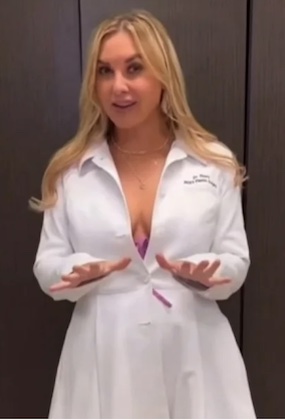 According to the Medical Board in Ohio, Grawe's medical license was officially revoked on July 12th of this year. Grawe, who had over 825,000 followers on TikTok, was known for livestreaming procedures on the social media platform.
The board accused her of neglecting her patients during the livestreams of their procedures as she could be viewed answering questions from viewers and speaking directly to the camera while the actual procedures were being performed. Assistant Attorney General Melinda Ryan Sander made a statement in May 2023 that said. "The board had reason to believe that Dr. Grawe's practice, with respect to three patients, feel below the standard of care."
The medical board stated that three of her patients experienced severe complications following their treatments and needed additional medical care post-surgery:
One patient had a Brazilian butt lift (BBL) and liposuction and then had such severe abdominal pain the next day that they needed surgery on their stomach.
Another patient had a BBL, tummy tuck, and liposuction and then it was discovered that the person had an infection and a perforated small bowel.
There was also a patient who had breast augmentation surgery and then needed their breast implants removed thanks to an infection after the surgery.
In addition, the livestreamed videos were referred to as "silly" and she was also fined $4500 by the board "based on her failure to meet standards of care." In one video posted to TikTok, Grawe can be viewed performing liposuction while talking into the camera. During another video, she is seen dancing in medical scrubs in what looks like a surgical theatre.
TikTok Doctor – The Doctor and Her Attorney Address the Medical Board
The attorney for Grawe made the argument that livestreaming the procedures was done for "educational use" as well as to make future patients feel comfortable with visiting Grawe's office. According to the attorney, "The reason she places those videos out into the public are to relate to her patients. It's to educate, relate and demystify. She has nothing to hide."
Grawe spoke before the medical board before they revoked her medical license. Grawe said she used social media as a way to explain cosmetic surgery and educate her viewers. However, she also admitted she had "fallen below the board's ideal in multiple ways." Grawe added, "But, as I stand her today, I see how many of those videos appeared silly and unprofessional."
Grawe also addressed the medical board regarding future livestreams from her office. "I ask you from the bottom of my heart to please consider my thoughts with an open mind. This has humbled me more than you can know…I am willing to change my social media practices and I will never livestream a surgery again."
TikTok Doctor – The Medical Board Responds to Her Statement
In response to the messages shared by the doctor and her attorney, Assistant Attorney General Melinda Ryan Snyder continued to put forth the idea that the social media presence of Grawe was impacting her level of patient care. "There is no reason to video multiple surgeries for educational purposes. Really, one will do."
The secretary of the State Medical Board in Ohio said the board had previously warned Grawe about her social media presence. In the previous four years, the board had twice reminded her about the need for patient privacy when it came to sharing videos and photos. However, Grawe continued to film videos and post them on social media. In 2021, Grawe was asked to take remedial education courses on the subjects of professionalism and ethics along with plastic surgery complications. (She did complete these courses).
Even with the warnings and remedial courses, the board felt they needed to take action to protect patients. The vice president of the board, Dr. Jonathan Feibel, gave his recommendation to revoke her medical license due to "life altering, reckless treatment." He added, "These outcomes were not normal complications like those that exist in the routine practice of medicine but were rather caused by recklessness and disregard for the rules governing the practice of medicine in Ohio." Dr. Feibel also claimed Grawe's use of social media in her practice had "amplified her reckless behavior."
Following the loss of her medical license, Grawe is no longer allowed to practice medicine in the state of Ohio. She also set her TikTok account to private while still having 100,000 Instagram followers.
- MA