Celebrity plastic surgery is a popular topic and one that is often discussed on gossip websites and TV shows. While there are some celebrities who might be willing to admit to having some form of cosmetic surgery, there are others who keep this information private. There is also a third category of celebrities who do not necessarily deny having a procedure but they don't completely admit it either. Instead, they drop clues and hints about changes they made to their appearance. One such celebrity is SZA as she recently used some of her song lyrics to address gossip about her body.
SZA – New Lyrics Point to Plastic Surgery?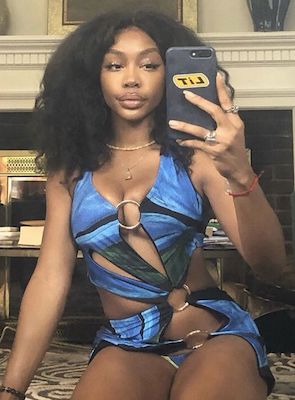 As reported by REVOLT (a television channel focused on music), SZA released her second studio album, "SOS," last month. In the five years since her first album, "Ctrl," there have been some noticeable changes made to her overall look. Since there is a good amount of gossip about her body, the singer seems to be using her music to address the speculation about her appearance.
While many of her fans have admired her beauty and body, there are some who have noticed that SZA seems to have a curvier look than in the past. There have even been debates on social media about whether or not the singer has received any cosmetic help in enhancing the look of her body.
In November of last year, Lil Duval, a comedian and actor, tweeted a photo of the thirty-three-year-old singer and captioned the photo by saying, "Man, SZA so [Godd**n] fine." One of the replies to this tweet said, "That BBL, SZA fire." The month before, another fan wrote "Good morning to SZA's BBL."
It seems that SZA took note of the gossip and speculation as she addressed the accusations on the very first track of the new album.
On the title track of her album, SZA said, "So classic, that a** so fat, it look natural, it's not." There is also another song on the album where she seems to be doing her best to eliminate any doubts about possible plastic surgery on her body. The lyrics on "Conceited" include "I just got my body done, ain't got no guilt about it. I just heard your opinion, I could've did without it."
SZA – Fans React to Her Song Lyrics
The reaction to the lyrics on her new album was both swift and positive as fans seemed to appreciate her honesty. One person on Twitter said, "Well, SZA done cleared those BBL rumors with quickness, on the first track, mind you. 'Said it look natural, IT'S NOT!'" Another person shared, "I love how SZA admits to her BBL in track one. That's so real."
There were also fans who wanted to know the name of her surgeon. One fan wrote, "The doctor who did SZA's BBL needs a Nobel Peace Prize," while another person said, "Who did SZA's BBL? I need [their] number."
There were additional comments about her buttocks on Twitter and they included:
"that ass so fact, it looks natural, it's not." SZA REALLY CONFIRMED THOSE BBL ALLEGATIONS JUST LIKE THAT!!?
"sza carrying the industry on her bbl!!"
"the girls was arguing DOWN about Sza not getting a BBL just for her to admit she actually did"
Even though her fans seem to be happy with her new music and lyrics that discuss possible changes to the size and shape of her butt, SZA told an interviewer that she doesn't "see longevity" in music. She did add, "I like to create, I like to write, I like to sing and I like to share. But I don't know if chasing after superstardom or whatever I'm supposed to be doing right now is sustainable for me or for anybody. I'ma take a good swing at it, and I'ma give 'em my absolute best. I only do what I want to do, and this makes me feel free, safe and unrestricted."
BBL – What is it?
A good portion of the speculation surrounding the appearance of SZA's backside seems to center on the idea that she had a Brazilian butt lift (BBL). A BBL is a procedure that is designed to give the buttocks a larger and more contoured appearance thanks to the addition of more volume in the butt. A surgeon will transfer fat from another area of the body into the butt and the transferred fat is obtained through liposuction.
The fat is taken from an area on the body where the patient has enough excess fat that can be removed using liposuction. The fat that is removed is processed and purified before it is injected into the backside of the patient. The final results provide an enhanced shape and size to the butt along with an improved contour to the section of the body where the fat was removed. The final results are permanent as long as the patient does not have a large fluctuation in their weight after the procedure.
- MA