When the public visits a theme park, there are certain rules in place to keep people safe. One of the most common rules can be seen on a sign that states you have to be a certain height to be able to sit on a specific ride. A woman in Texas is taking the ability to safely enjoy a theme park ride to a new extreme by revealing she can no longer ride a roller coaster without an element of danger.
Breast Augmentation Prevents Certain Activities – Texas Woman Discovers This Fact
A Texas woman who spent thousands of dollars to gain larger breasts claims her supersized breasts are preventing her from safely taking part in activities such as riding a roller coaster or running. Katy Ann, who has over 103,000 followers on Instagram, told a reporter, "Sometimes you have to give up other things to get what you want."
The online influencer had her first breast augmentation procedure when she was twenty years old. During this surgery, she had her breast size changed from a C cup to a D cup. Once that procedure was performed, she had three additional breast augmentation surgeries that enhanced her breasts to the point that her boobs weigh ten pounds. It is often said that everything is bigger in Texas and to prove that point, Katy Ann's breasts are reported to be a size 30 J.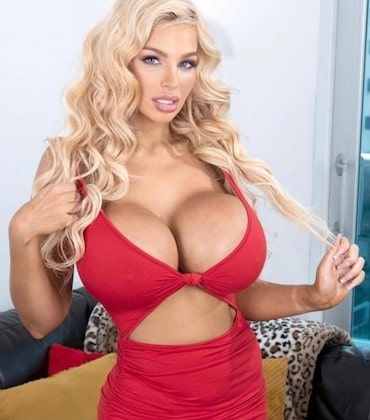 In addition to not being able to ride a roller coaster safely, Katy Ann has discovered problems with trying to buy clothes that fit her larger breasts. "Tops that aren't made of spandex or a stretchy material are incredibly hard to fit properly into. I just can't walk into any lingerie store or section and buy bras. There are a few shops that carry my size or I need to have custom-made bras/tops by a tailor."
Katy Ann also shared the fact that her surgeon restricted her from running for exercise as "high-impact activities and weight" might give her breasts a look that is saggy in appearance. "When I do exercise, I will wear two bras and a sports bra for maximum support.
When it comes to riding a roller coaster, she describes the process as "tricky." When asked for further details, Katy Ann said, "The shoulder restraint squishes my enormous boobs and the few times I did go on a roller coaster there was an element of new excitement because I was worried the shoulder restraint didn't lock properly."
Breast Augmentation – Not the Only Changes to Her Body
The decision to enhance her breasts to such an enormous size did come at a price as Katy Ann spent $38,000 on her breasts. In addition, she spent another $62,000 on other procedures including lip fillers, Botox, two butt augmentation surgeries, and surgery to tighten the skin.
Don't worry about her bank account as Katy Ann shared the news that she had some help paying for the changes to her body. The future real estate agent said, "A majority of it was funded by sugar daddies."
She recognizes the fact that some people might find her mission to attain her larger breast size to be a superficial quest. When asked about it, Katy Ann says her mission to enhance her image is worth it. "If I have the time, money, and ambition to change my body, and I can safely do it – then why not? I wasn't born 'perfect' so thank goodness for gyms, hair stylists, nutritionists, and surgeons."
Breast Augmentation – Public Reaction Revealed
Kay Ann is not the first woman online who has discussed issues with having overly large breasts. There have been women in the past who have shared problems with exercising, fitting in cars, and facing the opinion of the public.
For example, Katy Ann says she receives positive and negative attention when she is visiting a swimming pool. "One thing I would like to point out is that yes, I am totally and completely aware that my breast augmentations are extreme. This look is certainly an acquired aesthetic taste."
Having said that, she feels that her decision to have extreme breast augmentation was the right choice. "I understood going into this super busty lifestyle [that] certain things and activities in my life would need to be modified, if not stopped. That's the way life is."
Katy Ann added that is she is happy with her decision. "At this point in my life, I personally am enjoying them."
She also knows that her current attitude towards the size of her breasts might change in the future. "I make plans and God laughs, so who knows? I could wake up tomorrow and start removing all my plastic surgery or I could go get more. But with the advances of modern medicine, I can have a breast reduction anytime and not look so outlandish."
- MA