It was somewhat easy to predict the type of businesses that would see an increase in consumer spending and/or use at the start of the pandemic in 2020. Some of these businesses include apps that allow for food delivery from restaurants or grocery stores, Amazon (for almost any type of item a person can imagine) and Zoom which allows companies to hold virtual meetings with employees. One business that many did not expect to show an increase was the plastic surgery industry. It has been reported that plastic surgery clinics across the United States enjoyed a 60% increase in their business. In order to learn why this was the case, here is a closer look at how plastic surgery was impacted in the last year by online social media platforms and video conferencing/communications apps such as Zoom.
"Zoom Effect" Explained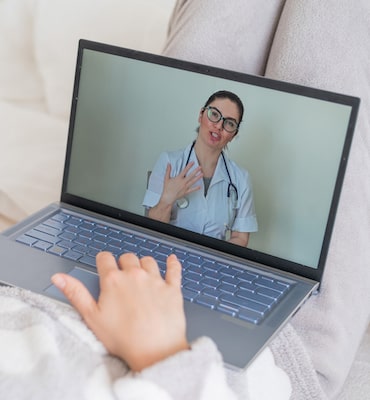 One of the main factors in the increased popularity of plastic surgery in the past year has been the "Zoom Effect". Due to the need to work from home and socially distance from others, workers across the country are logging onto Zoom on a daily basis to interact and exchange information and ideas with their fellow employees.
The ability to see others on a Zoom call also means people are looking at their own appearance on a more frequent basis. This also means the public is finding flaws in their appearance that they might not have noticed in the past. Numerous people are ending their video calls and then going online to research cosmetic procedures such as Botox and fillers along with more invasive plastic surgery procedures such as a facelift, breast augmentation or liposuction.
Changing View of Plastic Surgery
In June of last year, the American Society of Plastic Surgeons (ASPS) conducted a survey of 1000 people that had no prior experience with plastic surgery. The survey was conducted in June of 2020 and the results showed that 49% of the respondents said they were open to the idea of undergoing their first-ever plastic surgery procedure.
This number is in contrast to the results of a similar survey that was conducted back in 2014. The results of that survey showed that only 17% of people that responded to the survey were open to the idea of having plastic surgery. While 49% of the 2020 surgery respondents were open to the idea of plastic surgery, 49% of the respondents of the 2014 survey were against the idea of undergoing plastic surgery.
This change in the attitude towards plastic surgery seems to show that the "Zoom Effect" is real and it is having a positive impact on the opinion of plastic surgery held by the public.
Social Media and Plastic Surgery
Zoom is not the only online platform that is changing the way people feel about having plastic surgery to alter the appearance of their body features. Millennial-aged patients were growing in number even before the coronavirus pandemic thanks to wanting to have an appearance in their daily life that matched their appearance on social media where they can alter their appearance using filters.
According to the ASPS, patients that fall into the millennial category accounted for almost a quarter of all plastic surgery procedures in North America as recently as 2019. Some of the most popular procedures of this age group included buttock implants, breast augmentation and liposuction.
In general, millennials enter into the plastic surgery process with a specific set of goals and instructions. They also have a more informed idea about how they will look after some form of plastic surgery thanks to the filters that are available to alter photos on social media platforms such as Instagram and Snapchat. Plastic surgeons across the country are also reporting that patients in the millennial age range arrive at their office with a selfie that has been altered or "touched up" in order to show exactly the type of look they want to achieve.
What is the "Next Big Thing"?
The American Society of Plastic Surgeons reported that breast augmentation has been the most popular cosmetic surgery procedure in North America. As recently as 2019, there were almost 300,000 breast augmentation procedures performed by plastic surgeons.
It remains to be seen if breast augmentation will remain at the top of the most popular list because there is a prediction in the plastic surgery industry that the "Zoom Effect" will have more patients focusing on the appearance of their faces. Procedures such as eyelid surgery and rhinoplasty were some of the most popular plastic surgery choices last year.
While it is not a plastic surgery choice that focuses on the face, liposuction was the second most popular choice in 2019. There is a good chance that it will grow in popularity as people across the county are trying to determine how to get rid of stubborn fat they have gained since many gyms are closed due to COVID-19 restrictions.
The plastic surgery numbers for 2020 have not been released yet by the ASPS. Once they are shared with the public, it will be interesting to see how the plastic surgery marketplace responds to the changes made to the industry by the coronavirus pandemic.
- MA