Plastic surgery is a tricky subject for parents and their teen children that want to make a change in their appearance. Many surgeons will not perform plastic surgery on teenagers because their bodies are not yet fully developed. In addition, doctors want to make sure the teen patients are mentally and emotionally stable enough to handle the permanent changes that can be made to the body thanks to plastic surgery. There are times when doctors will decide to perform plastic surgery on teen patients if the surgery is needed for physical or mental health reasons. The doctors also talk to the parents to make sure they are giving their kids good advice and not telling them to get plastic surgery for selfish reasons as it appears one mother in England did earlier this year.
Bad Plastic Surgery Advice from a Mother
A former fashion model has admitted to telling her daughter that "ugly people get nowhere". As part of her plastic surgery advice, Carla Bellucci told her 14-year old "non-academic" daughter, Tanisha, to get a butt lift as well as undergo breast surgery. Bellucci is already well-known in England for admitting that she lied about having depression to get $9000 worth of free rhinoplasty from the National Health Service (NHS) which is the publicly funded national healthcare system for England.
When asked why she lied about having depression, as well as flirting with her doctor to get a free nose job, the 37-year-old former model said she "didn't care what people say" about her "milking the system". She also said "that's what it's there for" when it came to getting her free rhinoplasty.
The "Ugly Daughter" Defends her Mother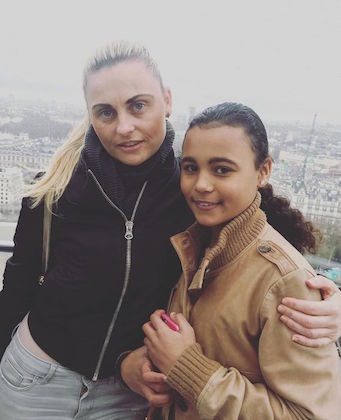 Tanisha is defending her mom and says she "can't wait" to undergo around $38,000 worth of cosmetic surgery procedures in order to fulfill her dream of being famous. When defending her mom to the media, Tanisha called her mom a "hustler" who "recognizes what I'm good at and is pushing me towards it."
When speaking to Fabulous Digital, Tanisha said "I hate school. Mum recognizes that forcing me to sit exams and study subjects I hate like science will just make me miserable. Instead she's helping me focus on what I want to do and what suits me."
Carla has created a surgery fund for her daughter and, instead of giving her spending money; she deposits over $100 a month in the fund to go towards future surgeries. They have saved almost $2000 towards her future procedures.
Mother and Daughter discuss her Desired Procedures
When asked about the reasons why she wants her daughter to have plastic surgery, Carla said that Tanisha "will need to rely on her looks to get on in life, so she will need to be perfect." Carla added that she is happy for her daughter to have a Brazilian butt lift (BBL) as well as D-cup size breast implants and veneers on her teeth.
Tanisha said she plans "to have a Brazilian butt lift when I'm 16. We're currently talking to clinics here and overseas who will do the surgery at that age with my mum's consent."
She added, "I'm sure many people will freak out but us teens probably know more about plastic surgery than our parents. I love Cardi B, Nicki Minaj and Kim Kardashian. They all have amazing curves and butts. I would love it if mum and I could have twin butt lifts."
Tanisha says she wants to have the surgery to help her stand out as well as give her confidence. She admires Kylie Jenner for having cheek and lip fillers to change her appearance. In addition, Tanisha has compared her relationship with her mom to the relationship between Kylie Jenner and mom/manager, Kris Jenner.
Tanisha and her Goals
Tanisha feels that school is not a big goal for her as the Kardashians do not have college degrees. She says that "Real life skills are what I need. I'm focusing in developing a social media following, and studying dance and singing."
While the plastic surgery will enhance her looks, she also says that her mother is teaching her about makeup, clothes, plastic surgery and Instagram to also define her beauty.
"If anyone thinks my mum is bad by being straight with me about school, my academic record or plastic surgery, they can get lost off. I agree with her because she's practical. Kris Jenner did this with her kids and my mum's just like Kris."
The Public Reaction to Carla
Carla was working as an activities coordinator for patients with dementia. However, she is on an indefinite leave due to stress and anxiety caused by people calling her a "scammer" and "scrounger" after the news about her free rhinoplasty was made public.
Her daughter claims she is not ashamed of her mom for using the services available to her to have the rhinoplasty procedure. She feels that the public is just jealous of her and are trying to bully her. Tanisha says that her mom is beautiful and would do anything to help her achieve her dreams.
MA