Molly-Mae Hague has seen her fame grow thanks to her appearances on "Love Island" as well as her videos on social media. The fans of the reality TV star have noticed changes in her appearance over the years and that includes the latest changes in her look. According to recent posts online, Molly-Mae seems to be embarking on a cosmetic surgery journey that is giving her a more natural look.
Molly-Mae Hague – Changes in Her Look Spotlighted Online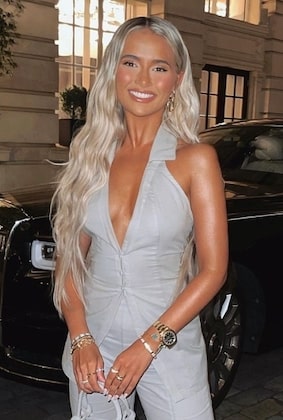 Hague has been documenting the alterations in her look online and some of the revelations shared with her fans include removing the fillers in her face and the lip fillers that were injected to give her lips an enhanced look. In addition, Molly-Mae had the composite bonds on her teeth removed and she also decided on a short bob for her new hairstyle.
When discussing why she decided to make these changes, Hague said she had made "mistakes" by having multiple unnecessary procedures. The desire to reverse the procedures is driving the latest changes in her appearance.
During one of her stories on Instagram, Mollie-Mae said, "I think I've taken all the steps that I want to take now in reversing all the mistakes I made with the fillers, getting things done that I didn't necessarily need to get done and didn't think through at the time, about two or three years ago."
Molly-Mae Hague – Gets Rid of Her Lip Fillers
Even though Hague did not confirm all of her suspected past or present cosmetic surgery procedures, Molly-Mae did admit that she had her lips fillers dissolved. While Hague is now twenty-three years old, the TV star said she had been receiving lip fillers since the age of seventeen.
While addressing her fans on her YouTube channel, Hague explained, "This is something I've been putting off now for the last six months. I am getting my lips dissolved. My lip filler journey has been a very, very long one. I've been getting my lips filled with filler since I was about 17 which is literally ridiculous." Hague went on to say, "I want to talk you through the process of undoing."
Some medical experts have estimated that Hague spent around $7450 on having lip filler placed in her lips as well as dissolving the filler.
In addition, the reality TV star showed the results she gained from having the composite bonds removed from her teeth.
When discussing the natural look of her teeth, Hague said, "As you can see they are a bit yellow which is kind of disgusting but they haven't been touched for about two years. The main thing for me was to make sure my teeth were in good condition and my gums were in good condition because I got my composite bonds when I was 19." Hague added, "I don't think that was a particularly smart move to be doing that so young when I didn't need to."
In order to address the issue of her yellow teeth, she plans on having teeth whitening treatments that will give her teeth a brighter look and reduce the amount of stains that are the result of the multiple years she had the composite bonding on her teeth.
Molly-Mae Hague – No Filler in Her Jaw
Besides having fillers injected in her lips in the past, Molly-Mae also admitted to having fillers placed in her jaws. However, those fillers have also been removed from her jaw by being dissolved.
Hague had fillers placed in her jaws when she was eighteen, but she was not happy with the results as they gave her a look of having "jowls." While pointing at her chin, Hague said, "I was trying to sharpen this area here. But what it did was make it look bigger. It looked like I had jowls, I had a square head, blockhead."
Molly-Mae Hague – Not Always Open with Her Fans
While she has been very open about the process of changing the results of previous cosmetic procedures, Molly-Mae Hague has not always been open with her fans about the procedures she has undergone in the past.
She has been open about having her lip fillers removed but she did not instantly admit to having lip fillers when she first entered the public eye. This did not stop others for wanting to gain her look with one online commenter saying, "Molly mae makes me wanna dye my hair blonde and I want her tan, oh and lip fillers ok I just wanna be her…"
One of the few parts of her appearance that was she was open about before her latest series of confessions was when she admitted that her formerly long blonde hair was actually the result of extensions. At the time, she was not willing to admit how much the extensions cost her but she did say that they "cost her a fortune."
- MA