In the past few years, Madonna has surprised her fans with an evolving look they have not liked as they have pointed out she does not look like herself. Besides being shocked by her suspected plastic surgery, Madonna's fans have also referred to the look of the singer as "freaky." Ready to get started learning about the latest plastic surgery adventures of the Material Girl? Cosmetic Town TV is here to take you into the world of Madonna's latest appearance:
Madonna – Her Fans Speak Out
Earlier this year, the singer posted a video on Instagram where she looked much different than normal thanks to a pink hairdo, pouty lips, and bleached eyebrows. Some of the comments about her appearance included:
"That isn't Madonna is it? What happened to her? She looks nothin like she used to."
"You don't look like Madonna anymore."
"I'm sorry…but this looks scary. You were beautiful just the way you were. Sad that so many women fall victim to wanting to look 20 forever and go overboard with fillers and surgery."
"What have you done to yourself?"
"Halloween came early."
Thankfully, there were some fans who came to her defense and said that the public need to stop judging her and should just mind their own business.
"This new hair is wonderful."
"Absurd ppl criticizing M with 64 old…do you criticize your mother?"
"Still sexy. Beautiful Madonna."
Madonna – Plastic Surgery Speculation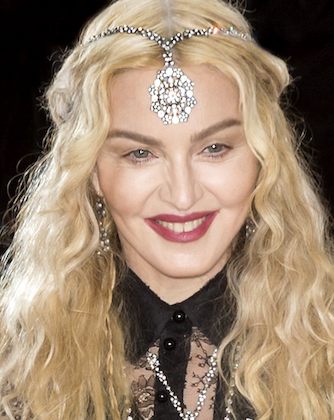 In an interview with Page Six, Dr. Ehsan Ali, CEO, of Beverly Hills Concierge Doctor and Urgent Care, said, "When I first saw the post, like many others, I too was very surprised by how Madonna looked." Dr. Ali listed some of the procedures he suspects her of having in the past in order to achieve her new look (since he has not treated the singer).
"She for sure had a facelift. You can see her skin is pulled back and tightened, with no loose skin and no wrinkles. A facelift also alters the shape of your eyes, which you can see in her image, her eyes seem 'pulled back.'"
Ali also thinks she had rhinoplasty to alter the look of her nose as well as Botox because he noticed "minimal movement and no expression lines, which confirms there are several units of Botox in her forehead, crows feet, and glabella (commonly referred to as the 11's, which are the vertical lines in between the eyes when frowning)."
The plump look of her cheekbones has led some people to suspect her of having filler placed in them due to their prominent appearance and their higher placement on the face. There is also a theory that part of her "unnatural look" could be the result of an excessive use of filler that has built up over time and provided her with an excessive amount of volume in the cheeks.
Another doctor commented that her hairline has a look that appears to be pushed back om her head. "If you measure from the top of her eyebrows to the top of her hairline that distance is more than three finger breadths, so that tells me that they've done a brow lift, where they make incisions in the hairline to pull everything back to lift up the brows and eyebrows, so your hairline moves back with it."
The appearance of her jawline, which now has a look that is long and flat, might be the result of Botox in the masseter muscle. If so, this look will not be permanent as the effects of Botox wear off over time. The new look of her jawline might also be the result of an invasive surgical procedure. If she had loose skin around the neck, this could have been addressed with liposuction under the chin as well as a neck lift to pull the skin in a backwards direction.
The final suspected cosmetic procedure is the possibility of filler being injected into her temples to combat the possible appearance of hollow areas in that region of the body. The fullness of her temples suggests that multiple injections of filler might have been injected into that particular section of the body.
Madonna – Did She Say Anything About Her Appearance?
While the writers and editors of Page Six reached out to Madonna for a comment, she did not respond to their request.
Did Madonna take the idea of having plastic surgery too far? Is Madonna's current appearance simply the result of the aging process on her face? Did she visit a cosmetic surgeon who placed too much filler in her face?
The answers to these questions will not be known anytime in the near future unless Madonna makes the decision to address this gossip with the public. However, if she did have fillers and/or Botox placed in her face, these treatments do not provide permanent results so Madonna would need to have a follow-up treatment to maintain the results. Since her current look is so "full," there is a hope that future procedures would involve less Botox and fillers to provide a more natural appearance (if she did have cosmetic procedures in the past).
- MA