Doja Cat is one of the most popular singers of the past few years as well as a star who is willing to share news about changes in her appearance with her fans. For example, Doja Cat recently had plastic surgery and took to social media to explain which procedures she had performed on her body and how she was feeling after the procedures.
Doja Cat – Plastic Surgery Admission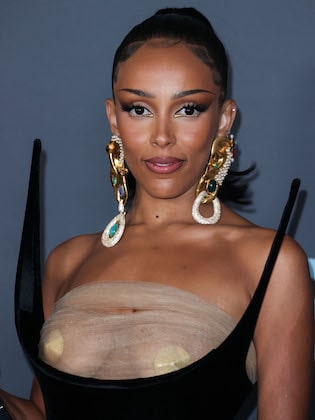 Earlier this month, Doja Car let her fans know that she was recovering from a number of surgical procedures. She took to Twitter to answer some questions about her appearance and also revealed that she was four days post-op after having liposuction and breast reduction surgery. She told her fans, "Feels ok. i got lipo so my thighs hurt a lot if i move too much but im healing really fast."
The singer also clarified to her followers what liposuction was because one of the people who commented on the procedure claimed that lipo involved transferring fat from one area of the body to another area of the body. Doja Cat said, "That is called a fat transfer. I did not get a fat transfer."
She also confirmed that the surgery on her breasts was to perform a breast reduction as one fan thought she might have undergone breast augmentation surgery. Doja Cat tweeted, "Nope. Smaller." She also shared the news that her breast size is now a 32C.
Doja Cat – A Look at Her Celebrity Plastic Surgery Procedures
One of the first procedures that she admitted having was liposuction which can eliminate stubborn and hard to remove fat from the body while also giving the treated area an improved shape and contour. Some of the most popular areas of the body for liposuction include the hips and thighs as well as the abdomen and upper arms.
The procedure begins with the creation of tiny incisions in the targeted area of the body. The surgeon inserts a suction tube that is known as a cannula into the incisions in order to access and remove stubborn fat deposits that have been proven to be resistant to regular diet and exercise.
This procedure is also related to one of the treatments her followers suspected her of having which is fat transfer. The fat that is removed from the body during liposuction can be used during a fat transfer procedure. The fat that is removed is processed and purified by the surgeon before it is placed elsewhere in the body to improve the shape, volume, and contour of another section of the body. A common example of fat being removed and placed elsewhere in the body is a Brazilian butt lift (BBL) which is a popular surgery that gives the buttocks an improved size and shape.
The singer also mentioned having breast reduction surgery to reduce the size of her breasts. This treatment is performed for a number of reasons and they do not always have to do with simply reducing the size of the breasts. Breast reduction surgery is also able to lessen ongoing pain and discomfort felt by a person due to having overly large breasts. This pain and discomfort can be a continuing issue in areas of the body such as the neck, shoulders, and back. In general, breast reduction is when fat, skin, and tissue is removed from the breasts in order to give them both a smaller size and a more youthful appearance. There are multiple techniques that can be used to reduce the size of the breasts and these methods differ by the type of incision that is created by the surgeon. The desire to have smaller breasts might not be related to pain and discomfort caused by the overly large size of the breasts. Instead, the patient might feel that the large breasts do not fit the frame of their body, they might be self-conscious about their large breast size, or they might simply feel more confident about their appearance if their breasts were smaller in size and shape.
Even though Doja Cat had breast reduction surgery, she was suspected of having breast augmentation surgery which can give a person a look to the breasts that is larger in shape and size. There are a few methods available to someone who wants to increase the size of their breasts and that includes the placing of breast implants in the body. The breast implants can be made of silicone or saline and they can be placed behind the individual breast or below the pectoral muscle. In addition, the breast implants can be either round or teardrop shaped in appearance along with being smooth or textured. Patients who do not want to have breast implants placed in the body can use fat transfer instead to have fat placed in the breasts to add volume to smaller breasts, provide a fuller figure, and give the breasts a more balanced look.
- MA