The start of the New Year brings a desire on the part of many people to make changes to their appearance through cosmetic surgery. The beginning of 2023 also brings about popular trends that are likely influenced by changing lifestyles, a resurgence in the popularity of certain procedures, technology, and the economy. Let's take a look at cosmetic surgery trends that look to be popular throughout the coming year. Our in-depth look at cosmetic surgery trends begins with the latest from Cosmetic Town TV:
Cosmetic Surgery – Is a Facelift Still a Popular Choice?
The desire for a youthful face looks to be a continuing goal as the months pass this year. Facelifts have become more natural in appearance as medical technology and techniques have evolved and improved over the years. A facelift is able to give the face a refreshed and rejuvenated look by removing excess fat and skin while also tightening the underlying muscles of the face. Since the medical technology used to perform a facelift has improved over the years, patients are not as worried about gaining results that give their face a look that is pulled too tight to the point that it is obvious that a procedure was performed on the face.
Patients who want to have a facelift at a relatively young age do not have as much sagging or excess skin as an older patient. They will not need as much excess skin cut off and there will likely be less tightening of the underlying muscles. The need for less lifting or cutting of excess skin is desirable to patients who are looking to enjoy a shorter recovery time. There can also be a financial advantage to having a facelift at an earlier age. The less lifting and tightening that needs to be performed by the surgeon, the less it will cost as there is a smaller amount of work that will be involved in the facelift.
There is also a growing trend of patients who have a facelift by getting their cheeks injected with fat removed from another part of the body via liposuction. The injected fat balances the appearance of the face so the final appearance does not look like it has been pulled too tight (which might happen with a traditional facelift).
Injectables for a Younger Look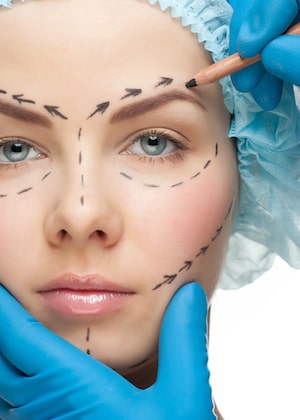 Patients who do not want to undergo an invasive facelift often use Botox or fillers as part of a long-term maintenance plan to keep a youthful look. Even though the results from Botox and fillers are not permanent, they can make changes that are impactful enough to reduce fine lines and wrinkles or add volume back into the face that might have been lost as a person ages. Patients also enjoy these treatments because they do not require a long recovery period or much in the way of downtime.
The use of injectables gives patients the opportunity to get an idea of the type of results they can expect to see without having to commit to the time, expense, and invasive surgery of a traditional facelift. They can create a maintenance plan for their appearance while knowing how long the results will last, what is financially required in maintaining their youthful look, and what their next steps will be if they decide to move beyond simply having Botox or filler injected into their face.
Blepharoplasty and Browlifts that Rejuvenate the Face
Patients who are feeling "filler fatigue" might be tired of needing to have numerous follow-up appointments to maintain their results. They might also be afraid that their face has an overly full look from too much filler being injected into the targeted area of the face. These patients might also want to reduce or eliminate the look of horizontal lines in the forehead while still enjoying a full amount of motion in the treated area. A brow lift allows people to retain the ability to raise their brows in a natural manner which gives them a look that is approachable and friendly.
Blepharoplasty, AKA eyelid surgery, restores the vision of a person that is blocked or impaired due to an excess amount of skin and fat in the eyelids. The procedure can also remove bags that are located under the eyelids and improve the appearance of puffy eyelids.
A brow lift and blepharoplasty are two popular methods that rejuvenate the look of the face while maintaining a natural appearance. These procedures also address the concern some patients have about having a look that is tired or heavy-lidded.
As mentioned above, the economy and the available funds patients have to spend on cosmetic surgery can impact their final decision about having one of the trending procedures discussed above. A person who does not mind spending money on follow-up procedures will often choose fillers or Botox while someone who wants to invest in a long-term solution might decide to have a facelift. Patients should schedule a consultation appointment with an experienced and trained plastic surgeon to discuss their options and decide which procedure makes the most sense for them when it comes to their desired results and finances.
- MA