The decision to have plastic surgery is a personal one as each person has specific reasons for wanting to have a procedure. Some people want to make a change in the size of their breasts through breast augmentation or enhance the size and contour of the buttock by having a Brazilian butt lift (BBL). On the other hand, there are some patients who want to make changes that go beyond simply enhancing the look of certain body parts. Instead, they want to make a bigger alteration to their appearance by making as much of a change as possible to their look. An example of this can be found in the story of a French man and the radical changes he has made to his appearance over the years to the point that he now looks like an alien. In addition to making massive changes to his appearance, his decision is also impacting his dining choices.
French Man Looks Like an Alien – Details Here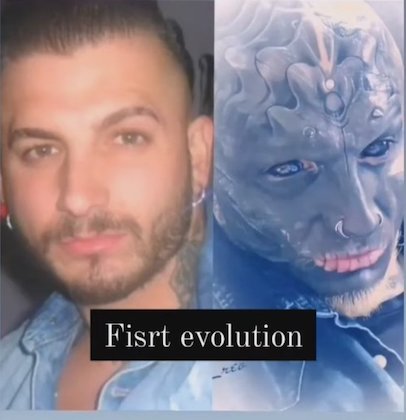 It was recently reported that a French man claims he has been banned from restaurants after he made the decision to transform his look to resemble an alien.
Anthony Loffredo is a thirty-three-year-old man who was born in France. He has made dramatic alterations to the appearance of his body in order to resemble an alien. The changes include the removal of two fingers along with the removal of his nostrils and ears. Plus, he is now covered in tattoos along with the addition of several implants that have been placed underneath his skin.
According to Loffredo, he often gets started at by others in public to the point that he is discriminated against when it comes to his looks. Loffredo also says that there are some restaurants that will not allow him to eat inside their establishment. He told a TV reporter, "If I want to eat at a restaurant, sometimes the server says I can't eat on the terrace."
French Man Looks Like an Alien – Not Done Yet
Loffredo refers to the body modifications he has made to his appearance as the "Black Alien Project." He also says that the changes to his look are only forty-nine percent complete and the goal of his transformation is "to become less human." One of the reasons he is happy with the alterations to his appearance is that his new look has helped increase the level of confidence he feels in his life. He also claims his alien appearance has helped others feel better about their look.
"There are people that said thanks to me as they feel more secure now. That now the looks they get from other people, don't bother them. It feels very good. I feel more like myself…I feel perfectly good."
French Man Look Like an Alien – How it Happened
The dramatic transformation in his appearance started when Loffredo was twenty-seven years of age. "Little by little, every year, one modification or two. It's a lot of implants. Removal of the mouth, nose, ear, hand."
In order to make the changes to his appearance, he had to visit multiple locations across the globe as many of the procedures he has undergone are illegal in locations such as the United States and Europe.
Loffredo shared his adventures across the globe to make the desired changes to his appearance. "My tongue five years ago in France. My nose in Spain three years ago. My eyes in Switzerland six years ago. Ears three years ago in Barcelona. All the tattoos, many in France."
When discussing the reasons why he wanted to make such drastic changes to his body, Loffredo compared the transformation in his appearance to a person who makes the decision to have a sex change operation because they "were born in a body that wasn't theirs."
He is also determined to keep making modifications to his body even though he gets stared at by others when he goes out in public. "There are people who are open minded and people who are closed minded. That's the way it is. That's how it will be for all of humanity. I can't make everyone be open to everything."
Plastic Surgery – Discuss Changes with a Board-Certified Doctor
One of the most important points in this story is that Loffredo made the changes to his look by visiting certain countries and clinics to have plastic surgery procedures that are illegal in the United States and Europe.
It is important to consult with a plastic surgeon who follows the rules and standards set forth by their home country and the majority of the plastic surgery industry. There is a greater chance for side effects and less than desired results by visiting doctors who are either not board-certified and properly trained or doctors who are willing to perform any type of procedure regardless of the legality of the surgery. Patients should perform research to make sure their doctor of choice has the necessary skills to perform the procedure and is willing to tell the person if their desired changes will be natural in appearance.
- MA