The state of Florida is well-known for being a popular destination for Brazilian butt lift (BBL) surgery but there is also a concern about the death toll from botched BBL procedures in the state. It has been reported that BBL is the most-searched cosmetic surgery procedure on Google in Florida. According to the Sun Sentinel, the surgery gets more than 20,000 searches per day. However, South Florida has the most Brazilian butt lift deaths in the country according to a study conducted in 2022 and reported in the Aesthetic Surgery Journal. Let's examine why there are concerns about the performance of BBL in Florida and what is being done to combat the situation.
Florida Brazilian Butt Lift Boom – Study Results Revealed
According to the 2022 study, one of the deadliest BBL complications is a pulmonary fat embolism. When this complication occurs, the fat that is injected into the body by a surgeon enters the bloodstream of the patient. South Florida saw twenty-five fat embolism deaths related to BBL surgery between 2010 and 2022. In addition, around 92% of the surgeries were performed at budget clinics that specialize in a large volume of procedures.
Florida Brazilian Butt Lift Boom – One Patient Speaks Out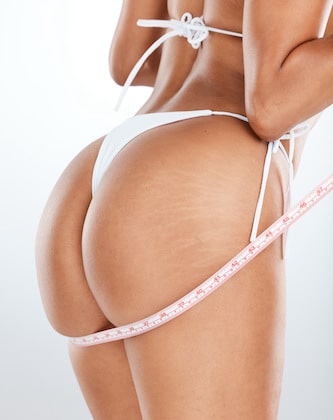 A Florida patient who had a Brazilian butt lift told a local news outlet that she should have recognized the warning signs before having her procedure. For example, the office where she was scheduled to have her BBL had closed before the surgery and the office transferred her records to a different medical facility. In addition, the price that she was quoted and paid for in advance was increased the day of the surgery. Plus, she did not meet the surgeon performing the procedure until she was being placed under general anesthesia.
The patient was thinking about walking out of the procedure, but she had already paid for the surgery. A few days after her procedure, she was hospitalized with blood loss, infection, and nausea. She instantly regretted picking a doctor off social media and choosing the lowest price instead of paying for a quality procedure.
Florida Brazilian Butt Lift Boom – Why Patients are Attracted to Office-Based Facilities
Patients like this one are commonly convinced to visit South Florida surgery centers that are based in offices thanks to social media marketing that makes BBLs, along with other cosmetic surgery procedures, look safe and painless as well as affordable (according to surgeon groups and researchers). Patients often choose to visit a surgery center based in offices because they do not require the person to stay overnight. These offices can also be regulated as an extension of the private practice of a doctor.
There are also times when these types of surgical offices are owned by corporations that are able to offer discount prices when they contract with surgeons incentivized to work on as many patients as they possibly can each day. According to physicians and state regulators who are critical of these facilities, these surgeons are also incentivized to perform the surgical procedures in as short an amount of time as possible.
Florida Brazilian Butt Lift Boom – Safety Measures Put in Place
After a number of deaths and no national standards regarding the procedure, regulators in Florida were the first in the United States to enact rules intended to improve the safety of a Brazilian butt lift surgery. Even though these rules were put in place in 2019, there are still deaths occurring after BBL surgery.
There are also signs that the business model of office-based surgeries made popular in Miami is spreading to other cities. Dr. Bob Basu, a vice president of the American Society of Plastic Surgeons and a practicing physician based in Houston, said, "We're seeing entities that have a strong footprint in low-cost, high-volume cosmetic surgery, based in South Florida, manifesting in other parts of the country."
As with any surgical procedure, there is a chance of complications after the surgery. Some medical experts say the complications are partly driven by having nurse practitioners and physician assistants perform key elements of the butt lift instead of the surgeon. This led Dr. Kevin Cairns, a physician, and former Florida Board of Medicine member, to propose an emergency rule in the state last year to limit the number of butt lifts a surgeon could perform on a daily basis. Dr. Cairns stated, "I was getting sick of reading about women dying and seeing cases come before the board." The emergency rule limited the number of procedures to three per day (when some doctors were performing as many as seven per day). Plus, doctors were required to use an ultrasound to help lower the chances of a pulmonary fat clot.
There are some physicians who are fighting back against this limit by saying the requirement makes the situation worse. The group known as Surgeons for Safety claim the rules that make qualified doctors perform fewer procedures would actually drive patients to seek out the services of doctors who do not follow rules and safety measures. They also claim the rules set "a historic precedent of controlling surgeons."
Regardless of the outcome of this argument in Florida, patients are urged to use caution when choosing a doctor. They should not simply rely on information they find on social media. Instead, they need to perform research and ask the doctor they have in mind to see "before and after" photos of actual patients they have treated along with reading reviews on doctor review websites and the Yelp page of the doctor. They also need to ask if the doctor holds privileges to perform the procedure at an ambulatory surgery center or hospital as they have stricter rules than office surgery centers when it comes to how a BBL is performed and who can perform the surgery.
- MA