It is not uncommon for fans of celebrities to try and gain a look that reflects their favorite star. They might have a specific procedure in mind they hope will help them look like a specific celebrity. When it comes to trying to get the same look as a superstar by undergoing a celebrity plastic surgery procedure, their fans will often not take it too far when it comes to making changes to their appearance or updating their look. On the other hand, there are some fans who will go to great lengths to try and completely alter their appearance to look like the celebrity they admire. This is certainly the case with a man in Los Angeles who has spent over $120,000 in an effort to look like Britney Spears and his quest looks to continue in the future.
Los Angeles Man and His Goal to Look Like Britney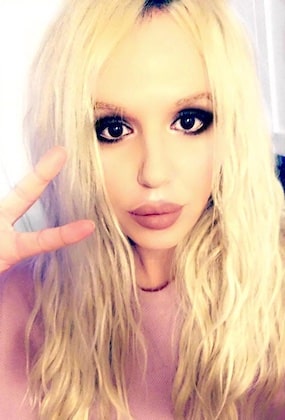 Bryan Ray is thirty-five years old, and he has been a fan of the pop star for more than two decades. Ray, who is from Los Angeles, has spent over $120,000 on one hundred cosmetic procedures in an effort to look like Britney Spears.
Ray says he first started to transform his appearance eighteen years ago and the first procedure was the placement of veneers to try and have a smile like Britney. He told a newspaper, "I've been doing this since I was 17 and I am not finished. I am an ongoing work of art."
Ray runs a medical marijuana edibles company and his quest to look like the pop superstar has included two rhinoplasty surgeries, lip augmentation, cheek implants, and an eyelid lift. In addition, he follows a schedule of having Botox and fillers every six months as well as the removal of hair on his face and body every two months.
When it comes to his goal to look like Britney Spears, Ray says he does not have any plan to stop undergoing surgical procedures to transform his look. Ray also says he is thrilled with the work that has been performed so far on his body. "Am I perfect? No, absolutely not. [But] when I look in the mirror at myself I am very happy."
Man Tries to Look Like Britney Spears – Will He Succeed?
When it comes to his mission to look like Britney Spears, Bryan Ray, who says he has a "doctorate degree from the University of Spears" claims he has no illusions or belief that he will ever be able to look completely like the singer. Instead, he only wants to "resemble that look of hers. That was never something that was in my head, thinking I would look 100% like her. I understand my face, my symmetry, my features and what I've done is work in collaboration with plastic surgeons to see what characteristics could be altered in a way that is inspired by Britney to resemble that look of hers."
In addition to the cosmetic surgery procedures listed above, Ray also adds hair extensions in order to resemble "that look" made famous by the singer and he also maintains an ongoing bleached look with his natural hair.
Britney Spears Superfan – What do His Followers Think?
Ray has more than 99,000 followers on Instagram who follow his journey and view the results of his cosmetic surgery procedures. While he has many fans who are supportive of his decision to try and look like Britney Spears, there are some people who speak out against the changes to his appearance and also seem to be confused by his obsession with Britney.
"I do get that people don't understand it. People might call me weird or crazy, but I think being open about it in the way I have will help eliminate the stigma."
He went on to add, "It's not for everyone, and I'm not encouraging everyone to go out and get plastic surgery, but I am encouraging everyone to be body positive in whatever way that looks like for you."
As a giant fan of Britney Spears, he has had the opportunity to meet the singer multiple times including an encounter in Hawaii that proved to be memorable over a decade ago. "In all places, in Maui, in this tiny outdoor festival, I was meeting my idol. She wasn't all glammed up like in the music videos and she had very minimal makeup, if any, but she was just so beautiful."
The chance encounter with Britney in Hawaii gave him the opportunity to realize he wanted to continue his cosmetic surgery journey. He remains a big fan of the singer and Ray says he will never stop being her biggest fan and he will not stop undergoing surgery inspired by his love for the singer. "I will forever be a huge Britney Spears fan. She has been a huge part of my life."
- MA