Back in the early 1990s, Madonna had a documentary called Truth or Dare. There is a scene in the movie where Madonna and her dancers make fun of "people who have body parts that aren't real." While one of her dancers seemed to make the claim that Madonna had some body parts that were not real at that moment in time, she quickly replied that her body was "bona fide, the real thing" (except for the color of her hair). Flash forward to 2022 and Madonna now seems to be one of the people she mocked in the past. Let's examine Madonna and the aging process to see if she made the decision to alter her appearance with plastic surgery.
Madonna and Her Face – Criticism from All Sides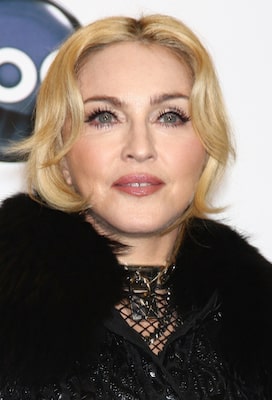 In April of this year, Madonna became a trending topic on social media thanks to a TikTok video where she leans in to blow a kiss to the camera. The appearance of her face caused some people on Twitter to compare her appearance to a vampire or Jar Jar Binks while one magazine said she looked "bizarre". The criticism about her appearance ran the range from criticizing her for not aging gracefully to making fun of her for trying to age gracefully by having cosmetic surgery.
The discussion about her looks is nothing new. In the past, she was referred to as "chunky" even though she had a toned look from years of dancing. After she took up yoga and running to stay in shape, her "veiny arms and hands" were mocked by the tabloids. Madonna was even refereed to as a "grandma" for daring to be on tour at the age of 35. It seems like there has always been some type of negativity focused on her appearance, so it is not surprising that she seems to have changed her mind about having plastic surgery.
Madonna and Plastic Surgery – When Did it Begin?
While it is hard to determine exactly when Madonna's attitude towards plastic surgery changed, it seems to have happened somewhere between the early 2000s and the 2010s.
She had a music video in 2003 where she seemed to imply that Botox and fillers left her in pain. By 2012, she was saying, "I am certainly not against plastic surgery. However, I am absolutely against having to discuss it."
A 2019 Instagram post seems to confirm that she was not willing to discuss the topic. After the public made fun of her newly plump butt, she made an Instagram post with the caption, "Desperately Seeking No Ones Approval And Entitled to Free Agency Over My Body Like Everyone Else!!"(FYI: She was suspected of getting butt implants to get a better shape and contour to her backside.)
How Madonna's Views on Plastic Surgery Can Impact Others
To her credit, Madonna does seem to understand how her views on certain topics can have an influence on the greater culture. In the 90s, she told a Los Angeles newspaper that "presenting my point of view about life, whether it's about sexual equality or anti-homophobia, is a political statement. I know it has an impact." However, she might not have considered this when it came to her changing views on plastic surgery and beauty and the need to look youthful and sexy through cosmetic surgery. A HuffPost writer in 2019 said, "She understandably resents that we harp on her age, but it's impossible not to when she works overtime to convey agelessness."
Because of the many statements made about her body and facial appearance over the years, it does make sense that she made the decision to change her look through cosmetic surgery. One of the reasons that it remains surprising is that Madonna always seemed to enjoy having a reputation of defying her critics and this includes the expectation that she would defy their comments about her looks in the past and (perhaps) age gracefully without surgical help.
Madonna – Is She Happy with Her Appearance?
At the Billboard Women in Music event in 2016, Madonna pointed out "the most controversial thing I have ever done is to stick around." In addition, she remarked that "to age is sin" and she has proved her critics wrong by still being a big part of pop culture.
Madonna even referred to rapper 50 Cent as "misogynistic, sexist, and ageist" after he made fun of a sexy photoshoot she posted on Instagram.
No matter what the critics say about her, Madonna does seem to still live her life according to what makes her happy. Her decision might be the opposite of the opinion shared by her younger self, but everyone changes their attitudes over the years. It is refreshing to see anyone (even a superstar like Madonna) making choices based on their own needs and not what they feel someone else might want for them. It is not up to the public whether Madonna decides to have a natural look or she turns to (suspected) cosmetic surgery procedures such as laser treatments, Botox, and chemical peels or plastic surgery choices such as butt implants. Whether she has had any of these procedures (or not), it is almost certain that the public and the press will not stop speculating about her evolving look as she continues to age.
- MA