The desire to fight the aging process is one shared by many people and they will often turn to cosmetic surgery to maintain a youthful look. While Botox and fillers can reduce the look of lines and wrinkles on the face, the results they provide are not permanent which means patients need to have follow-up treatments to maintain the results. Another popular option is a facelift which provides long-lasting results, but it is a more expensive procedure. Some patients do not worry about how much it costs or how the price can impact their life as shown by one person who ended up selling her home to afford a facelift.
Selling a Home for a Facelift – No Problem!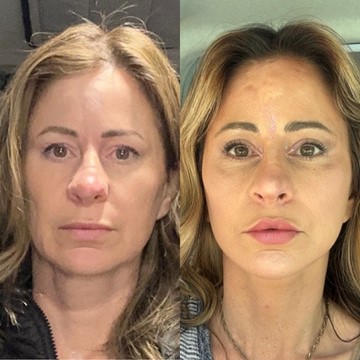 A recent news story told the tale of a fifty-year-old woman who owned a three-bedroom home in Arizona. The word "owned" is the key word here as she decided to sell her home in order to be able to afford the invasive surgical procedure known as a facelift.
The name of the woman is Kelly Beasley, and she is a blogger who lives in Lake Tahoe, California. Instead of living in a three-bedroom home in Arizona, Beasley now lives in a van since she sold the home so she could have a facelift. Beasley does not regret her decision as she now has a refreshed and youthful look to her face. Plus, she wants to share her story in order to end the shame that often surrounds plastic surgery.
Beasley told one news outlet, "Around 48, my face started dropping fast. The changes were astounding." She had been using fillers to enhance her look for the past fifteen years but Beasley started to feel they were not making much of a difference in her appearance so she decided to sell her home as a "cushion" so she could have the necessary money to afford the surgery.
When asked what she thought of her new look, Beasley said, "The results are beyond what I expected. I didn't expect to look younger. I'm loving my look and looking my most fabulous that I can."
Selling a Home to Afford a Facelift – How the Decision Was Made
Beasley told the news outlet that once she made the decision to have a facelift, the next step was to visit plastic surgeons near her home to learn how much the procedure would cost. The surgery quotes came back in the range of $50,000-$60,000.
When trying to decide what to do, Beasley viewed a woman on TikTok who had a facelift performed in Tijuana, Mexico. This woman showed great results in her video and the surgery in Mexico only cost $14,000.
The next step Beasly took was joining the Facebook group of an organization that helps potential patients coordinate their plastic surgery procedures in Mexico. In addition, she did further research into the experiences of other female patients and also decided to be put on a cancellation list in case an opening came about in the future. Beasley had an opportunity for surgery back in January thanks to a cancellation. However, she did not feel like she was ready at that moment.
It didn't take long for another chance to come around as another cancellation happened in the month of February. Beasley took advantage of the opportunity and had her procedure on February 14th. As she put it to the news outlet, "Happy Valentine's to me."
Her trip to Mexico took place on the day before the surgery. The actual surgery took four hours to perform as she also had additional procedures beyond the facelift. In total, Beasley had a facelift, lip lift, neck lift, and fat transfer as fat was taken from her thighs and placed in her lips and face.
Living in a Van – Post – Procedure Recap
The immediate recovery time after the various procedures was six days in a Tijuana hotel before she was able to make the drive back home to the United States. Once it was all over, she compared the experience to being on vacation. She woke up with her head "wrapped in a giant crazy bandage. I started taking pictures immediately."
Beasley states that she did not feel any pain. Instead, she only experienced some amount of "discomfort." While she is happy with her new look, she does admit that the changes in her appearance took some time to get used to once they started to become visible. "After about a week-and-a-half I had a minor 'oh crap' moment. Your brain is having a hard time adjusting to your face."
Having said all that, she is happy with her new look and feels the surgical procedure took about twenty years off her appearance. Beasley is also happy putting makeup on her face again and even prefers her current look over her appearance from twenty years ago.
Beasley also said she is happy to share her story with others and hopes it will help to eliminate some of the shame that surrounds having plastic surgery. "If we do too much – we're vain or insecure. If you don't do anything, wear makeup or do your hair, they say 'you've let yourself go'." She went on to say "I'm going to do what I want to do. Why not live the most fabulous life? Part of that for me is having plastic surgery."
- MA