The Kardashians are known for many things including their wealth, their personal relationships, and the changes made to their appearance through plastic surgery. While there are photos that show what the ladies in the Kardashian/Jenner family looked like in the past, it is not known what their current appearance would be if they had not undergone multiple procedures in the past (the ones they have admitted to having and others they are suspected of undergoing). A recent AI simulation claims to show what the Kardashians would look like if they had never had any type of plastic surgery.
Kardashians – Real Look Revealed?
A recent video is said to expose the true appearance of the Kardashians thanks to a software program that addresses each member of the family. A video that shows the projected "normal faces" of the family has already gathered over two million views on TikTok.
In an online interview, a representative of Vandahood Live, the people responsible for the digital reverse aging effect on the Kardashians, said, "We used three different AI software and two different standard graphics software and a full week to pull it off. We had to take a different approach for each member of the family since each one underwent different changes over the years."
The final results were achieved though the use of multiple virtual tools including FaceApp, Deep Face Lab, and EbSynth. The results feature parts of the finale of "Keeping Up With the Kardashians." The images from the show are shown alongside versions of the same clip that have been digitally altered so they are able to show what might be the "normal" look of the family members if they did not have any type of cosmetic procedures to alter their look.
Kardashians Without Plastic Surgery – What is the Difference?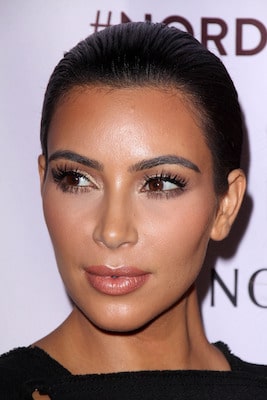 The different look that the Kardashians have in the video clips is something to see as some of the changes in their appearance is easy to notice. Some of the most notable differences are changes in the appearance of Khloe Kardashian's nose and a much less plump look to the lips of Kylie Jenner.
As mentioned earlier, there are some procedures that the Kardashians have admitted to undergoing while other suspected procedures are still nothing more than gossip and not anything the family has admitted to in the past.
For example, Kylie Jenner denied making any changes to the size or shape of her lips even though her fans were convinced she had made some sort of alteration to their appearance. In 2015, she finally revealed that she had lip fillers placed in her lips after years of overlining her mouth. In addition, she shared the news in 2017 that she decided to get fuller lips after a boy told the teenage Jenner that he assumed she would be a bad kisser because of her naturally thin lips. Even with the revelation about her lip fillers, her fans have also speculated that Kylie has undergone rhinoplasty, breast augmentation, and a butt lift. As of the publication of this article, she has denied all of these suspected procedures. In one 2019 interview, she said "People think I fully went under the knife, and completely reconstructed my face, which is completely false."
Khloe Kardashian has admitted to multiple procedures in the past year including rhinoplasty, AKA a nose job, and having fillers and Botox (which did not turn out well as Khloe said she "responded horribly" to the Botox treatment).
Kim Kardashian has been the subject of much speculation when it comes to plastic surgery gossip. She was asked by a reporter what procedures had been performed on her face and she replied with "a little bit of Botox" while pointing the area of her forehead between her brows. However, she still stands by the claim that her cheeks and lips are natural in appearance as well as her eyelashes. "I've never had eyelash extensions. I've never done anything. I've never filled my cheeks. I've never filled my lips."
This claim did not sit well with many people on social media, and they also were not happy with the reporter who interviewed Kim about her appearance. One person posted, "I'll say this: to have her in front of you and not press her on what she's had done beyond Botox is irresponsible, and the passing mention that 'she built her body' is so frustrating.
Another social media user wrote, "I was so interested and intrigued to read about the 'science of natural beauty.' Then I saw Kim Kardashian and didn't bother. I think these magazines think we're idiots."
As the stories above show, the public continues to be interested in the appearance of the Kardashians. From AI software that tries to show a more natural look to this reality TV family to the multiple magazine covers they appear on each month, the speculation about the appearance of the Kardashians looks like it will continue for a long time.
- MA