It was just about a year ago that Chrissy Teigen was in the news for having a Buccal fat pad removal procedure in order to reduce and eliminate some of the fat located in her cheeks. In order to remove the area of fat located in the posterior region of the cheeks (near the molars in the mouth), the doctor places a small incision in the inside cheek lining, and it is moved towards the gums. This allows the doctor to apply some pressure below the cheekbone which makes the buccal fat pad stick through the incision. Some of the fat is removed and then the fat pad is put back in place by the surgeon.
In addition to Buccal fat pad removal, Teigen has also made some additional changes to her life that have helped give her a new look that has her fans discussing her appearance.
Chrissy Teigen – What's Up with Her Eyebrows?
In 2021, Teigen took to Instagram to share the news that she had an eyebrow transplant. On Instagram, she wrote "I never wear makeup if I can avoid it so I was excited for this eyebrow transplant surgery where they take hairs from the back of your head!!"
During an eyebrow transplant surgery, the surgeon removes hair grafts (along with the follicle/root of the hair) in order to place the hair in the targeted area of the eyebrow on an individual basis. This procedure can be necessary because the eyebrows can become thin in appearance and density due to personal grooming habits such as plucking or waxing the eyebrows. In addition, some form of trauma to the eyebrow area can cause the hair to stop growing which can cause a patient to want an eyebrow hair transplant. Finally, scars in the area of the eyebrows can be covered or hidden by the placement of eyebrow hair in the impacted area.
After the hairs are implanted into the eyebrow area, it will soon fall out, but this is to be expected. Hair regrowth should start around three months after the eyebrow transplant surgery.
Chrissy Teigen Discusses Her Past Cosmetic Procedures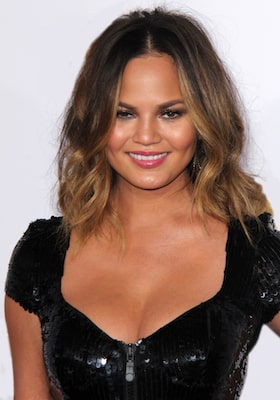 In May of 2020, Teigen took to Instagram to discuss her breasts. She said, "I'm getting my boobs out! They've been great to me for many years, but I'm just over it. I'd like to be able to zip a dress in my size, lay on my belly with pure comfort! No biggie! So, don't worry about me!"
Teigen added, "All good. I'll still have boobs; they'll just be pure fat. Which is all a tit is in the first place: a dumb, miraculous bag of fat."
A few years before that (in 2018), the subject of plastic surgery related to Chrissy Teigen was brought up after she shared a photo of herself and John Legend from the Grammy Awards in 2008. One of her fans commented on the photo by saying, "Wow so stunning here. Before the boobies and fillers, so natural and stunning. You both still look great."
It should come as no surprise that the above comment was not welcomed by Teigen. She replied, "Boobies and fillers? F—k off with your backhanded s—t. [Two] babies and 10 years. Bye, b."
Chrissy Teigen – Changes in Her Lifestyle
After Teigen had her Buccal fat pad removal procedure, she also enjoyed a look that included a more pronounced appearance to the cheekbones as well as a better definition to the jawline. In addition, she also credits stopping the consumption of alcohol as one of the reasons for her rejuvenated look. Her simple answer when asked about her current look was, "I like it."
When further discussing the lack of alcohol in her life, Teigen commented "6 months no alcohol! Honestly kind of sucks saying it because even though I don't ever crave it now, time has not exactly flow by haha." She went on to add that she is not sure if she won't ever drink again but she does enjoy the improvements she has noticed since quitting drinking. "I now have endless energy, way less anxiety (no more benzos!) and I am *happier* and more present than ever. It's pretty cool."
The combination of her Buccal fat pad removal, her eyebrow transplant and her healthier lifestyle has made a difference in her physical appearance and her attitude towards life in general. There seems to be an inner peace that is hard to miss along with the happiness that comes from the changes she made to her body with cosmetic surgery.
Chrissy Teigen – What Does the Future Hold?
One thing that can be expected in the future is that the appearance of Chrissy Teigen will likely continue to evolve and change in the future. As this article showed, she has shown a tendency to make changes to her appearance with cosmetic surgery and it stands to reason that she will likely make additional cosmetic changes due to her career or her personal preference.
- MA