Last month, Cosmetic Town News shared the story about the singer, Grimes, and her desire to gain elf ears. Yes, that it what it sounds like…The desire to have ears that look like an elf on a regular basis. Back in September, the singer tweeted an image of herself and what looked to be her face following a surgical procedure. The text with the image said, "I did smthn crazy!" The photo of Grimes shows the head and chin of the singer wrapped in surgical gauze as well as her face having medical tape placed on it. This image started a discussion that revolved around the question…Did Grimes actually get elf ears?
Grimes and Her Ears – Did She Address the Speculation?
The first thing to know about the tweet mentioned above is that Grimes completely ignored any discussion about any possible changes to her ears. Instead, she seemed to confirm that she has finished a new album and that any final touches to the album were conducted in a sterile environment.
"Album is done we're mixing. My friend and I. perfected the last song in the plastic surgery clinic cuz they wouldn't let me leave and we were laughing that this was the most Hollywood moment of all time." She also mentioned that she has twenty songs that are ready to go so they might need to be delivered to the world as "BOOK 1 and BOOK 2." At this moment, there is no additional information about the album (including the format or number of tracks).
One of her fans asked if there might be a single in the near future. Grimes replied with, "Yeh there's a fair bit ready but only one video shot fml I had a rly serious medical issue from May to July so everything is behind – apologies." The singer did not provide any details about her health issues. However, she did say, "Yes – turns out if u go through a bunch of trauma and don't anything abt it u can get complex ptsd and lose the ability to walk and s—t lol."
Grimes and Elf Ear Gossip – When Did it Begin?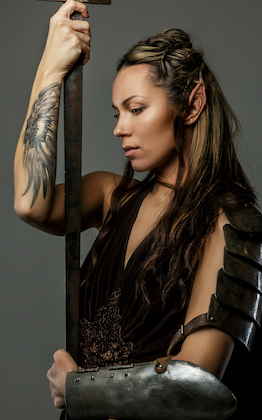 In August of this year, Grimes reveled that she had made an appointment with a plastic surgeon two years ago because she was thinking that she might want to "change things up in my mid 30s." The singer went on to explain that the body modifications she was thinking about having included cosmetic vampire teeth caps and making surgical changes to her ears. While most otoplasty patients have a surgical procedure because they want to draw less attention to their ears, Grimes said she wanted to change the look of her ears so they would look like elf ears.
She also asked her followers on Twitter if anyone had "done elf ear mods with a good outcome?" Her question also came with Grimes admitting that she was "scared about ear cartilage having a hard time healing." There was also a concern that, as a musician, the surgery "seems risky" even though she has wanted to have ears that look like those on an elf for her entire life.
It has not been revealed if Grimes has made any body modifications to her ears but that did not stop the new owner of Twitter from sharing his opinion on the idea. Grimes and Elon Musk share two children and he tweeted the following back in August, "The downside of elf ear surgery probably outweighs the upside." It should be noted that they are no longer a couple and that his opinion on the possible changes to her ears was not solicited by the singer.
Elf Ear Surgery – How is it Performed?
When it comes to having elf ears, there are a couple of methods that are used by doctors. Patients who are looking for a way to see how they would look with their ears like an elf, without having to make a permanent change to the ears, can have hyaluronic acid injected into the targeted area of the ear. Hyaluronic acid is often used in dermal fillers and the results are not permanent. In other words, if the patient is not happy with the results, the changes made by hyaluronic acid will eventually resolve on its own.
If a person wants to make permanent changes to the ears by having them look like elf ears, they can have a surgical procedure where a piece of cartilage, from elsewhere on the body, will be inserted behind the ear. The addition of the cartilage makes the ear move forward so they are visible during a frontal view of the face. A patent can also have an artificial material placed behind the ears if they do not have an ideal amount of cartilage that can be obtained from elsewhere on the body in order to be placed behind the ear.
- MA