The eyes of the world are often on Melania Trump thanks to her status as the First Lady of the United States. From her appearance to her fashion style, women all over the world often try to achieve the look of Melania Trump. One such woman is Claudia Sierra who is a 40-something stay-at-home mom and interior designer from Houston.
The Reasons this Woman Wanted to Look like Melania Trump
According to Claudia Sierra, she considered her life to be unfulfilling so she decided to pay a visit to Dr. Franklin Rose, a plastic surgeon from Houston, Texas. Sierra says that her goal in visiting Dr. Rose was a reinvention of her look.
In an interview with AOL Lifestyle, Sierra said "I definitely wanted to branch out" so she made the decision to have various plastic surgery procedures to update and enhance her look. When asked why she decided to try and look like Melania Trump, Rose said "I just looked at her and thought she was so elegant, so beautiful."
She added, "I wanted a completely new face. I want everything lifted, pumped up. And we accomplished that."
Sierra is a breast cancer survivor and going out on dates after reconstructive surgery provided the final push she needed to change her looks. Sierra told the New York Daily News that, on one of her dates, the man she was with asked her age. At the time, Sierra was 41 years of age but the man on the date with her did not believe Sierra. She asked Sierra to take out her driver's license for him so he could see her age listed on the license as he thought she looked older than her actual age.
"That was the straw that broke the camel's back. I was 41 years old and I decided that I have to change everything about me."
Plastic Surgery Procedures to Look like Melania Trump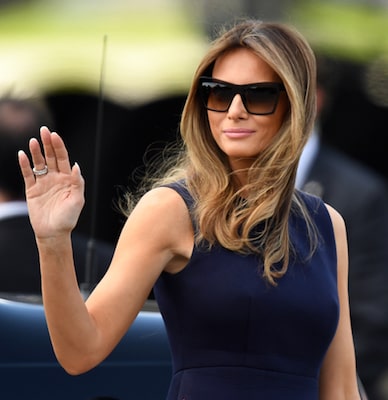 The Monday after that less than ideal conversation during her date, Sierra called Dr. Franklin Rose. She told the doctor what happened on the date and also let him know the various procedures she wanted to undergo to change her look:
Sierra told Dr. Rose that she wanted to "feel like a woman".
Sierra did not agree to the original cost of the surgeries because she thought it was too high of a price. She turned to working out but she was unable to get a date and that did not make her happy. "I'm fine, I'm nice but I didn't have the look. It made me feel like when I was a kid getting bullied; you're not good enough, you're not pretty enough. I was getting rejected by men and it was killing my soul. Nobody was picking me. So I said 'let me change everything but I don't want any part that's been touched by anyone'".
Rose called her back a few months later and they worked out a price ($65,000) that Sierra accepted. The special pricing deal was made because of her good standing in her community.
When the final decision was made to change her appearance to look more like Melania Trump, Sierra had nice procedures over a period of 10 hours.
Aftermath of Plastic Surgery to Look like Melania Trump
Even with all of the changes to her body, Sierra is still not dating anyone on a regular basis. "I'm labeled as that sick girl, but I'm not. I'm a healthy, happy person. I'm not mentally unstable. I knew what I wanted to do for me. Unfortunately, we don't know how long we have here, so while I'm here, I wanted to be happy and I wanted to shine."
According to Sierra, some of her friends stuck by here after the changes were made to her appearance while other stopped interacting with her.
"People really, even as adults, they're always going to find some avenue where they can still pick on you. It's got nothing to do with us and everything to do with them."
Sierra has continued to enjoy her life and feels she has nothing to hide from the public. She also credits Melania Trump with giving her the inspiration she needs for her daily life. She told the New York Daily News, "She holds her head up high. She's still going out there. She's not hiding. I don't feel like I need to hide."
Sierra wants to help prevent childhood bullying like what she went through. She wants to talk to students and travel in addition to writing a book for children about bullying. She knows that a plastic surgery is not for everyone and she cautions people not to feel like they have to have plastic surgery to make them feel better about their look. She did the plastic surgeries for herself and Sierra knows that is not the answer that will make everyone feel better about their appearance.
Sierra told AOL Lifestyle, "She gave me the push, the inspiration…but now, I'm doing more the Claudia look. I think everybody sees me as this brat girl who is going to spend $65,000. But let me tell you, I needed to invest in myself. This is the Claudia Sierra reborn."
MA