A phrase that has grown in use in the past few years, especially with the filming of a movie based on Barbie, is "Barbiecore." This phrase can refer to fashion that in some way references the world of Barbie. This is also a phrase that can be used to describe twenty-seven-year-old David Kosir who has already spent about $70,000 in order to achieve his goal of looking like a "human Ken doll."
Meet the Man Who Wants to Look Like "Ken"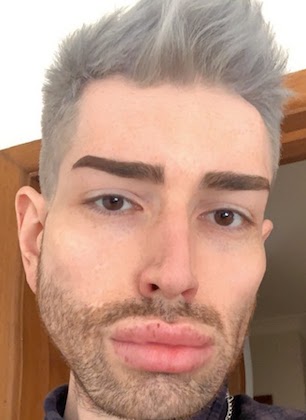 In the past few years, David Kosir has undergone several surgeries to alter his look including a hair transplant, rhinoplasty, laser freckle removal, and cosmetic dentistry. When asked why he wanted to make these changes to his appearance in order to look like Ken, he told a reporter, "I do really like the plastic, fake look. I'm going for a human, male Barbie doll look like Ken – that would be the ultimate aesthetic for me."
His transformation started in 2019 when he first started to use filler in his cheeks and lips. "I started getting lip filler and then I moved onto doing cheek filler and then I did jaw and chin filler. I really had no plans originally but I never really liked my nose so II always knew I wanted to get that done.'
In May of last year, Kosir had rhinoplasty at the cost of $9000 in his home city of Melbourne. "Everything else has just been discovering it and then going, "I'll give it a shot' and then just doing it. It's very impromptu really."
He also mentioned that part of his inspiration came from images he viewed on social media. "Honestly it was scrolling through social media, I was like, 'these teeth look nice, what are these? Veneers and crowns, what are they?' and then I looked into that and thought, "I should get that done."
When he took the initiative to "get that done," Kosir spent $17,000 on veneers on his top teeth in 2021 and $5000 on crowns for his bottom teeth this year. In addition, he addressed the issue of damaging his hair through coloring and bleaching on a consistent basis by spending $9000 on a hair transplant (including the travel expenses to see a doctor).
His expenses also included laser freckle removal every three months at a total cost of $2000 and facials every two months that cost $700. Over the past three years, Kosir has spent $68,539 on all of his cosmetic procedures.
Next Steps to Look Like a "Ken" Doll
Even though Kosir has decided to take a break from having fillers on a regular basis, he is not done making modifications to his appearance.
For example, her plans to travel to Turkey next year to have five facial surgeries that will cost around $14,000. The list of procedures includes fat transfer to his face, upper and lower blepharoplasty, a fox eye lift, and a cheek lift.
He does admit that he is spending "a lot of money but you've got to spend your money somewhere so why not do something that makes you happy. I find it worth it. I don't think there's too much else I want to do after my next round – I think it will give me a bit more of a permanent aesthetic, which is what I'm going for. But never say never, I could definitely find something else that I want to do."
While his mission to look like "Ken" has only been going on for three years, he is already starting to experience some sagging from the fillers. He plans to correct the droopy look in the near future. Kosir feels that his thin appearance makes other areas of his face have a disproportionate look but he is confident that his face will gain a more symmetrical appearance after his fat grafting procedure.
"Ken" Doll Patient No Longer Recognizes His Old Appearance
There have been so many changes made to his face that Kosir claims to no longer recognize his pre-op face. While he does not have any regrets about having the treatments, there are some mixed emotions involved with looking at his old appearance.
"I don't recognize myself looking at old photos. It's weird, it's mixed emotions. I don't actually hate how I used to look; I can appreciate both aesthetics that I've had."
Kosir does realize that his "attention-grabbing, out-there look" is not natural but he also does not "think I look that crazy but I guess people think otherwise because I get so many negative comments. The video I posted was just a little transformation of a few thing I've had done and there were thousands of comments all like 'what have you done?'"
While he was initially shocked by the hateful comments he received on social media from complete strangers, he says that his friends and family think he looks better now.
"Do what you want in like because you're only got one life. If there's something that you want to do, who cares if you're going to get judged for it, you've got to be happy with yourself and live your life."
- MA