While already well-known for her plastic surgery adventures in the past, Amber Rose is in the spotlight again as she plans to go under the knife just six weeks after giving birth to her son. In a recent Instagram video, the model shared the news with her fans. In the video, Rose described some of the work that will be performed by her plastic surgeon.
Amber Rose Discusses her Latest Plastic Surgery
When discussing her latest round of plastic surgery, Rose said that the doctor is "going to take out some of my jowls that are just, like, hereditary – it just runs in my family, so he's going to fix that and then suck all the baby fat out of my stomach. I'm super excited."
Rose wants to get rid of the baby fat left on her body because she gave birth to her second child, Slash Electric, in October of this year. She also has a 6-year-old son named Sebastian Taylor Thomaz.
Amber Rose Fans Speak Out about her Plastic Surgery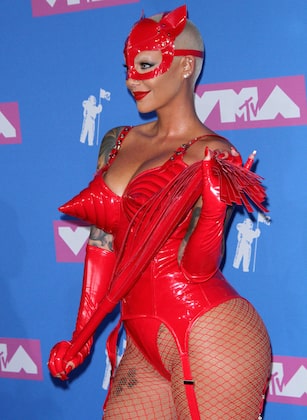 The reaction to the latest Amber Rose plastic surgery news has been met with mixed reactions from the public. Some of her fans are praising Rose for her honesty about wanting to have plastic surgery such as liposuction for the baby fat. There are others that are speaking out against the decision and are criticizing Amber Rose for not allowing her body to lose the postpartum weight naturally as well as not working out to try and lose the weight.
The decision to have plastic surgery this soon after giving birth is not recommended by plastic surgeons. According to the American Society for Aesthetic Plastic Surgery, most doctors advise women to wait six to nine months after giving birth before they have plastic surgery to address fat on the body as the body continues to change following the birth of a baby. In addition, patients normally cannot lift the baby for a few weeks after liposuction is performed.
Earlier Amber Rose Plastic Surgery
Amber Rose was in the news last year for undergoing breast reduction surgery after many years of considering the surgery. Even though her large breasts were the source of a good deal of physical pain for her on a daily basis, she delayed having the surgery because she was concerned that that final results would negatively impact the way she viewed her body and her overall sense of self.
Rose told People Magazine that she was "scared that I wouldn't feel sexy anymore but it got to the point where I was literally in pain." She described getting her large breasts at the age of 14 and that they felt like a heavy backpack on her chest. They also increased in size after she gave birth to her first son and she felt that made her look heavier than her actual weight. Her back was hurting her and it was not due to implants that could easily be removed.
Reasons Women have Breast Reduction Surgery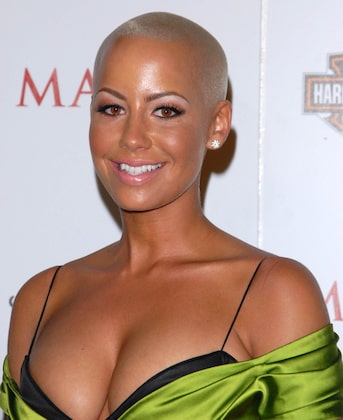 Many women decide to have breast reduction surgery because larger breasts on the body can cause pain for the person that has larger breasts. The pain can impact the neck, back and shoulders on a daily basis. The reduction of the breasts can greatly decrease the amount of pain felt by the patient on a regular basis.
When Amber Rose decided to have her breasts reduced, she had her breast size changed from a 36H to a 36DDD. She loved the results and told People Magazine that she was now able to wear spaghetti-strap tops without feeling self-conscious about her appearance. In addition, the breast reduction also reduced one of her fears about the surgery. She was worried that she would no longer be viewed as being voluptuous to others so he might not be happy with the overall results. However, the comfort and confidence she gained by having the breast reduction surgery made her feel that she made the right decision about the appearance of her body.
Amber Rose Large Breasts at a Young Age
According to Rose, she had naturally large breasts from a young age. The appearance of her breasts impacted her as she they made her look older when she was a teenager and they also made her back hurt on a regular basis.
She decided to make use of her breasts on a professional basis by creating a career as a stripper and a model. These days, she is much happier with her look because she doesn't have to spend as much time searching for a bra that correctly fits in the shirt she is wearing so it doesn't show to others.
Besides having breast reduction in the past, and her current desire to get rid of excess baby fact after the birth of her second child, Rose has also had cellulite removal in the past to help her look fitter than any other time in her life. Before she had her second baby, she also followed a regular diet and exercise routine to maintain her health as well as her fit look.
MA