The perception of fillers among the general public seems to be that their only purpose is to enhance or alter the appearance of a person. While this might be the case for some patients, there are also times when having fillers placed in the face is done for more than aesthetic reasons. Many patients are getting fillers in order to become happier with their appearance. If you are interested in having fillers to add volume to your face and give you a younger look, you should also know that fillers can do more than revitalize the facial appearance. Fillers might make you happier by increasing your self-esteem and giving you an improved self-image as well.
Fillers and Body Image Satisfaction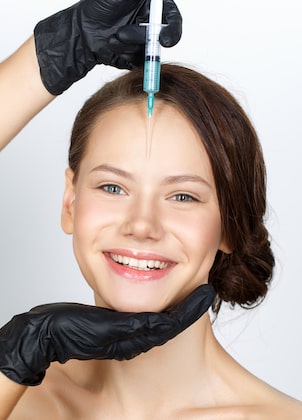 When it comes to having a cosmetic procedure performed on the face, it has often been described as "self-care" and respecting your appearance. In addition, cosmetic procedures have been said to increase the enjoyment a person has regarding their daily appearance as well as their overall satisfaction with their look.
There have been testimonials in the past from patients who claim they love their "new look" after receiving fillers. Having said that, the question of whether or not fillers increase the self-image and mental health of a patient does not have a definitive answer.
In 2018, there was a study that was reported in the journal, Dermatologic Surgery, conducted by an associate professor of dermatology (and his colleagues) at the Hospital of the University of Pennsylvania. The professor and his research team surveyed seventy-five patients before and after they had fillers injected into the body. The research ream also measured the body image satisfaction of the participants using the Derriford Appearance Scales. According to this measure, 75% of the post-filler recipients said their body image improved. When measuring their level of self-esteem using the Rosenberg Self-Esteem Scale, it did not change according to those surveyed about this topic.
The fact that they did not report a change does not mean the patients were not able to experience an increased amount of self-esteem after having fillers in the face. More than likely, their expectations going into the treatment played a part in their overall level of satisfaction. For example, filler recipients who expected a visit to the doctor would provide a massive change to the look of their face were likely disappointed because fillers are not able to produce the same dramatic results as a facelift. On the other hand, filler recipients who were expecting to see a modest amount of improvement in their facial appearance more than likely felt better about their appearance over a longer period of time. In addition, it is not stated in any specific way if the improvement in their level of self-esteem was connected to feeling good about themselves as well as their body. The alterations or enhancements in their appearance might make them feel better about their body but it might not give them a positive change in their self-image or overall feeling of well-being.
Fillers – How They are Able to Enhance the Look of a Person
One of the main reasons patients have dermal fillers is because they are able to restore volume that has been lost due to the aging process. Plus, fillers give the treated area of the body an enhanced look that is youthful and rejuvenated. Fillers can also add volume to the lips and reduce the appearance of fine lines and deep creases on the skin.
One of the most popular filler options is fillers made of hyaluronic acid (a substance that naturally occurs in the body). Hyaluronic acid helps the skin remain hydrated and also provides a plumper and filled look to the treated area of the face. Many hyaluronic acid fillers are gel-like, and they come in a variety of consistencies with popular hyaluronic acid fillers including Juvéderm and Restylane.
Other fillers options include fillers made of calcium hydroxylapatite (a substance primarily found in the bones) and Poly-L-lactic acid which is a biodegradable substance that is synthetic and safe for use in the body.
Fillers – Consult with Your Doctor
Now that you know fillers might be able to make you happier with your appearance, you should start the treatment process by scheduling a consultation appointment with a doctor who is both board-certified and experienced in performing filler treatments on patients of all ages.
The doctor will examine the current condition of your face to determine the extent of lines and creases and lost volume as well as the changes that can be expected after determining the best fillers option for your specific needs. The doctor will also ask about your goals and desired final results to make sure you have realistic expectations going into the treatment. Realistic expectations give you a better chance of being happy with the appearance of your body after having fillers placed in the targeted section of your face.
- MA