It seems like every month brings a new story about the appearance of one of the members of the Kardashian/Jenner family. The ladies in this family are well-known for their changing appearance and for sometimes admitting the procedures they had as well as sometimes not admitting anything at all. The appearance of Kylie Jenner has come into question lately as some of her fans have expressed the feeling that she recently experienced "botched" plastic surgery that has impacted her look.
Kylie Jenner – Fans Discuss Reality Vs. Social Media Filters
Kylie Jenner, like her family members mentioned above, has not always been forthcoming when it comes to discussing suspected cosmetic surgery procedures (such as the lip fillers she finally admitted to having placed in her body). However, her fans seem to be convinced that the 25-year-old businessperson (founder of Kylie Cosmetics) had plastic surgery recently that might not have gone as expected due to some differences in her appearance in photos that were recently posted on Instagram.
Before revealing the 'botched" procedure, some of her fans pointed out pictures that seemed to spotlight the difference between the appearance of a person on social media and their look in reality/real life. The photos were shared to the Instagram account, CelebBeforeAfter, earlier this month. The account had comparison photos that showed Kylie in similar poses and one of the photos featured her with makeup and filters while the other photo was missing the filters and makeup. The photos that were not edited and were free of makeup were the photos that caused many of her fans to think that she actually looked "much older" than her current age of twenty-five. Some of the less than flattering comments that viewers of the photos left included:
"Botched"
"She looks 50"
"Oof. Those fillers are not it sis."
"Omg so different she looks so much older than she is"
"Sorry, but she is scary"
"She looks so old"
"I just don't get it. I'm 51 and she looks older than me. All that work and all that upkeep for the rest of her life. At some point it isn't going to work anymore."
Even with all of the comments that criticized her appearance listed above, there were some viewers of the photos that were a bit nicer with their comments:
"Still a babe"
"What confuses me is her face looks puffy from fillers but then she edits it out in her photos, so why get the fillers?"
"Honestly, I prefer her in reality version"
"I feel sad for Kylie she was naturally beautiful she didn't need plastic surgery…Whatever floats her boat."
"I feel bad for her, honestly. She was just a kid when KUWTK started and she grew up watching her mom and sisters surgically alter themselves. She had zero chance of feeling good about her natural self being raised in that environment."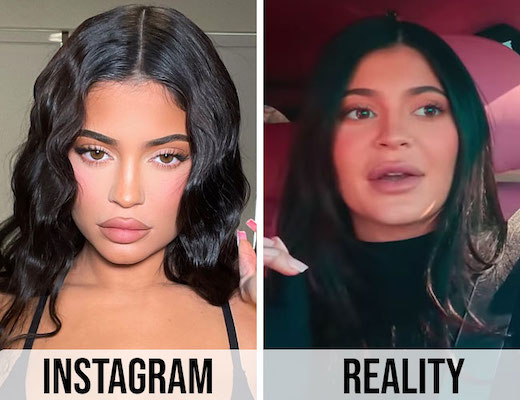 Kylie Jenner – What is the Suspected "Botched" Plastic Surgery?
The gossip about a "botched" plastic surgery procedure for Kylie started back in May at the wedding of Kourtney Kardashian and Travis Barker. Kylie wore a floral dress while dancing with her sister Kendall Jenner at the ceremony. The outfit was eye-catching as she paired the gown with white sunglasses, sandals, and red lipstick.
What was the part of her appearance that led to plastic surgery speculation on the part of her fans?
The appearance of her breasts.
Some of her online followers claimed she had an "uneven breast size" that was either the result of "botched plastic surgery" or because she was breastfeeding her second child. Just like the "reality vs. social media" photos discussed above, the Internet did not rest as commenters jumped online to discuss her breasts:
"Is that supposed to happen when you're breastfeeding?"
"Oh! What happened here? Her breasts don't look right."
"Yeah, that's normal when you have boobs especially if you're a new mom. Which she is."
"The unevenness looks so bad. The surgeon was probably drunk when he botched that boob job."
"We all know it's like that because of her plastic surgery and her denial of it, plus the unhealthy body standards."
In addition, her fans were confused when her boyfriend, Travis Scott, posted a photo of himself leaning against a street wall in New York City. The photo was uploaded onto Kylie's Instagram with the caption, "Got there in a New York minute."
In response to the caption and photo, Kylie posted an emoji with a tongue sticking out as well as a few emojis of a pregnant woman. Fans assumed the "emoji speak" meant their third child is on the way or that Travis is ready to have another baby with her. The couple did not elaborate on their comments to each other. Kylie has not addressed the speculation that she had a breast augmentation procedure that did not go as planned and that leaves her fans still wondering if she recently had a "botched" breast augmentation procedure.
- MA