Two women from California visited Tijuana earlier this year to have cosmetic surgery procedures. The end result of the trip was one woman died at the clinic and the other female was hospitalized for two weeks. Learn what happened to these California cosmetic surgery patients and why medical tourism can be a dangerous experience.
Tijuana Cosmetic Surgery Gone Wrong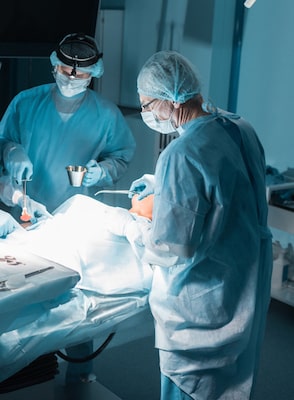 The results of the two procedures have shined the spotlight on the medical clinic the women visited in January of this year. The name of the clinic is Art Siluette Aesthetic Surgery and the director of the clinic, Dr. Jesús Manuel Báez López, is the doctor that is reported to have performed the procedures.
Keuana Weaver, a mother of two from Long Beach who died in Tijuana, had told her mom she was going to Florida for a tummy tuck. Her mom did not learn the truth until a family member called to let her know that her 38-year-old daughter had died on the operating table in Tijuana.
While the doctor that performed the surgery has not publicly commented on Weaver's death, the medical facility has reached out to her mother with an offer to refund the cost of the surgery.
According to a news report from 2015, inspectors with Mexico's Federal Commission for the Protection against Sanitary Risks had shut down another cosmetic surgery clinic run by the doctor for a failure to meet "the minimum requirements to operate legally".
Weaver's Friend also has Problems after the Tijuana Cosmetic Surgery
Kanisha Davis said she and Weaver were experiencing some downtime due to the pandemic, so she decided to go with Weaver to have a tummy tuck and liposuction.
Davis is a nurse, and she felt some concern when she not hooked up to any monitors during her surgery. After the procedure was over, she was taken to a hotel room to recover without having any type of blood testing. Davis told the press, "They didn't check my hemo. They just kept sedating me and sedating me. And me being a nurse, I knew something was off."
Once she learned of Weaver's death, her husband took her home to California where she started to bleed internally as well as projectile vomit. She eventually had to stay in a Pomona Valley hospital for two weeks when it was discovered that she was hemorrhaging inside and also had a hematoma (leakage from a larger blood vessel that collects under the skin). Davis said, "If I hadn't gone into the hospital when I did, I would have died. I was slowly bleeding to death. I was weak."
Davis eventually went into acute renal failure. She also said the money she saved having surgery in Mexico was offset by her hospital stay after she returned home to California. She summed up the experience by saying, "Did we know we were taking a risk being in Mexico? Yes. But did we ever, at any time, think that risk would be death? No."
While Davis was in the hospital, she asked the clinic in Mexico for her medical records. The clinic sent her a letter, signed by the doctor, that simply stated she "had surgery with us on Jan. 29" and "there were no findings or complications." The letter went on to state "The patient leaves the operating room in good condition, stable and is received on the floor for monitoring and administration of medications." She was also given a list of prescriptions to use for post-surgical care.
Cause of Death Revealed for the Cosmetic Surgery Patient from California
Weaver's cause of death was listed as "secondary hypoxic encephalopathy" which is damage to the central nervous system that is the result of an inadequate blood and oxygen supply. The date of her death was listed as January 29th (the day of the surgery), but an autopsy report was not released for Weaver even though it is considered to be a public record.
The Dangers of Medical Tourism
The idea of visiting another country for plastic surgery is appealing to many patients. They want to enjoy the sights and sounds of another country while also undergoing a cosmetic procedure for (usually) a lower price than they can find in the United States.
Patients from the United States should know there are some dangers to medical tourism. Doctors in many foreign countries are not board-certified and/or qualified to perform certain procedures and the medical facilities are not always held to the same high standards as American medical facilities.
For example, Dr. Jesús Manuel Báez López does not list any qualifications as a plastic surgeon on his website. He also does not list any type of specialty training as a surgeon that is legally required to practice plastic surgery. His website does state that he obtained a master's degree in "aesthetic surgery" in 2011 from the Instituto de Estudios Superiores en Medicina in Jalapa, Veracruz, and a medical degree from the Universidad Autónoma de Baja California.
Although American patients often travel to Tijuana for medical services at a lower cost, they need to make sure they are not putting their lives in danger. In 2019, the Centers for Disease Control and Prevention (CDC) issued a warning after eleven American weight loss surgery patients returned home from Tijuana with infections that were resistant to antibiotics.
Before making the final decision to have cosmetic surgery in another country, patients need to perform proper research to make sure their doctor of choice is both board-certified and experienced in performing their desired cosmetic procedure.
- MA