Many people decide to become a nurse because of a desire to help others who are in need of medical help. While they enjoy being able to assist patients in feeling better, many nurses grow tired of dealing with a variety of medical facility administrators, social workers and physicians who seem to need their time as much as their patients need their assistance. That is one of the reasons why many nurses are beginning to inject neuromodulators like Botox, as well as dermal fillers such as Juvéderm, on a regular basis instead of being dealing with endless mounds of paperwork for a doctor.
Nurses Administering Botox – What is It Called?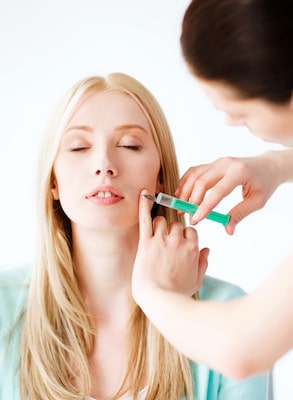 When nurses turn to the task of providing services such as administering Botox and fillers, it is often referred to as "cosmetic nursing" or "aesthetic nursing." The field of medical aesthetics continues to grow, and this is shown by statistics provided by the American Med Spa Association. According to this industry organization, 1300 new med spas have opened in the last year, and they have an average annual income of just under 2-million dollars per year.
It has also been reported that the average age of the mostly female clients is between the ages of 35-54. They want to receive dermal fillers, get rid of fat on their stomachs, and have Botox placed in the face (among other treatments). They are willing to spend the money that is necessary to invest in their appearance and make themselves feel better about their overall look.
Nurses – Why They are Choosing New Career Goals
The growth of the medical aesthetic industry comes at a time when many nurses are feeling overworked and overwhelmed thanks to the added pressures from the pandemic. In addition, there were reports of burnout and depression even before the pandemic. According to a survey from Incredible Health, 34% of nurses say they hope they leave their current position by the end of the year. One nurse told a reporter that younger nurses are "picking up on [the fact] that working in a hospital, it's a lot of burnout from a young age."
Nurses that are turning to aesthetic nursing enjoy the amount of growth and autonomy they see in the field. For example, they can work a 40-hour week if they desire, or they can work two or three days a week in order to have time with their friends and family.
There are some drawbacks that need to be mentioned including the fact that many aesthetic nurses do not work fulltime, or they are freelance employees. This means they often have to cover expenses such as their health insurance and even set-up their own retirement plan (if desired).
Many of these nurses also speak to the autonomy they have that allows them to promote their work on social media and also build their own client list. They also find the act of injecting Botox to be a creative exercise that allows them to enhance the natural beauty of their patients.
Aesthetic Nursing – Is It Easy?
There are some factors involved in making the change to the world of injectables that make it a little bit difficult to get started in this medical field.
For example, there is not always a positive public perception about Botox and fillers, so nurses sometimes have to defend their choices with both friends and colleagues. There is also the fact that aesthetics is not taught in medical school, so nurses often have to pay for their training out of their own pocket. They have to learn the fundamentals of injections in relation to the anatomy of a person from private educators.
As mentioned earlier, many nurses have to defend their decision to enter aesthetics and there is also concern on the part of the public that too many nurses are being pulled away from other medical fields. However, it is good news for the person who is receiving the injection as they know they are in educated and experienced hands. In addition, the main focus for an aesthetics nurse is the patient and their treatment as opposed to a nurse or cosmetic surgeon who spends a good portion of the day in an operating room or examining patients in their office.
It is important to remember that the spa-like atmosphere of the aesthetic nursing office does not mean the nurse is not familiar with the human body and the various reactions it can have to injectables. These nurses have to be ready to deal with issues such as an allergic reaction, brow ptosis/droopy eyelid and even vascular occlusion (where the blood is no longer able to pass through a vessel) after fillers are placed in the body. A skilled and experienced aesthetic nurse is able to treat, or avoid, a good number of these complications and also correct an issue if it occurs during the treatment. Medical aesthetics is still a medical procedure which means nurses must be prepared for anything that can happen during the treatment process.
- MA