Before he was banned from Twitter, Donald Trump was known for making bold claims and statements that would provoke extreme reactions from people that were for, or against, his opinions. His ability to get the public talking continues as an older claim about the appearance of his wife has ignited Twitter users. The claim that his wife has never had cosmetic surgery has resulted in many tweets arguing whether or not the statement is true or false.
Donald Trump and Plastic Surgery Claims
Donald Trump is no stranger to tweets about plastic surgery. He made a shocking claim back in June 2017 that Mika Brzezinski, a morning show host on MSNBC, was "bleeding badly from a face lift" after she made a visit to Mar-a-Lago. The tweet was sent after Mika and her husband, fellow MSNBC co-host Joe Scarborough, went to the Florida resort to see the Trumps only a few days after Mika had a cosmetic procedure designed to reduce the number of wrinkles located underneath her neck.
Brzezinski discussed the 2017 tweet during an interview for her podcast known as the "New Abnormal". According to Mika, the tweet from Trump occurred after a conversation she had with Donald and Melania Trump in their bedroom. The conversation was early in the Trump presidency and happened about eight weeks after he won the election.
Brzezinski said, "I'm talking to Melania about it, woman to woman, then Donald came up and said 'you know, Melania has had no work done. She's perfect.' I'm like 'that's great.''
Twitter Reacts to Donald Trump's Plastic Surgery Statements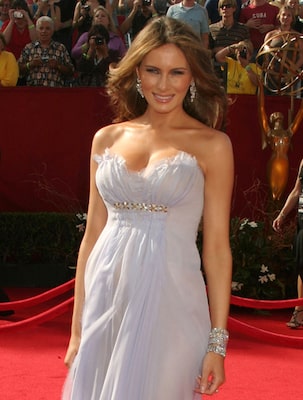 The revelation of Trump's claim about Melania not having any plastic surgery caused Twitter users to chime in with their opinions. The reactions were mixed with some users of the social media platform simply not believing Trump and accusing him of lying about the subject (as well as accusing him of lying about anything and everything).
Some of the tweets from people that did not believe Trump included:
"Only cosmetic surgery could create that appalling look….so much Botox she's lost the ability to use any facial muscles so has the constant look of an angry expressionless mask."
"He has never spoken the truth before why start now. Of course, she has had surgery look at her new nose..come on."
"She's pretty both ways, but dude be real. Yeah it's a personal thing, but when u live in the public eye and ur pix r accessible everywhere, just admit it or say no comment."
"Lie!!! It's pretty obvious she had a facelift."
On the other hand, fans of Melania Trump logged onto Twitter in order to defend the Trumps. One person said that Trump might have meant that Melania was perfect for him, with or without surgery, because she is his wife. One tweet even discussed all men think their wife has a perfect appearance. Other Twitter users complimented the look of Melania Trump because they are fans of her appearance regardless of whether or not she had plastic surgery in the past.
Here are just some of the positive comments about the appearance of Melania Trump:
"It doesn't hurt that Melania is one of the most Beautiful women in the world, and her voice is intelligent and feminine."
"The most Intelligent, educated, speaks 4 other languages fluently and the most beautiful First Lady America has ever had. Melania is wonderful."
"Regardless of all the slights, the beauty received from the media, pictures are forever and generations 100 years from now will still recognize Melania as the classiest, most beautiful firs [sic] lady ever."
Melania Trump – Suspected Plastic Surgery Procedure
The Cosmetic Town news team has discussed the topic of Melania Trump and plastic surgery over the last few years. She has been suspected of undergoing multiple cosmetic surgery procedures in the past to augment her looks for her career as a model.
Melania has been suspected of having rhinoplasty because her nose has more of a sharpness and a point to it than it did in the past. It has also been speculated that Melania had breast implants during her time as a model or after the birth of her child.
In addition to the procedures listed above, Melania Trump is also suspected of extensively using fillers and Botox to maintain a youthful look. The lack of wrinkles and lines on her facial features is the reason many celebrity watchers feel that her current appearance is maintained through the regular use of cosmetic procedures.
If Melania Trump has received any surgical help on her features, she has not discussed this issue with the public. She does not share much about her personal life with the media and this includes the topic of past plastic surgery procedures. If Melania Trump has undergone any type of cosmetic procedure, any official confirmation will likely not come from her in the near future.
- MA