Selena Gomez is a singer and an actress as well as a celebrity who has often been discussed when it comes to the topic of celebrity plastic surgery. She has been suspected of having multiple procedures in the past so let's examine whether or not Selena has undergone any type of plastic surgery and what she has publicly said about the subject.
Selena Gomez – Has She Talked About Plastic Surgery?
When it comes to the subject of plastic surgery, one of the few times Selena has discussed the topic was in a joking manner at an awards show. Gomez and Martin Short were presenting an award together and Short made a joke about being excited for the person about to win the award. Short said, "I'm excited too. Although it's hard for me to express the excitement because the Botox is fresh." Selena quickly responded with, "Alright, mine too."
Except for that playful exchange, Selena Gomez has not been the type of person to confirm to the public whether or not she has ever gotten any cosmetic help with her appearance. In addition, she has not responded directly to any of her fans who have made claims about her having plastic surgery.
Selena Gomez – Fans Accuse Her of Plastic Surgery?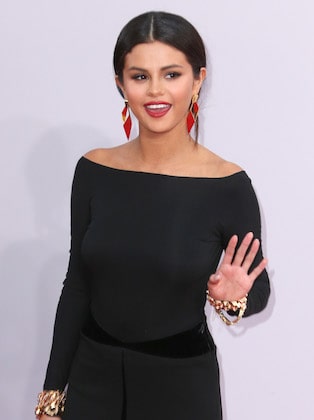 A little over a year ago, Selena took to Instagram to share a selfie that featured a new hairstyle. The caption of the photo said, "New hair, who dis?'
While many of her fans gave her compliments about the new hairstyle, others posted their theories about the appearance of other parts of her body. Some of the comments included:
"It looks like a nose job. New hair cut is nice, but [all] I could look at is her nose"
"It's her chin. It's not rounded anymore, it's pointed. Do a side by side picture. Either she is using Photoshop or she had her chin redone."
Instead of instantly responding to her critics, Selena waited about a month before she spoke out against the idea of body-shaming. In her TikTok video, Gomez said, "But honestly, I don't care about my weight because people bitch about it anyway. 'You're too small.' 'You're too big.' 'That doesn't fit.'…Bitch, I am perfect the way I am."
Selena Gomez – Earlier Thoughts about Her Body
Back in 2019, Gomez gave an interview where she discussed the changes in her body as she has continued to age and mature. At the time, the changes in her body resulted in some speculation that she had breast augmentation surgery. The gossip about her breasts caused her to really notice issues related to body image.
In the 2019 interview, Selena remarked, "I experienced that with my weight fluctuation for the first time. I have lupus and deal with kidney issues and high blood pressure, so I deal with a lot of health issues, and for me, that's when I really started noticing more of the body image stuff. For me, I really noticed when people started attacking me for that. That got to me big time. I think for me, that really messed me up for a bit."
While she has experienced some struggles related to the continued focus on her body, Selena ultimately decided that she needed to appreciate the natural shape of her body. "That was one of the moments where I was like, I don't have to be that 19-year-old body shape anymore because I'm not."
Selena also had to address comments about the appearance of her body earlier this year as some members of the public mentioned that she might have gained weight. In a video filmed with her sister, Gomez said. "I'm a little big right now because I enjoyed myself during the holidays."
She then turned to her sister so she could ask, "I mean, right?" The little sister replied with, "Yeah," before Selena said, "But we don't care."
Selena Gomez – Latest Suspected Cosmetic Surgery Procedure
The 2023 Golden Globes renewed the speculation about her appearance once Reddit users took the time to point out that Gomez looked a little different at the show. The speculation about her appearance even included some members of the public suspecting that she had canthoplasty AKA "cat-eye" surgery.
In general, "cat-eye" surgery is a cosmetic surgery procedure that is performed to lengthen the opening of the eye as well as lift the outer corner of the eye. One of the reasons patients want to have the procedure is to gain a look to the eyes where they are shaped like an almond. Plus, it also gives the eyes of the person a look that is more seductive.
The reaction of the public went as far as to inspire a post on Reddit titled "I wish people would stop this." In the post, the 2023 appearance of Selena Gomez was compared to her look in 2017. The difference in her appearance was so noticeable that some people thought the 2023 photo has been altered online. Some of the comments on Reddit included:
"Omg! Selena what have you done to ur face? Who convinced her to do this? She was so beautiful!"
"Still beautiful but the [cheekbones] injections ruined the harmony on her face."
"She looks like she did canthoplasty. Whatever it is, it ruined her harmony."
"There is no way people actually believe that all of that [is] due to lupus right."
As of press time, there has been no comment from Selena regarding the latest gossip about her appearance.
- MA