Breast augmentation is performed to give a patient a greater size, shape and enhanced contour to the breasts. Breast augmentation is also known as a "boob job" and the augmentation process is performed by the placement of saline breast implants or silicone breast implants in the area of the breasts. In addition, the breasts can also be enlarged by transferring fat from other parts of the body such as the abdomen or buttock. While many patients would like to undergo breast augmentation, they might not be sure about the steps they should take to plan for the procedure. Are you interested in undergoing breast augmentation surgery? If so, here is a look at how you should prepare for undergoing breast augmentation surgery as well as planning for the recovery period.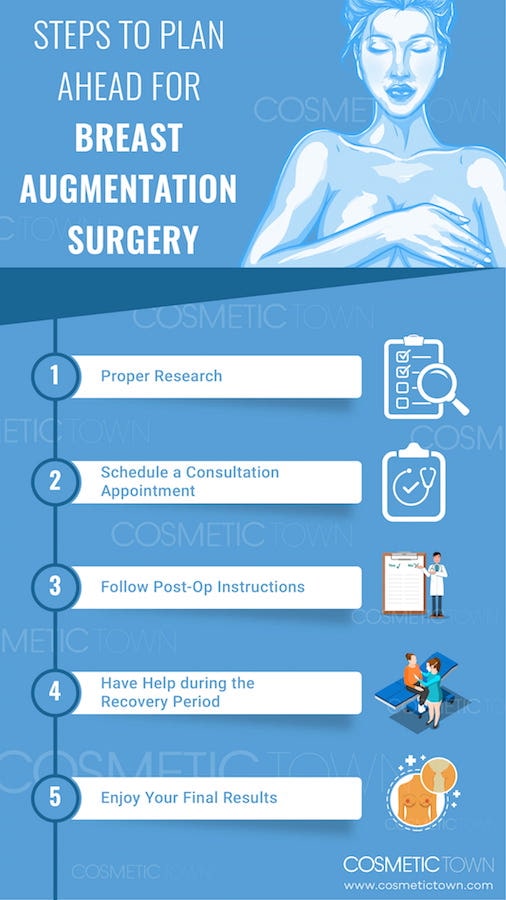 Preparing for Breast Augmentation Surgery
Once the decision is made to have breast augmentation surgery, the preparation process begins and this process includes a number of steps you need to perform before the day of the procedure. Take a look at the steps you need to take care of before your breast augmentation surgery:
Talk to your surgeon in advance about the results you want to see following the procedure. The doctor will help you visualize the desired final results and also help you decide on a final breast augmentation goal that looks natural and fits the size and frame of your body.
Patients that are age 35, or older, often need to undergo a mammogram before breast augmentation surgery. A mammogram helps to make sure there are no abnormalities in the breast that need to be addressed by additional biopsies or ultrasounds.
Plan in advance to take the necessary days off work to recover at home after having breast augmentation surgery. Patients normally take anywhere from 3-5 days to a full week off work after undergoing the procedure. Some patients simply tell their coworkers that they are doing a "staycation" at home which is technically true since they are remaining at home during the recovery process.
Before the surgery, you should fill any prescriptions given to you by the doctor in order to save a trip to the pharmacy after the surgery.
Preparing for Breast Augmentation Recovery at Home
During your first night at home following a breast augmentation procedure, be sure and have a family member or friend stay with you to help with any needs you have at home. You should not sleep on your stomach after breast augmentation surgery. Instead, sleep in a recliner or prop yourself up in your bed on a series of pillows.
Follow the post-op instructions given to you by the surgeon and take the prescribed medications to help reduce swelling and pain after the surgery. Be prepared for the swelling to be at its peak around 3-5 days after the surgery.
It is also important to have someone at home if you need something from a grocery store as you will not be able to drive while you are on pain medication or muscle relaxants.
Most doctors recommend that you do not lift your arms above the head for the first few weeks after surgery. Once you are allowed to start lifting your arms, be careful as the restriction of arm motions can make you feel stiff and also slow the recovery process. You will need to lift your arms slowly and gently while being sure to not lift any heavy items or overdo your exercises. In addition to being careful, the slow start to regaining your range of motion also allows you to avoid injuring yourself. Check with your surgeon if you have any questions or concerns about the process of lifting your arms after breast augmentation surgery.
Since you will not be able to drive or lift heavy items, you will need to plan ahead if you have young children. Work out a plan with friends and family members to take your kids to any activities or classes they have scheduled during your recovery period.
As mentioned above, be sure and follow the post-op instructions provided by your surgeon. Each patient is different and the post-op routine provided by the doctor will be specific to your surgery. If you can't have someone at home with you 24/7 to help during the recovery process, plan ahead and have some meals already prepared and in the freezer so you don't have to worry about cooking during the first few days after surgery.
Breast Augmentation Consultation Appointment
It might seem like there are a lot of steps to keep in mind when planning for breast augmentation surgery but they are all designed with your safety and successful recovery in mind. Your cosmetic surgeon is ready and able to answer any and all question you have in mind before or after the surgery. If you are unsure about any of the steps you need to take during the entire breast augmentation process, contact the office of your surgeon of choice to get the answers to your questions.
MA