The decision to have plastic surgery is a personal one as patients know the reasons they want to make a change in their appearance. If the patient has a loved one in their life, they will often discuss the idea with them to get feedback and an honest opinion from another person about the changes they want to make in their look. However, there are times when family members can be caught off guard by someone close to them having a cosmetic procedure without telling anyone. This is the case with a woman who went on Reddit to share the tale of her husband having plastic surgery without telling her in advance.
Plastic Surgery in Secret – Man Hides Procedure from His Wife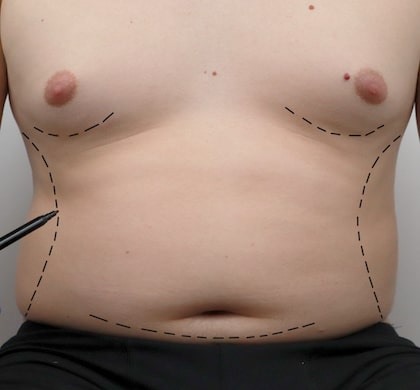 A woman recently took to Reddit for feedback after discovering her husband had plastic surgery without bothering to tell her about it. In the "Am I The A**hole" forum on Reddit, the woman shared the story of her husband confessing to undergoing plastic surgery to sculpt his body. His confession came after the two of them had a discussion where the wife shared that she wanted to have a treatment for herself at some point in the future.
The woman who posted this tale said that her husband looked to be uncomfortable after this confession and that it did not seem like he was planning on telling her about the surgery. The wife also felt that her husband simply regretted letting the confession slip out of his mouth. While she does not have any negative feelings about plastic surgery since she would like to have a procedure at some point in the future, she did have an annoyed feeling that her husband had been hiding this secret from her.
In addition to the fact that he did not tell his wife about undergoing plastic surgery, his decision also impacted their finances since he is a full-time student who does not make any kind of contribution to their household bills. The wife feels that the $4000 he spent on cosmetic surgery could have been spent in a wiser manner than sneaking out to make the changes through surgery while she had no idea it was happening.
In addition, she felt conflicted about whether or not she was wrong to be upset which is why she went on Reddit to get the opinions of others on the website.
Hidden Plastic Surgery – Reddit Users Share Their Thoughts
Once she posted her story, Reddit users quickly started to comment about her situation while also giving her lots to think about when it came to her husband. Some of the comments on Reddit included:
"I would say he has violated your trust. He has been secretive about the procedure and the money. He didn't discuss either with you in any way and instead bought himself an extravagant gift. He has much to apologize for."
"So he is hiding money from you if he had money to pay for this procedure. You are being used. One lie will lead to a bigger lie. The minute he graduates and has a job, he will be out."
As shown by the comments above, there were certainly some Reddit users who were on her side. On the other hand, some people seemed confused about her possible lack of attention to her husband. One person noted, "His recovery was so smooth, she didn't notice? No issues at all? I find that very hard to believe. I bet there hasn't been one patient who had a perfect pain and issue-free recovery." Another person joined the conversation by saying, "If I were to get any kind of cosmetic surgery done, I'd hope that my partner would be able to tell the difference."
In addition, there were some Reddit users who were very suspicious of his actions and encouraged the wife to find out how he paid for the procedure. One person speculated that the husband might not have been able to pay for the surgery in advance and encouraged the wife to do some research into their finances. "Do a credit check on yourself, make sure there isn't anything in your name either."
She was also encouraged to not ignore the matter and was even advised that, "This isn't just one lie either, it's a whole series of lies."
Plastic Surgery to Sculpt the Body – Procedure Examples
The post on Reddit did not contain any in-depth details about the procedure he had to sculpt the body. Some common examples of cosmetic surgery procedures that can provide an improved contour to the body include liposuction, tummy tuck, Kybella, and CoolSculpting. While these procedures might not be the answer to the secret body sculpting procedure had by the husband in question, they are popular and common choices for men who want to gain an improved contour to the look of their body.
- MA