A New Year means a new round of speculation about the appearance of members of the Kardashian family. One of the most prominent gossip subjects of the reality TV family is Kim Kardashian as her appearance is speculated about on a daily basis. Many of her fans have recently been sharing theories that Kim has undergone some form of secret cosmetic surgery. The latest gossip about changes in her appearance started after celebrity plastic surgery fans noticed a few details about recent public appearances made by Kim Kardashian. Did Kim K have a recent plastic surgery procedure? Read on to find the answer in this informative Kardashian-filled article.
Kim Kardashian – Online Speculation About Her Appearance
While Kim Kardashian has been rather quiet about any possible changes to her appearance made by going under the knife, one Kardashian fan took to Reddit to start a conversation about potential Kim K cosmetic procedures. The Reddit user offered several clues about the possibility of plastic surgery on the part of Kim and how they factor into the speculation about her appearance.
The Reddit user wrote, "Is Kim recovering from surgery? We haven't seen her since brief glance at Disneyland and Saints birthday and she was covered from head to toe." The person went on to note, "She has only posted old pictures on her feed and she wasn't at the Peoples choice award"
The Reddit user who started the conversation added, "Watch she comes out of hiding sporting a new face, hair or skin color."
Kim Kardashian Plastic Surgery Speculation – Reddit Users Respond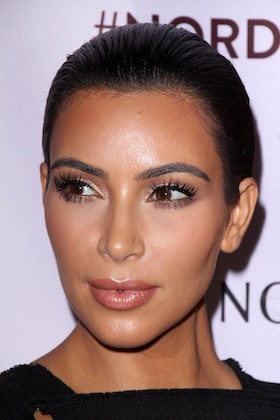 Once the discussion about Kim's possible plastic surgery procedures was started on Reddit, other users of the website decided to share their opinion about the topic. Some of the comments included:
"Easier to cover the garments with sweatpants and hoodies"
"Tbh, I wouldn't be surprised if winter is Surgery Season for them"
"It is for everyone. It's when all plastic surgeons are most busy. No one wants surgery/to be recovering form it during summer."
One rather rude comment said, "Hopefully to glue her mouth shut. Jokes aside the way these Kardashians change their faces they must almost always be recovering."
One other rude comment started with a question. The comment said, "Does the day end in Y? she's always recovering from surgery, she's likely to get some damage to her brain from all the anesthesia."
Kim Kardashian – Fans Discuss Changes in Her Appearance Over the Years
Even though Kim Kardashian has not been very open when discussing any possible plastic surgery procedures, that has not stopped her fans from noticing the changes in her appearance over the years. They claim they can see the changes in the look of Kim K from her early years of fame to the present day.
Some of the cosmetic treatments she is suspected of getting include Botox, rhinoplasty, fillers, a facial implant, and a Brazilian butt lift (BBL).
In August of last year, a reality TV clip from years past started to gain some attention when it was posted on TikTok. In the clip, Kim was arguing with Kourtney Kardashian over a sweater.
While there were some fans who enjoyed watching the drama between the two sisters, a large number of people commented on the difference in Kim's past appearance in the clip. Some of the comments included:
"She looks so different now."
"Kim looked so good here."
"I think her natural face always looked better."
"She looked healthy and beautiful."
"Kim is so pretty in her younger years before she started doing extra. She's so beautiful regardless, but I think she was better before."
There is a difference in opinion between Kim and her fans. While her fans claim Kim's face has totally changed over the years, the reality TV star says she has never had plastic surgery. However, she does admit to having "a little bit of Botox done" (even after she vowed to never have the treatment again).
Kim first started to have Botox injections at the age of twenty-nine and eventually made the statement that she would never have the treatment again after having a less than ideal reaction to the injections. However, she confessed that she still gets them during a discussion about her late father. Kim talked about how her father told her not to become an attorney (like him) because she would develop "so many f**king wrinkles from the stress of this job."
Kim quickly ended the conversation with the joke, "Thank God for Botox."
Her fans do not believe Kim K has only had Botox in the past. During a visit to London last year, celebrity gossip fans noticed some changes to the look of her jawline. The changes that they pointed out included a greater amount of definition to the jaw. The more defined appearance of her jaw also led to the theory that Kim had either a jaw shave (jaw reduction) or she had an implant placed in her jaw.
- MA