The members of the Kardashian family are always being examined and followed by celebrity watchers thanks to their evolving looks that are showcased on their TV show as well as their social media accounts. The latest member of the Kardashian family to debut a surprise look to her fans is Khloe Kardashian. She has been one of the main topics of interest on the Internet this past week thanks to the latest look of her facial features.
Khloe Kardashian Facial Look Catches Fans and Experts by Surprise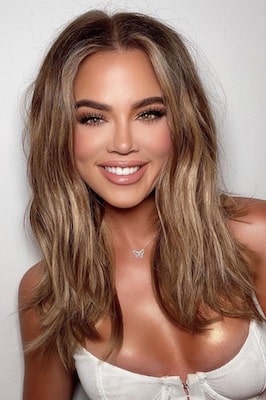 On her Instagram account last week, Khloe Kardashian posted a photo that caught her fans by surprise. Besides her glamorous makeup, her facial features looked different to the public and many people questioned whether or not the picture was actually a photo of Khloe. Her followers instantly started speculating about her new look and whether or not Khloe had some type of facial surgery that greatly altered her appearance.
In an interview with the Australian radio show, "3pm Pick-Up", Claire McGuinness, a registered nurse who is also a cosmetic and injectables specialist, shared her thoughts on why Khloe's face has such a different look in the Instagram post. McGuinness said "There's so much going on in this photo. Who knows what she has had?"
The photo that caused such a commotion last week showed Khloe with a face that was noticeably slimmer than in the past as well as healthy skin and a new blonde hairstyle. McGuinness feels that the reality TV star achieved such a dramatic change to her appearance thanks to a combination of "surgery, injectables, weight loss…and filler, makeup and lighting."
McGuinness stated that the members of the Kardashian family, as well as their legion of imitators around the world, are "starting to look the same." She added that the public does not know "what Khloe's mindset is. It's hard being in the public eye. She's always going to be judged or people think she's unwell or that she's just rich."
Previous Khloe Kardashian Cosmetic Surgery
As mentioned above, the appearance of the Kardashian family is always being examined and discussed thanks to their reality TV show, red carpet appearances and multiple businesses they run on a daily basis.
Since she first rose to fame in 2007 on the reality TV show, "Keeping Up with the Kardashians", Khloe's appearance has evolved even though she spent years denying she had any type of plastic surgery, As recently as 2018, she had admitted to having fillers to change the shape of her face but claimed she did not have plastic surgery because she was "scared so for now it's all about contour."
Even though many celebrity watchers have speculated that Khloe has undergone rhinoplasty to change the appearance of her nose, she claims that the current look of her nose is simply due to contouring.
Twitter Users speak Out about Khloe Kardashian Suspected Plastic Surgery
Once Khloe Kardashian posted the photo in question on Instagram last week, multiple users on Twitter shared their feelings about her appearance. Some of the comments included:
"Khloe Kardashian be looking like a different person every year"
"If Khloe Kardashian entered a Khloe Kardashian look alike contest I'm not sure she'd even be in the top 10"
"Khloe Kardashian's face be getting updates every year like it's IOS"
"I need Khloe Kardashian's surgeon and photoshop skills that's IT"
"Yo, i don't really follow this family but when did they recast Khloe Kardashian?"
"I couldn't get new paper towels during this [pandemic] but Khloe Kardashian went and got a whole new face"
Some Twitter users supported the changes to Khloe's appearance when they discussed how she was considered to be one of the least attractive members of the family for years. One Twitter user commented "So Khloe got bullied for years being called the 'ugly sister' so she gets work done because her confidence was beaten down to basically nothing, and now she's getting bullied for fixing the (expletive) everyone made her insecure about? Awh alright then."
Another Twitter user said, "What I don't understand is how you guys are gonna be like 'I don't see why Khloe Kardashian changed her face. She doesn't even look like her' Didn't you guys literally call her the ugly sister?"
Khloe Kardashian Declines to Comment on Suspected Plastic Surgery
Khloe's Instagram has been liked over 5-million times (so far). When it comes to the suspected changes to her appearance that made Internet celebrity watchers go crazy last week, Khloe did not address the changes on any of her social media accounts. In addition, Khloe and her representatives did not respond to requests from the press to make any comments on her new appearance. Until there comes a time that Khloe Kardashian decides to publicly address the gossip surrounding cosmetic surgery procedures such as injectables and fillers to change the look of her face, the public will simply have to discuss the issue on Twitter and other social media platforms.
MA