Christina Hall has been one of the faces of the home remodeling business for years thanks to her appearances on HGTV. She rose to fame in 2013 on the show "Flip or Flop" with her (now) ex-husband and she is currently the star of "Christina on the Coast." In addition to sharing her knowledge about home remodeling, she has always been willing to share the highs and lows of her personal life. Hall has recently been very outspoken about her health, and this includes her issues with autoimmune disorders and extreme pain in her stomach. She has a new update about her health struggles including the revelation that her breast implants might be at the center of some of her health issues.
HGTV Star – Breast Implants Behind Health Issues?
In December of last year, Hall took to Instagram to share the news that she had fillers removed from under her eyes after experiencing an adverse reaction to them. In addition, she mentioned that her breast implants might be one of the reasons behind her health issues. A few days later, Christina Hall shared a diagnosis that might also explain a number of her symptoms.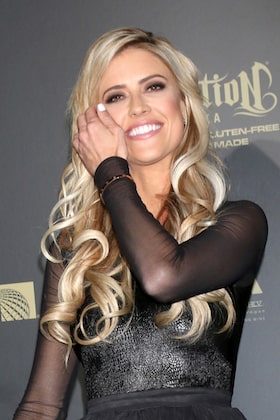 In her Instagram Story on December 22nd, she wrote, "My scan said I have mercury and lead poisoning. Most likely from all the gross houses I've been in (the bad flips) and I have small intestine bacteria overgrowth." When it comes to exposure to lead, the CDC (Centers for Disease Control and Prevention) says it can cause multiple symptoms including nausea, abdominal pain, hand and feat pain, and a reduction in fertility.
Even with these ongoing health issues, Hall stated she is doing her best to take care of her health as well as make new memories with her family. She later took to Instagram to share her 2023 resolution of feeling good and making improvements in her health.
Hall also shared the news that the test that revealed her mercury and lead poisoning was performed in an alternative medical center located in Newport Beach. California. The machine that was used during the test is designed to reveal "anything that is negatively affecting health by finding energetic imbalances in the body by responding to the body's electric reactivity patterns."
The HGTV star says she is in the process of trying to remove any of the harmful things from her body by "detoxing all of this through herbs and IV's and then she how I feel and tackle implants."
Breast Implants – Possible Health Issues They Can Cause
While research on illnesses related to breast implants are not conclusive, there are some risks that have been documented as being associated with breast implants.
For example, certain textured breast implants that are often used for breast reduction procedures were recalled voluntarily by their manufacturer back in 2019. The recall was performed at the prompting of the FDA after the breast implants were linked to a rare form of non-Hodgkin's lymphoma known as anaplastic large cell lymphoma (ALCL) which a type of cancer that impacts cells that work as part of the immune system in the body.
Some doctors says that ALCL can be easy to detect since most women who have the condition will experience some amount of fluid buildup around the breast implants. This fluid buildup can cause the breasts of the person to swell. On the other hand, some women will begin to experience a lump in their breasts.
If the ALCL condition is detected in time, a successful treatment plan can simply consist of surgically removing the breast implants as well as the capsules of tissue that have formed around them. While this can often be the extent of the treatment, there are some cases where women will need to undergo a follow-up treatment such as radiation or chemotherapy.
It is important to note that doctors are no longer using these textured breast implants, but some women still have them in the body. If this is the case, these women need to monitor their breasts on an ongoing basis in order to make sure there are not any changes to them that would cause a problem that would need to be solved through their removal from the body.
Breast Implant Illness – Searching for Answers
While research is still being performed on breast implant illnesses, researchers have not been able to determine how, or if, breast implants are the reason for some of the symptoms and illnesses experienced by female patients. There is a possibility that some of the patient cases are the result of additional undiagnosed conditions such as an autoimmune disease as well as the possibility that a small number of females are susceptible to 3 related to the placement of breast implants in the body.
Research into the health issues related to breast implants are ongoing and Cosmetic Town News will provide updates when they are available.
- MA