Some of the most popular "plastic surgery inspirations" for patients in the recent past have been the look of influencers on social media as well as the appearance of celebrities at red carpet events. These two types of inspiration are still a major force in plastic surgery decisions but there is also a new form of inspiration that is coming from the world of computers. Learn how artificial intelligence, and its ability to create self-portraits, is starting to become a factor in the world of plastic surgery.
Artificial Intelligence – What is it?
According to IBM, "In its simplest form, artificial intelligence is a field that combines computer science and robust datasets to enable problem-solving." Oracle.com describes AI as "systems or machines that mimic human intelligence to perform tasks and iteratively improve themselves based on the information they collect."
Artificial Intelligence and Plastic Surgery – What's the Connection?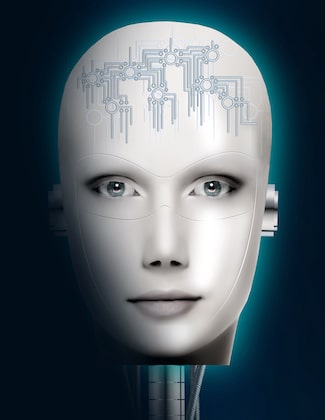 The influence of AI on plastic surgery decisions can be traced back to Lensa which is a photo editing app that is powered by AI. Lensa is available on iPhones and Android phones, and it includes a feature that turns uploaded selfies into avatars. The tools included with Lensa allow users to erase blemishes, retouch their skin, and change the look of people to creatures such as anime characters and celestial beings. Instead of needing to have Botox, fillers, or a facelift to change their appearance, Lensa users can simply edit their look with the app.
There are some plastic surgeons who are sharing the news that some of their patients are asking to have procedures so they can look like their Lensa AI self-portraits. In addition to the anime characters and fairy princesses that the app can create, Lensa users can also virtually change their appearance to look like their favorite celebrities.
In an interview with TMZ, Dr. Terry Dubrow from the reality TV series, "Botched," said he has received inquiries from some of his patients who want to look like their AI images in real life. Dr. Dubrow said that he fears this latest trend is powered by unrealistic expectations. He also wants patients to know that surgery to look like an AI avatar is not recommended and it is also not possible for doctors to perform.
According to Dubrow, he has been contacted by two people who are interested in transforming their appearance to match the look of their Lensa AI images by having plastic surgery. At first, he thought the requests for these procedures were nothing more than pranks. However, he ended up having to turn down the patients once he realized that the patients were quite serious with their requests.
In addition to Dr. Dubrow, TMZ also spoke to Dr. Ben Talei and Dr. Deepak Dugar. These doctors also reported hearing from patients who wanted to alter their look to match their AI appearance. Dr. Dugar reported that he heard from five patients in one week that want to have Lensa-related plastic surgery. Dr. Talei has been contacted by multiple patients about the possibility of gaining the virtual look they are able to create on the app.
TMZ reported that all three of the surgeons said an ethical surgeon would not consider performing any type of surgical procedure that was based on an avatar.
AI and Plastic Surgery – Can They Exist Together?
Even though plastic surgery to gain a look like an avatar is not recommend or supported by plastic surgeons, there are times when AI can benefit surgeons and patients. AI gives plastic surgeons the ability to determine burn healing rates as well as the depth of the healing process more accurately. In addition, AI can assist in designing neural networks for procedures such as hand transplants as well as aid in reshaping the skulls of babies who were born with craniofacial deformities. In addition, AI is helpful in detecting skin cancer that might require plastic surgery at a later date.
The first step in determining if plastic surgery can benefit a patient is scheduling a consultation appointment with a plastic surgeon who is board-certified and experienced in providing patients with the results they desire. The plastic surgeon will discuss the desired results with the patient to let the person know if the procedure they have in mind can realistically be performed (such as the Lensa AI patients). The doctor will also examine the patient to make sure the person is healthy enough to have a procedure and that they are an ideal patient for the procedure they have in mind.
While plastic surgery has been shown in the past to enhance and improve the appearance and functionality of the body, it has not been proven to be able to provide patients with the look they can create using photo apps such as Lensa on their phones so they need to have realistic expectations when they contact a plastic surgeon.
- MA