Eva Mendes is regarded as one of the most beautiful actresses in Hollywood and her fans pay close attention to her appearance on social media. She recently took to Instagram to address an accusation about having plastic surgery after a person posted a theory about why she was on a break from social media.
Eva Mendes Plastic Surgery Accusation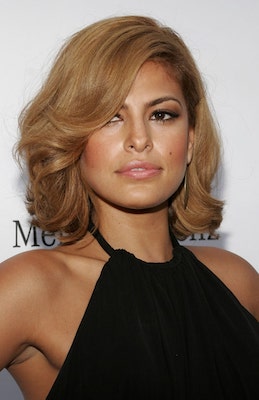 A recent commenter on Instagram made the claim that Eva Mendes was on a hiatus from social media due to having plastic surgery. In response to the Instagram post, the actress shared insights of her own including why she made the decision to spend more time focusing on her family.
A commenter wrote on a post that "She's had work done and I don't think she's happy with it. She was beautiful without."
Mendes responded by saying, "Hi, I'm actually taking time to really be present with my family so posting is not really a priority right now. Hoping you and yours are well."
The 47-year-old actress continued her comments by stating that posting on social media took time out of her life that she would rather spend with her kids. When addressing the plastic surgery accusation, she said "Mmmmm. I'm not sure why I'm answering you but here I go. I'm posting less because I really want to be present for my family. My little ones need me and posting takes up too much time. As far as getting work done, I'll do that whenever I please. But no, that's not the reason. The reason is I personally cannot juggle family and social media. So – big shocker – I choose family. Lotsa love to you out there."
Eva Mendes Suspected Plastic Surgery – Others Commenters Speak Out
In response to her comment about not being as active on social media as in the past, other commenters praised Mendes and her decision to put her family first. They supported her decision to make family life her number one priority.
Mendes wrote another response that said, "Thanks for getting it. Some people can juggle both and that's great but I can't. Anyway speaking of not being able to juggle both, need to go be with them now. They're in the other room and being too quiet. That's never good. Ha!"
Eva Mendes Clarifies Her Stance on Plastic Surgery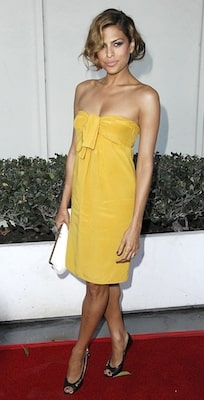 As part of the Instagram exchanges with her followers, Mendes clarified her plastic surgery stance beyond the posts described above.
One of the reasons she felt the need to clarify her feelings about plastic surgery was the fact that a Fox News report said she "denies plastic surgery". The report also stated she "clapped back" at an Instagram commenter who said she was absent from the social media platform because of suspected cosmetic surgery that was described as getting "work done".
After she viewed the Fox News headline, Mendes went on Instagram in order to share a screenshot of the headline. Along with the screenshot, she wrote "Regarding this 'headline'…ummm…Kinda. Sorta. But not really. Never 'denied plastic surgery'. All I did was reply to a specific comment on SM. Would never deny that stuff. I'm all for it. All.For.It."
She added that she is not a fan of "clap back" which is a quick, targeted and sometimes biting or mean response to a comment. Mendes does not like to "clap back" because it sounds too aggressive to her. Instead of replying to a comment or opinion with a "clap back", she prefers to take a different approach. According to Mendes, "I don't clap back. I try to connect/communicate."
Eva Mendes Handles Online Haters in a Graceful Manner
Eva Mendes has plenty of experience in handling online haters and she often replies to them with graceful answers.
Last year, one person wrote "She's getting old" on her Instagram page. Her reply was "Yes, your right. Thank God I'm getting old. That means I'm still here. I'm gonna be 46 soon and grateful everyday that I'm aging. Was your comment suppose to make me feel bad? It didn't. It makes me feels grateful. So thank you for the reminder that I'm still here."
She took her reply one step further by adding an encouraging note in response to her critic. "Sending you all some extra love right now and always. Thank you for always sending me so much positivity and love through your comments. I read most of them when I can and it makes me so happy that there's so much love around. I send it all right back. Ten fold."
Actresses and Plastic Surgery Expectations
As women age in Hollywood, they are often expected to undergo cosmetic procedures in order to remain youthful in appearance. Some of the most popular cosmetic procedures include Botox and fillers to reduce the look of fine lines and wrinkles. Actresses have also been know n to undergo invasive plastic surgery procedures like a facelift to turn back the clock and give the face a more youthful and rejuvenated look.
Eva Mendes has posted photos of herself getting a mono-threads treatment to improve the tightness of the skin as well as a video of her having a facial massage with a "Golden Wand" which is performed to enhance lymphatic drainage.
- MA