One of the most popular topics when it comes to celebrities is their appearance. The public loves to speculate about the look of celebrities and if their current appearance is natural or if they had some help from plastic surgery. Doctors that are visited by celebrities, as well as the general public, do not discuss the plastic surgery procedures they perform due to confidentiality laws (unless the patient gives them permission). However, some doctors will speculate about celebrity plastic surgery procedures such as a facelift, Brazilian butt lift (BBL) or breast augmentation with news organizations that are looking to get expert opinions about suspected plastic surgery alterations to the look of actors and musicians. The celebrities are not actual patients of the doctors, so they are simply sharing their opinion with the public. These opinions are usually very respectful and professional, but one plastic surgeon has gained attention for his unconventional approach to discussing possible cosmetic alterations to the look of celebrities.
Meet the Plastic Surgery Joining the Johnny Depp/Amber Heard Discussion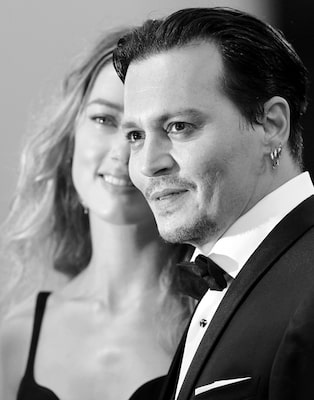 Dr. Anthony Youn is a plastic surgeon in Detroit who has recently gone viral for videos where he has speculated about the possibility of cosmetic surgery on the part of Johnny Depp and Amber Heard.
Dr. Youn has 7.7-million followers on TikTok and he told the media organization, Insider, that he noticed videos about the former couple were popular on TikTok because of the attention surrounding their defamation trial. The doctor decided to take part in the discussion about the "hot topic" by posting videos where he compared older pictures of the two actors with more recent photographs of the pair. In the videos, Dr. Youn gives his opinion about whether or not Depp and Heard had cosmetic surgery. At the moment, the videos have accumulated more than 10-million views combined.
TikTok Account that Discusses Celebrity Plastic Surgery – Why is it Popular?
The videos about the two actors were released as part of a segment on Dr. Youn's TikTok account that is known as "Real or Sus." The segment takes a look at photos of celebrities to try and determine if they are "real" (never having plastic surgery) or "sus" (which is another way of saying "suspicious") if the doctor thinks the celebrity in question has undergone plastic surgery.
In an interview with Insider, Dr. Youn said, "The 'Real or Sus' idea came to me when my kids kept calling things sus when we played 'Among Us.' So I made a couple videos with it, and it seemed to resonate with people."
Some of the videos in this series have received millions of views and the doctor attributes it to the idea that "As a society we've always been interested in whether celebs have plastic surgery. We are led to believe that they just look as good as they do naturally, so it's refreshing when we find out that maybe they're not so natural after all." The doctor also added that "it's fun to speculate about the rich and famous."
Celebrity Plastic Surgery Speculation – Controversial with Some Stars
The ongoing interest in speculating about celebrity plastic surgery has actually become somewhat of a controversial topic on multiple social media platforms such as TikTok and YouTube. Many online influencers have been accused of making untrue comments and accusations about celebrities to draw attention to their videos.
One dermatologist told Insider that there is some entertainment to be found in speculating about the appearance of celebrities but the public needs to be careful about jumping to any conclusions when it comes to the health and personal life of celebrities. The dermatologist said it is up to the public to realize what we see does not represent the complete story and everyone should practice being compassionate and respectful towards the appearance of people and their bodies.
While Dr. Youn says he is aware of the negative opinion that some have about his video series, he thinks it is "really important to give celebs the benefit of a doubt. I'm happy to share my opinions, but in no way would I ever express them as the absolute truth."
Dr. Youn also added his opinion that there is no shame involved in having plastic surgery. He is also against the idea of judging anyone for having plastic surgery since he had a procedure after high school to set back his jaw.
Dr. Youn Adds a Disclaimer
In his video about Depp and Heard, the doctor made sure to add a disclaimer that said the information in the videos only reflected his opinion and that he is not their doctor. Since he only analyzed some specific photos, other doctors might have a different opinion based on the makeup and angles of the photos. He is also not planning to make any additional videos about the two actors since he has not "watched enough of the trial to give a truly educated opinion" about the matter.
He does plan to make more TikTok videos about celebrity cosmetic surgery since it is a way for him to share information and content with the public in an informal way.
- MA