Since the 1990s, Shania Twain has been one of the most influential artists in the music business as well as a person in demand for photos and any gossip related to her life. The Grammy Award winner released a new album this month and the name of the album is Queen of Me. Her latest time in the public spotlight has caused many of her fans to ask whether or not the superstar singer has undergone plastic surgery in the past.
Shania Twain – Plastic Surgery Speculation
As part of the promotion for her latest album, Shania appeared on The Late Show With Stephen Colbert last month. During the interview, her fans were divided on her appearance. Some people simply thought she looked amazing while others were making the claim that her appearance was due to cosmetic surgery procedures.
Some of the comments made about her appearance online included:
"She still looks like a 25-year-old fox,"
"I mean. That's a good face lift. She looks great."
"Agreed. Plastic surgeons have improved their methods greatly."
The latest gossip and suspicions about her appearance is not the first time Shania Twain has been subject to speculation about her look. Back in 2017, Twain was a guest mentor on The Voice. During her guest appearance on the show, Shania helped the contestants get their songs ready for the stage and also be prepared for the next round of the competition. However, the same thing happened in 2017 that she is experiencing in 2023. Some of her fans were thrilled at her appearance and complementing her looks while others were convinced she had cosmetic procedures to enhance and alter her facial features. One person even tweeted, "Holy Botox, what happened to Shania Twain?"
Shania Twain – Has She Addressed the Plastic Surgery Gossip?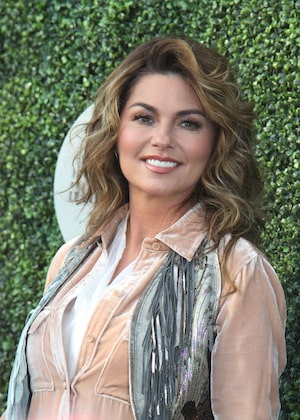 When it comes to plastic surgery discussions, the 57-year-old singer seemed to confirm that she has not undergone any type of plastic surgery. During an interview last month on NBC, Twain said, "I've come to a point where, no I'm not gonna do it." Shania went on to reveal why she decided to make that decision. "Maybe that was probably part of what pushed me to go, 'OK, it's time to start loving yourself in your own skin," because sure I've got lots of friends that have had very successful surgeries, but I've seen others that aren't so successful."
Even though the singer has not undergone any type of cosmetic surgery, she did spend part of 2020 discussing her need for multiple throat surgeries due to Lyme disease that caused nerve damage to her vocal cords. At the time, she said, "Our voice is such a huge part of our self-expression, and for a vocalist, a singer, obviously…it's devastating in so many ways."
She went on to say, "I had to have an operation that was very intense, and it's an open-throat operation, very different from a vocal cord operation. I had to have two of them, so that was really, really, really tough, and I survived that – meaning emotionally, I survived – and am just ready to keep going. When you're a singer and it's your voice, it is just a terrible, terrible feeling. It was a great, great loss, so I had to come to terms with losing the voice that I had and rediscovering my new one."
Shania did say that the process of discovering her new voice and adjusting to the changes in her vocals was a "long, rewarding journey. What I've learned in the interim through therapy is how to manipulate my voice to get it to do what I want it to do, or at least close enough. I don't want to give up, so I'm willing, you know, you just gotta be willing and give into change, and you have to accept that you don't always have to be the same. And that's what I have to do, and I'm embracing that.
Even though Shania Twain says she has not had any type of plastic surgery in the past, that does not mean the public is going to stop speculating about her appearance. She is known all over the world for her music, her fashion style, and the continued recognition by the public as one of the most beautiful entertainers in the world. There are many celebrity plastic surgery followers who are convinced that she had a facelift or injectables such as Botox and fillers to maintain a youthful look. On the other hand, Twain maintains that her appearance is natural and that she has not undergone any type of procedure to keep her youthful.
Is the public right about her appearance? Is Shania Twain telling the truth about her natural look? In many cases, the people who suspect her of having a cosmetic procedure are going to have to agree to disagree with the singer when it comes to the appearance of Shania Twain.
- MA