There is some confusion among patients when it comes to the difference between the phrases "cosmetic surgery" and "plastic surgery." Because of this confusion, patients also might not be certain what type of doctor they need. Should they choose a cosmetic surgeon or a plastic surgeon? Anyone that is confused about the difference between these two types of surgeons can get the answers they want by reding this informative article.
Cosmetic Surgeon and Plastic Surgeon – How Do They Differ?
In general, cosmetic surgery can be considered to be a type of plastic surgery and cosmetic surgeons are only eligible to perform cosmetic procedures.
The confusion about the two types of surgeons dates back many years. According to a report in Plastic and Reconstructive Surgery back in 2017, eighty-seven percent of the 5135 people surveyed in the report believed that surgeons have special training and credentials that allow them to perform cosmetic procedures or that allow them to advertise themselves as plastic, aesthetic, or cosmetic surgeons. In addition, more than half of the people that were surveyed were not sure what requirements were required for surgeons to be able to say they are "board-certified." The results of the survey show there is a need to help patients become more informed about the difference between cosmetic surgeons and plastic surgeons.
Plastic Surgery – Two Types of Procedures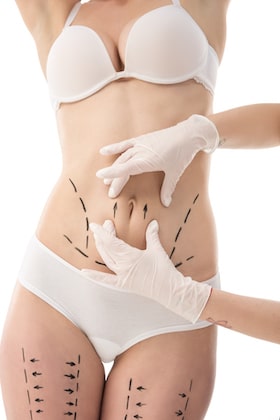 In order to make it easier to understand the difference between plastic surgery and cosmetic surgery, here are the essential differences between them:
Cosmetic surgery is performed in order to reshape and/or enhance the targeted part of the body
Plastic surgery is performed to reconstruct areas of the body that have seen the functionality or aesthetics of the body impacted or damaged thanks to trauma, infection, congenital defects, disease, or developmental abnormalities.
Another way to know the difference between them involves insurance coverage. Cosmetic plastic surgery is normally an elective procedure that is not covered by insurance while plastic surgery for reconstructive reasons might be covered by health insurance plans.
For example, rhinoplasty that is performed for functional reasons to improve the breathing ability of a person is a reconstructive procedure that might be covered by insurance. Rhinoplasty that is performed to simply change the size or shape of the nose is being performed for cosmetic reasons and will not be covered by insurance.
"Board-Certified Doctor" – What It Means
The medical board that certifies a doctor has certain requirements that the doctor must meet to gain the board-certification.
Plastic surgeons should be credentialed by the American Board of Plastic Surgery (ABPS) which provides its plastic surgery certification through the American Board of Medical Specialties. Members of the American Society of Plastic Surgeons (ASPS) are certified under the ABPS (which has maintained medical standards since 1933). Board-certified plastic surgeons will have completed six to eight years of training that is specific to plastic surgery. It should be noted that the ASPS is the only other major society that provides certification for plastic surgeons.
When it comes to cosmetic surgery, the American Board of Cosmetic Surgery (ABCS) will only certify surgeons in cosmetic surgery. In addition, a doctor does not necessarily need to be board-certified by the ABCS to refer to themselves as a "cosmetic surgeon" (such as a dermatologist).
Use Caution When Choosing a Cosmetic Surgeon
Besides the issue of knowing the difference between plastic surgeons and cosmetic surgeons, some patients might choose to have a cosmetic procedure from a doctor who is not a cosmetic surgeon. Doctors as varied as gynecologists and oral surgeons can take classes in order to learn how to inject Botox or fillers, but they might not have enough training to handle all complications that might happen after the treatment. Their training may also limit the cosmetic choices they are able to provide to what they are trained to perform as opposed to being the cosmetic treatment that is the best choice based on the individual needs of the patient and their anatomy.
These "cosmetic doctors" that take classes and undergo training for certain procedures provide limited treatment options which might prevent patients from learning about all of their medical options. A cosmetic surgeon is able to share all of the available medical options and the medical technology choices to achieve the desired results.
Any doctor with a valid medical license legally has the ability to perform a cosmetic procedure (no matter their actual training). Patients should perform proper research and make sure their doctor of choice is board-certified and approved to perform the requested procedure at a local hospital (where they have hospital privileges). The doctor should also have transfer privileges to a local hospital (in case of a medical emergency). Finally, the patient should ask the medical professional to see "before and after" photos of actual patients they have treated in order to get a better idea about the type of results they can expect to see after the treatment.
- MA