Celebrity plastic surgery is a topic of interest in the entertainment world and the latest celebrity in the spotlight is model and reality TV star, Blac Chyna. The thirty-four-year-old shared a major change in her look this week on her Instagram account while also being quite open about the reasons she decided to reverse the results of multiple plastic surgery procedures she had in the past. The changes to past plastic surgery procedures included a reduction in her breast implants and a reversal to buttock augmentation injections in her butt.
Let's learn more about why Blac Chyna wants to make these plastic surgery changes by starting with an inside look from Cosmetic Town TV:
Blac Chyna – Tells Her Fans About Plastic Surgery Reversals
Blac Chyna shared the news that she had her first breast augmentation procedure at the age of nineteen. Her decision to reduce the size of her breasts was a major change in her life and appearance. In a post on Instagram, Chyna said, "I want you all to be a part of my life changing journey. I reduced my breast and Gluteus maximus. You all have the power to heal your life, and you need to know that. ` Angela White"
(FYI: Blac Chyna took her message back to her younger days by signing it with the name, Angela White, which is her real name.)
Blac Chyna also posted a series of videos on social media where she addressed others who are considering making changes to their bodies. The videos warned the public about what could possibly happen after a surgical procedure. For example, while cautioning her followers about having "ass shots," AKA biopolymer butt injections, she made sure to note that these injections are not the same thing as a Brazilian butt lift (BBL). She also stated, "I just want all the ladies out there to know, do not get silicone shots because you can get sick, you can die, have complications and this other crazy stuff."
Blac Chyna – Recovery from Plastic Surgery Reversals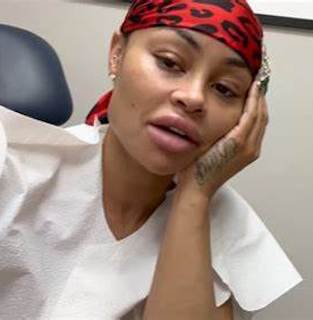 The discussion about the changes in her appearance started with Blac Chyna revealing, "I'm at the doctor's office right now, and as ya'll know, I've been changing my life, changing my ways. So one of the things that I feel like is gonna take me to the next level is obviously, taking some these ass shots out.
In a post-surgery video, Chyna has a look that is bare-faced and missing her usual bright, long nails. The multiple surgeries that the celebrity had took place on March 9th and the video contained footage of Chyna recovering in bed while also wearing bandages. Even though it was her decision to have the surgeries, the actual surgical procedures did not go as smoothly as planned.
Blac Chyna told her fans, "I got the reduction in my butt. Normally my procedure would have taken four hours tops. My procedure took over eight and a half hours, y'all. Whatever that silicone mass in my buttocks kept clogging the machine and breaking the machine."
In addition to the changes to the look of her buttocks, the superstar model also addressed the size of her breasts. While this was not the first alteration she made to her breasts, she did call it "one of the best decisions I could have done in a very long time."
In fact, she revealed to her followers that the changes to her breasts were actually the fifth surgery she had on that area of the body. However, it might be the last time she makes alterations to the size of her breasts.
Blac Chyna – Additional Changes to Her Business Life
In addition to the changes to the look of her body, Blac Chyna has also deactivated her OnlyFans account even through it was reported that she earned $240-million dollars on the platform back in 2021. During a recent appearance on the Jason Lee Show, she described her OnlyFans account as a "dead end" gig while also stating that she was working on "changing everything about me."
Blac Chyna went on to add, "All that stuff is a dead end, and I know that I'm worth way more than that." Plus, her departure from the platform was also a way of setting an example for her son and daughter.
Even though she made the decision to leave the platform, Chyna was quick to voice her support for creators on the website while also supporting their body autonomy. "Shout out to the people that do still have their OnlyFans and stuff like that." She advised these creators to "get your money" while also telling them to "not let the money control you." Blac Chyna also shared a positive and uplifting message to her fans by saying, "You all have the power to heal your life, and you need to know that."
Blac Chyna – What Her Plastic Surgery Changes Can Reveal
Even though the initial changes to her body were the alterations she wanted to make at the time, the story of Blac Chyna shows that anyone interested in plastic surgery needs to consider the long-term changes to the body as well as the initial alterations to their look. Patients need to ask their doctor of choice about the pros and cons of a procedure and if it will be easy to reverse the changes made by the procedure if the person decides it is not the look they want to have in the future.
- MA