Hollywood is filled with stories about actors making changes to their appearance in order to try and land movie and TV roles. There are confirmed stories, and plenty of gossip, about actors who have undergone plastic surgery procedures as varied as rhinoplasty, facelift, and breast augmentation to try and gain that "certain look" that will help get them a part. Rich Rotella is an actor with forty-six acting credits on IMDb. He is relatively successful but has not landed a breakout role (yet). Rotella has been in the news lately due to his decision to address the limitations his height has put on his acting career.
Actor Grows Tired of Being Short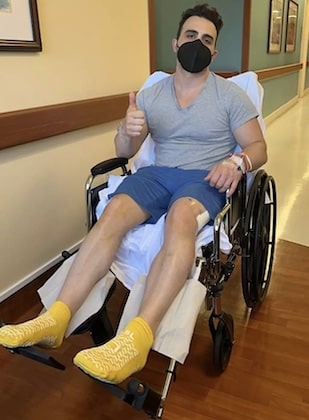 With a height of 5'5", Rotella says many casting directors have told him he has the skills to be a great character actor, but his height makes him too short to be a star.
The 37-year-old actor addresses this issue in a documentary he stars in about cosmetic limb lengthening. He told PEOPLE Magazine, "I'm just so sick of people telling me, 'You're too short to play the lead.'"
In April of this year, the actor had a surgical procedure where both of his femurs were broken. The breaking of the femurs is the first part of a process that is intended to make him 3.25 inches taller by the end of this month.
"It's something that I've always wanted deep down in my heart. I think anyone who is 5'8" or taller might have a hard time understanding why someone would voluntarily break their legs to become taller."
Even though he has been acting since the age of seven, Rotella feels like he has been rejected for acting roles on a regular basis because of his height. "I was disappointed at being passed over simply because I was a shorter guy. It was driving me crazy." He added, "On a personal level, I was tired of putting little lifts in my shoes. I was always the shortest person in the picture. It was an annoying thing I really wanted to correct."
Limb Lengthening Surgery – How He Got the Idea
In October 2020, Rotella began researching permanent solutions to his height issue. He discovered a YouTube channel created by a gentleman who had limb lengthening surgery to correct a health imbalance of two inches that occurred after some broken bones. The channel included interviews with surgeons from around the globe. The two men met over Zoom and Rotella pitched the idea about the documentary. "I said, 'I want to make a documentary about limb lengthening. I'll be the patient, you can be the host. It was a wild idea.'"
The surgery was pioneered in the 1950s by a Russian orthopedic surgeon and it was brought to the United States in the 1980s by Dr. Dror Paley (of West Palm Beach, Florida). Dr. Paley has performed around 25,000 limb lengthening surgeries and currently performs around one hundred of the procedures each year. Paley says he has developed a technique where the lengthening devices are attached inside the bone. "These [rod] devices have mechanisms that can lengthen, which we can operate remotely from outside the body." Over time, the process will gradually grow new soft tissue and bone that will regenerate as they are pulled apart in a slow manner.
According to Rotella, there is a magnet inside the device that works to expand the rod. "Your bone is growing back towards itself from each side. It's trying to heal, but you're delaying the healing by actually stretching out the bone. You're growing tendons, you're growing muscle, you're growing soft tissue."
Paley remarked that his initial patients needed the treatment to correct medial issues such as one leg being shorter than the other leg. His patients grew to include those with achondroplasia dwarfism, patients looking for an alternative treatment to amputation, and as a medical option for people who simply want to be taller.
Paley noted that Rotella's surgery went "absolutely perfectly," and it was filmed for the documentary. The surgery was paid for out-of-pocket since it was for cosmetic reasons. The surgical devices that were developed by Paley cost about $15,000 each and Rotella needed one for each leg. When adding in other costs such as physical therapy and hospital fees, the final cost was $100,000.
Rotella is still in Florida where he works with a physical therapist for an hour each day (five days a week). He also does physical therapy exercises four times a day. After each workout, he lengthens a screw by one turn (.25 millimeters). This means his legs grow one millimeter each day. The results appear to be positive so far as, at the time of the interview, he was 2.3 centimeters taller than he was the previous month. His goal is to be 5'8' by the end of the summer.
- MA