One of the things Cosmetic Town readers can count on is the fact that the doctors listed on our website are all board-certified and experienced in performing their plastic surgery specialty. It is important for patients to take the time to research their plastic surgeon of choice as well as ask questions about their medical experience and background. The action of asking questions and performing proper research can help patients avoid visiting "doctors" who actually unlicensed medical professionals as shown in the story below about the performance of unlicensed plastic surgery in Florida.
Unlicensed Florida Plastic Surgery – Get the Details
Adley Da Silva is a licensed physician's assistant who is married to Kiomy Quintiana (a sales manager at Da Silva's Cosmetica Plastic Surgery & Anti-Aging). News reports from last month showed that Da Silva has only had two days of medical training in his life. Even with his lack of medical training, Da Silva performed illegal Brazilian butt lifts (BBL) as well as liposuction procedures in Port St. Lucie at Cosmetica. In addition, he helped Kiomy perform a cosmetic surgery procedure at the office.
A medical inspector reported that a breast augmentation procedure and a butt lift performed by Da Silva resulted in a patient suffering a life-threatening skin infection as well as gaping wounds on the body. These alleged violations resulted in three emergency orders last month that included:
An emergency suspension order (ESO) of Da Silva's physician license
An ESO on Cosmetica's office surgery registration
An emergency restriction order (ORO) on Dr. Ernest DiGeronimo (who was supposed to be both the designated physician and supervising physician at Cosmetica)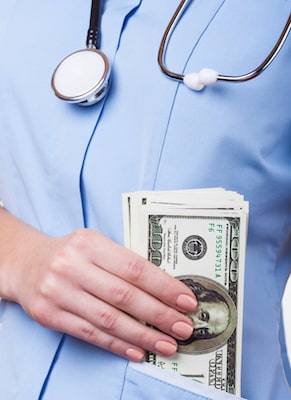 In addition to allowing Quintiana to perform cosmetic surgery that involved the insertion of an instrument under the abdominal skin of a patient, Da Silva's ESO also states there were at least two additional unlicensed people who were allowed to assist him during the performance of a butt lift. Plus, the Cosmetica staff was accused of refusing to "allow the inspector into the operating room to check the crash cart, equipment and supplies. Therefore, the inspector was unable to determine if the required emergency medication, equipment and supplies were present and were biomedically inspected and maintained."
Even with the emergency orders surrounding the case, Da Silva's Instagram page still said he was a "Lipo Expert" (as of last month). A Miami Herald reporter reached out to him via Instagram direct message and Da Silva replied as follows, "We have already secured our legal counsel and we will fight back [against] all the false allegations." An attorney for Da Silva reached out to the Miami Herald via email and said, "It is our intention to request an expedited administrative hearing to dispute the charges made against Adley Da Silva."
It should also be noted that the home page of the Cosmetica website claims they are certified by the American Board of Plastic Surgery. However, a check of their website does not show a certification for the business or for DiGeronimo.
Is Anyone Authorized to Perform Plastic Surgery at Cosmetica?
Back in 2019, Da Silva moved Silva Cosmetics from West Palm Beach to Post St. Lucie and also changed the name of the company to Cosmetica, Inc. On December 4th of that year, the facility became licensed for office surgery. In general, office surgeries are classified as one of three levels and the level is based on the level of sedation for the patient. If a Level II or III surgery is being performed in an office setting, the surgeon performing the procedure needs to have privileges at a licensed hospital.
If the surgeon does not have those privileges, the person must have undergone board certification training and (at the very least) this training requires a combined eight years of general residency and plastic surgical residency as well as an oral exam or training for board qualification. Plus, a surgeon performing a Level II surgery must know the steps involved in using and administering general anesthesia.
The ESO for Da Silva states "Mr. Da Silva was registered as 'recovery personnel' at Cosmetica. Mr. Da Silva has never been a licensed medical doctor in the state of Florida and has never been registered to perform or assist in surgeries at Cosmetica." The ESO went on to share the information that the only training Da Silva has undergone has been in blepharoplasty or liposuction. He has not completed any type of residency or any sort of "rigorous training programs in either general surgery or plastic surgery."
As for being a "Lipo Expert," it was revealed his only liposuction training was a two-day VASER liposuction course in Bogota, Colombia.
In addition to taking over duties form the former registered surgeon at Cosmetica in March of this year, DiGeronimo was also the designated surgeon at an office in another city. The inspector reported that surgical logs twice placed him in the two cities at the same time even though the two locations are one hundred miles apart.
This story is continuing to develop and will be updated when more information is available.
- MA