Plastic surgery is a very personal decision and one that not everyone agrees with after it happens. While the final decision about having a procedure is up to the person who wants to make a change in their appearance through a cosmetic procedure, that decision can sometimes cause hurt feelings between friends and family members. As an example, let's take a look at the story involving a German woman and her plastic surgery journey that was not supported by her family.
German Plastic Surgery Patient Tries to Look Like Barbie
A German woman has recently been in the news for spending more than $70,000 in an attempt to look like a Barbie doll. Her goal of gaining this new look has also had the result of her ending up estranged from her family.
The name of the patient is Jessy Bunny and, according to a newspaper in the United Kingdom, she has undergone three breast augmentation surgeries along with rhinoplasty to alter the shape, size and look of her nose. In addition, she has undergone procedures designed to give more volume and size to her butt and lips.
In an interview with Heute, the 21-year-old (who now lives in Vienna) said she can easily see herself having more plastic surgery in response to a question asking her if she now feels comfortable in her own skin. "Getting up in the morning and feeling happy and comfortable in your own skin is just wonderful."
Even though she is comfortable with the transformation in her appearance, it did not go over well with her family, and she is now estranged from them to the point that they do not answer her texts and they block her phone calls.
Plastic Surgery Goals of Jessy Bunny
When describing herself on social media, Jessy Bunny says she is a fashion model with breasts that have a cup size of "2000 cubic centimetres and growing." To make that easier to understand, her current cup size is 75N which translates into being eleven times the size of a D-cup.
When asked why she also wanted to gain a fuller look to her lips, Bunny said, "Having the biggest silicone breasts in Austria just isn't enough for me. I want the most voluminous lips in the whole country, too."
Jessy Bunny vs. Her Family – The Plastic Surgery Battle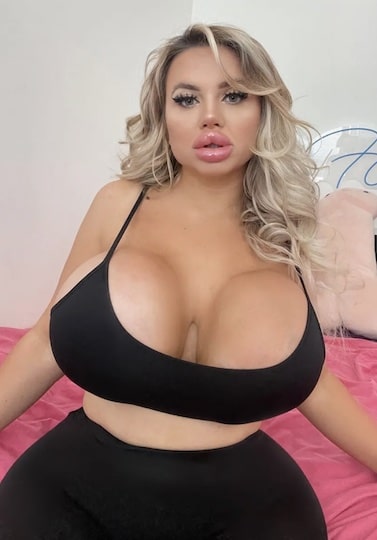 Looking back on her teenage years, Bunny admitted that she "always pretended to be cool and solid, but I never was. I had short dark hair, many piercings, and dreadlocks. But that wasn't my true self."
In addition, her teenage years included sexy clothing that her parents did not approve of her wearing. Instead, they would give her silk scarves to wear so she would be able to cover her breasts.
Her differing views (from her parents) about plastic surgery came to a head at the age of seventeen. The parents of Jessy Bunny gave her money for driving lessons, but she decided to spend the money on plastic surgery. She ended up leaving home at the same age.
When thinking about her estrangement from her family, Bunny said "This is so sad as I'd love to be in touch, especially with my brother and my grandparents. I just don't understand why they behave that way just because I've changed my physical appearance."
Plastic Surgery – What Patients Need to Understand
As mentioned earlier in this article, the desire of a patient to have plastic surgery is not always greeted well by family members or friends. They might not think the person needs to make any changes or they might simply be opposed to the idea of plastic surgery.
Before a person makes the final decision to have any type of plastic surgery procedure, it is important to spend time chatting with the surgeon that the patient wants to visit for the surgery. The plastic surgeon will examine the patient to make sure the person is healthy enough to have the desired surgical procedure. In addition, the doctor will discuss the reasons why the patient wants to make the desired changes, alterations, and enhancements to their appearance on the targeted area of the body.
One of the main reasons that the doctor needs to take the time to chat with the patient is to make sure the person wants to have the procedure because they desire the altered or enhanced look to the body (as opposed to wanting to make the desired changes in order to make someone else happy with their appearance). Plastic surgery can make changes to the appearance of a person that last a lifetime so it is not a decision that should be made lightly or in a hurry. Once the plastic surgeon has been able to learn more about the goals of the patient and answer any questions the person has about the procedure of choice, an informed final decision can be made about whether or not to have plastic surgery.
- MA