It seems like almost every week brings a new news story about one of the members of the Kardashian/Jenner family having a plastic surgery procedure. It also seems that many times the story is denied by that particular member of the family. The latest Kardashian to be in the plastic surgery spotlight is the newly married Kourtney Kardashian. She has been open in the past about having various facial treatments to help her maintain a youthful look as well as having breast implants placed in her body in her early twenties. On the other hand, she has denied gossip about having procedures as varied as fillers in the face and lips as well as a Brazilian butt lift. The latest plastic surgery accusation occurred after she posted a selfie and video that featured her eyes being a different color than they were in the past.
Kourtney Kardashian – What's Up with Her Eyes
In a recent selfie that she posted online; Kourtney Kardashian debuted bright blue eyes even though the natural color of her eyes is brown. The 43-year-old businesswoman and reality TV star used a face filter to show her eyes as blue instead of their natural color. The posting of the photo along with an Instagram story where she gave the camera a kissy face in a short video led to the public accusing her (again) of having many different plastic surgery procedures over the years.
Kourtney Kardashian – What She Said to Her Followers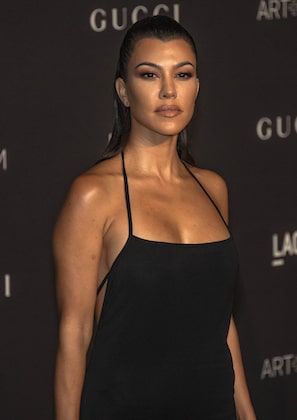 Kourtney responded to some of her online followers back in December when they accused her of having Botox and rhinoplasty (AKA a nose job).
An Instagram account that has now been deleted, @popcultureangel, had uploaded a number of older images of Kourtney along with images of both Kim Kardashian and Khloe Kardashian. The deleted account added the caption, "The kardashians before they became 'the Kardashians'" to the photos.
While one Kourtney fan said she is the "only one who really didn't change," that comment was met by another online commentor who wrote, "Kourtney got plenty of surgery! She just did it in an extremely natural way that still complimented her features instead of changing them." The online commentor added, "Botox, nose job, some sort of butt shot or BBL just to start."
In response to these claims, Kourtney wrote, "No better compliment than a too good to be real kind of compliment. Butt shot and Brazilian butt lift, um thanks.' She went on to add, "And you were just getting started."
Kourtney Kardashian – Open About Her Skincare Treatments
Even though she has denied the plastic surgery gossip that has followed her over the years, Kourtney has been quite open and vocal about the steps she takes to maintain a youthful look through expensive treatments for her skin.
Earlier this year, this Kardashian sister posted a video where she was not wearing any makeup while getting a facial performed at the same time. She was wearing a white bathrobe in order to better spotlight her youthful, glowing skin during a close camera shot while also making silly faces at the camera. She even gave credit to her favorite beauty treatment with the caption, "A little toast for my sandwich @thebeautysandwich."
FYI: "The Beauty Sandwich" is a radiofrequency treatment that firms the skin by tightening and sculpting the targeted area of the body. It is referred to as a "sandwich" because there are multiple layers to the treatment including cleansing the skin, performing a facial massage, and using radiofrequency to boost the production of collagen and it also resurfaces the skin. Celebrities enjoy the treatment because it is promoted as "the non-toxic celebrity red-carpet secret that naturally highlights and improves facial tone without the use of lasers, needles, or chemicals." In addition, it is hailed as being a less painful and natural alternative to the use of fillers and Botox.
Kourtney also shared that she had her face "lifted and contoured" using Le Visage Lift Contour which uses electronic frequencies to promote collagen and ATP which increase cell function and biological processes such as muscle contractions and photosynthesis.
Finally, she also seems to enjoy changing the look of her face (and her eyes) using photo filters and posting the results on social media.
Thanks to her comments to others on social media, it looks like Kourtney Kardashian will continue to claim that her appearance is the result of advanced skincare treatments and not plastic surgery. It is hard to come to a definitive conclusion about whether or not she is telling the truth simply because all of the sisters in her family have made a regular habit of not admitting to much (if any) cosmetic surgery in the past. It looks like the mystery of Kourtney Kardashian and plastic surgery will remain an unsolved one until there comes a time that she decides to share this type of information with the public.
- MA