Kendall Jenner is a successful model who has worked with such recognizable brands as Calvin Klein and Victoria's Secret. She has also denied having any type of plastic surgery. According to Kendall, "As a model, why would I have my face reconstructed? It doesn't even make sense." She went on to say, "It's crazy because sometimes I feel like people just want me to lose." Even though she continues to state that her appearance has not been altered through plastic surgery, there are many fans that disagree as they look for visual evidence that Jenner has changed her look over the years through surgical methods. Let's take a look at the suspected plastic surgery procedures of Kendall Jenner.
Kendall Jenner Plastic Surgery Speculation
The 24-year old star of the runway and reality TV seems to have a different look when "before and after" photos of her face are examined. There seem to be some subtle changes to her appearance and part of the changes might be thanks to simply growing older and moving beyond her appearance as a teenager. However, there are some celebrity watchers who think her current appearance is also due to some assistance from plastic surgery.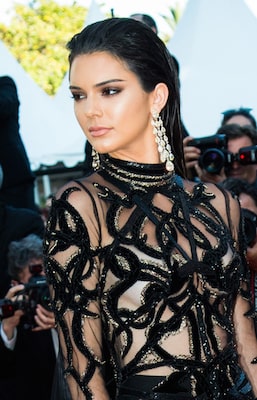 For example, her lips are plumper and fuller than in the past which could suggest that she had fillers placed in her lips at some point. Fillers can be injected into the face to lessen the appearance of creases and facial lines. In addition, they restore volume that has been lost in the face due to the aging process. Fillers can made of a variety of substances but one of the most popular is a substance known as hyaluronic acid (HA) that naturally occurs in the human body. In addition, there is poly-L-lactic acid which is a biodegradable synthetic substance that is used to stimulate the production of collagen in order to smooth the appearance of fine lines on the face. Fillers can be injected into various areas of the face, and this includes the lips, to add fullness and give a more youthful and rejuvenated look to the patient.
In addition, her nose has an appearance that is sharper than in the past and this could suggest rhinoplasty was performed at some point on her nose. Rhinoplasty is performed to alter the look, shape or size of the nose by making changes to the skin, bone or cartilage of this facial feature. In addition, rhinoplasty can also improve the ability of a person to breathe on a daily basis. Rhinoplasty can be performed as:
Open rhinoplasty is where the incisions for the surgery are made on the outside of the nose
Closed rhinoplasty is where the incisions created by the surgeon are made on the inside of the nose
One other cosmetic surgery procedure she is suspected of undergoing is a brow lift. In a brow lift, the surgeon lifts the tissues located above the eyebrows in order to reverse the effects of gravity on the eyebrows and give a better contour to the treated area. Brow lift options include:
Open brow lift is when a long incision is made across the forehead so the surgeon can lift skin from the underlying tissues. The muscles are loosened in order to remove any excess fat and skin. The skin that remains is then pulled down and put into position using stitches.
Endoscopic brow lift is when tiny incisions are made on the scalp of the patient. An endoscope is then inserted into the targeted area in order to stretch the forehead tissue so it can be anchored in place in order to provide the desired results.
The Internet Discusses Kendal Jenner Plastic Surgery
In a discussion on Reddit, some people feel that the Kardashians and Jenners not being honest about having plastic surgery creates unrealistic expectations for their fans. In addition, the topic of Kendall Jenner and her suspected plastic surgery was discussed.
Some of the fans that commented seem to be convinced that Kendall had some type of work performed on her face. Some of the comments included:
"I wish they would (tell) because I would love to know exactly what Kendall did to achieve her face LOL."
"It's mainly nose job, lip filler and eye threading. She's definitely had the least done surgery wise."
There was a running theme throughout the Reddit thread that the changes made to the appearance of Kendall Jenner were minimal when compared to some of the alterations made to the look of her sisters. The assumption that Kendall has made fewer changes to her appearance through plastic surgery is part of the reason her fans find it so hard to tell exactly what work has been performed as well as the extent of the alleged plastic surgery procedures.
One Reddit user wrote "Kourt and Kendall both tried to enhance their natural features whereas Kylie and Khloe wanted to create whole new ones imo which is why their surgery is way more noticeable.
The comment above is related to the theory that it is hard to tell if Kendall has had any plastic surgery performed on her face because she has tried to enhance her natural features. There is also the thought that she might be telling the truth about not having any work performed on her face at all. While the truth might never been known, it won't stop her fans from speculating about Kendall Jenner plastic surgery and if it really happened.
MA