The performance of plastic surgery is often associated with procedures that alter or enhance the appearance of a patient. Some common examples include rhinoplasty that can change the look of the nose and breast augmentation which can give someone a bigger size and shape to the breasts. While these procedures are popular examples of plastic surgery, they are not the only focus of this medical category. For example, plastic surgeons also perform procedures that make functional improvements to parts of the body (such as improving the ability of a person to breathe through rhinoplasty) or surgeries that work to correct a congenital birth defect such as a cleft palate. Obviously, the ability to make these changes to the appearance of a person requires a good deal of education and training about the anatomy of the human body so let's examine how a person becomes a plastic surgeon.
Plastic Surgeons – What They Need to Study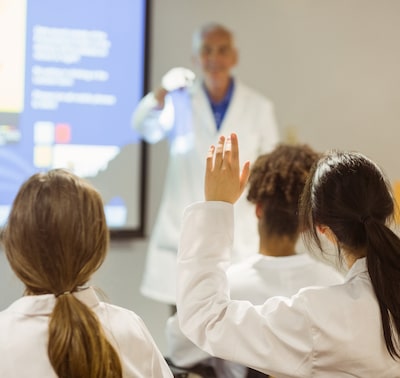 If a person wants to become a plastic surgeon, they need to earn a bachelor's degree along with a medical degree. In addition, the person must spend a minimum of six years performing specialized residency training once they have finished med school.
Once the future plastic surgeon is in college, the person must take all of the mandatory premed classes in order to be accepted into medical school. In addition, the student must meet the admission requirements including the necessary MCAT (medical college admission test) scores, a mandatory GPA level, and also perform research projects, and have a certain amount of clinical experience. The next step is med school where high grades are needed in order to gain plastic surgery residency. This residency will cover the essential elements and factors involved in cosmetic surgery or reconstructive surgery while the student is being supervised during the process.
If someone who wants to become a plastic surgeon intends to specialize in a certain area of plastic surgery, they might need to pursue a fellowship in that medical specialty once they have finished their medical residency.
Once all of the necessary school, residencies, and fellowships have ended, the person should seek to obtain board-certification from the American Board of Plastic Surgery. In addition, a medical license will be needed from the state where they want to work, and the person might want to gain certification from a professional organization that is dedicated to a certain type or branch of plastic surgery.
Plastic Surgery – Additional Skills that are Needed
Patients who undergo a plastic surgery procedure want to enjoy results that are aesthetically pleasing which means an artistic eye is needed by the doctor performing the treatment. In addition to an artistic eye, plastic surgery requires the doctor to possess excellent hand-eye coordination, spatial awareness, and an ability to visualize the results they want to achieve as well as how the final results will make a positive impact on the life and appearance of the patient. There are often multiple techniques that can be used to perform a plastic surgery procedure so the doctor must be trained and experienced in making a diagnosis and taking a strategic approach to the technique they use to gain the desired results.
When it comes to wanting to be a plastic surgeon, there are certain cutoffs when it comes to grades and test scores that are used in the residency application process. Academic knowledge and skills need to be at a high level in order to increase the chances of success in school and a medical career. In addition to studying at school, future plastic surgeons can gain additional knowledge and experience by shadowing doctors as premed students, attending discussions and lectures about plastic surgery, and also taking part in medical school clinical rotations. These additional methods of gaining knowledge allow students to make professional contacts in their medical field of choice and even meet someone who can serve as a mentor in the future.
Plastic Surgery – Why Choose This Career?
One of the main reasons many people choose a career in plastic surgery is the desire to help others gain the look they have always desired as well as help a patient who has suffered some sort of traumatic accident or disfiguring illness and wants to remove the evidence of these experiences from their body. The ability to help a person regain some part or aspect of their original appearance in the treated area of the body can be a very rewarding experience.
It can also be quite fulfilling to make a change in the appearance of a patient during a procedure that is only being performed for cosmetic purposes. The ability to enhance or revitalize the look of a certain area of the body can increase the self-image of a person and make the patient more confident in their appearance.
Plastic surgery is not confined to only treating certain types of patients as people of all ages often need the assistance of a plastic surgeon to address an issue with their appearance. Plastic surgery can be a very rewarding career path for someone who is interested in making a difference in the lives of men and women (whether they are young or old patients).
- MA