Many families in South Korea are claiming their family members have been the victim of a "ghost doctor". While this sounds like the plot of a horror movie, it is actually a real problem that involves one person stepping in to perform a surgical procedure for another doctor while the patient is under general anesthesia and is unaware of the change in doctors. Take a look below to learn why this issue is occurring and what is being done to address the problem.
South Korea "Ghost Doctors" – A Growing Issue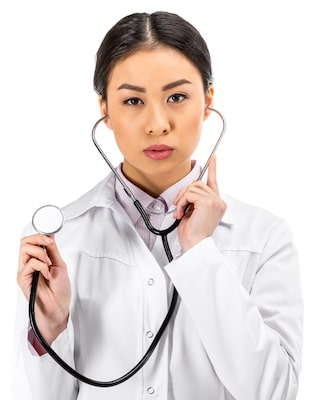 The practice of "ghost doctors" stepping in for other doctors is illegal in South Korea but the loose regulations related to its billion-dollar plastic surgery industry has resulted in factory-like clinics continuing to prosper in the country. Some doctors conduct multiple operations at the same time which means these medical professionals rely on "substitutes" ranging from new doctors to medical equipment salespeople to perform some of the procedures.
According to the laws of South Korea, anyone that is discovered to have requested or performed an unlicensed medical act is subject to a maximum of five years in prison or a maximum fine of $44,000 (in US dollars). However, this type of crime is not easy to prove as many of the "substitute doctors" do not provide any type of paperwork on the procedures they have performed. Plus, many of the clinics where the "ghost doctor" procedures are performed do not have closed circuit cameras to record these actions.
It has also been noted that "ghost doctors" rarely suffer any type of heavy penalties if a case goes to court. The lack of major consequences for the clinics means a good number of medical clinics continue to use substitutes in place of the regularly scheduled doctor.
South Korea and a Lack of Plastic Surgeon Oversight
The Supreme Court of South Korea approved the performance of plastic surgery for aesthetic purposes in 1974. The surgeons in the country were required to pass professional exams as of 1975.
Officials were aware of the performance of "ghost surgery" by 2014. A group of plastic surgeons approached the Ministry of Health and Wellness in 2015 and asked the organization to require doctors to report who performed a procedure as well as install closed circuit cameras in medical clinics.
The Korean Plastic Surgeons Association formed a special task force to look into the issue and 2018 saw a change in the law which raised the amounts of penalties for doctors who take part in ghost surgeries. Even with the changes in the law, the "Annals of Surgical Treatment and Research" (a medical journal) reported in 2018 that the practice was still "rampant".
The type of plastic surgery procedures performed at the medical clinics include rhinoplasty, eyelid surgery and other surgical procedures designed to enhance or alter the appearance of a person.
"Ghost Doctors" – Main Reasons for the Practice
Many experts that have studied the issue of "ghost doctors" agree the main reason this continues to be an issue can be summed up in one word…Profit.
South Korea has the highest rate of plastic surgery per capita according to the medical journal, "Aesthetic Plastic Surgery". It has been reported that there are 561 plastic surgery clinics in the capital city of South Korea. The surgeons that practice medicine in South Korea often have more patients than they can handle so they turn to others for help handling the number of requested procedures.
Another reason the issue of "ghost doctors" exists is it allows younger doctors, with less experience, to gain experience. Plus, medical clinics are able to operate at a lower cost by hiring these newer doctors to perform procedures.
Since patients are often not aware of the fact they were operated on by a "ghost doctor", it can be hard for them to provide evidence for charges against doctors. The fact that "ghost surgery' happens secretly makes it quite difficult for experts to determine the total statistics of the current situation. There are continuing efforts by lawmakers to strengthen the qualifications of medical doctors by revising medical laws. In addition, several lawmakers are working towards making needed changes such as trying to get closed circuit cameras installed in clinics that do not currently have them in the building.
The Gyeonggi province became the first province to place closed circuit cameras in all operating rooms run by the government. Governor Lee Jae-myung wants to place them in clinics and hospitals across the nation to try and prevent the practice of "ghost doctors". In a statement, his office said "From the patient's point of view, there is almost no evidence to prove negligence by the hospital even if a lawsuit is filed. Installing CCTV in the operating room can at least prevent inappropriate actions such as substituted surgery or sexual assault."
There are some doctors that are opposed to the changes claiming they will not be able to comfortably work if they are being watched. They also claim the cameras will lessen the amount of trust felt by patients as opposed to growing trust in their doctors.